Colin Brown highlights 12 online services aspiring to assist with everything from financing and rights management to screenings and networking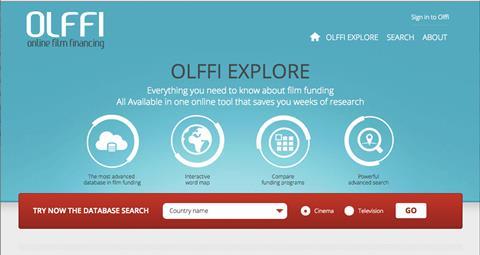 Over the last few months, Paris-based OLFFI has completely revamped its website and adopted a 'freemium' model for what has evolved into a global one-stop-shop for all public funding questions related to film and TV projects. Its database now encompasses 700 support schemes across 70 countries.
"We have built an unmatched search engine for public funding and regulatory information that we offer as a widget," says president and co-founder Ilann Girard."We are now teaming up with other platforms and media players to supplement their offer."
While the basic database is free to use, OLFFI will add a premium subscription service next year as well as an ad hoc consultancy. Additional revenue will come from global sponsors and film funds advertising on country pages.
"Most producers do not want to pay for information but are keen to search for information with the proper tools," says Girard. "Given the importance of public funding for independent production, they are keen to consider paying for consultancy and are responding positively to our offer to facilitate their online application to public film funds. We are developing OLFFI into a worldwide hub for public funding. Not only will we help producers apply for financing, we will also help film funds and organisations scan projects and process applications based on their eligibility criteria.
"We are providing tools to independent producers that used to be exclusive to studio executives. While some countries still fear the competition that our technology offers, most see it as a way to administer equal access to information and optimise the activity generated by their support. By bringing more transparency to producers' dealings, we help them focus on creative issues. By analysing the iterations of our users we can also help film funds to better design their funding programmes."
Launch date 2012
Key executives Ilann Girard & Joëlle Levie, co-founders.
Cost to users Database is free; subscription fees to be established.
Ownership structure Privately owned with additional equity raised from investors.
Business model A 'freemium' model in which the ad-supported database serves as a gateway to premium subscription services and ad hoc consultancy fees.
www.olffi.com