Colin Brown highlights 12 online services aspiring to assist with everything from financing and rights management to screenings and networking.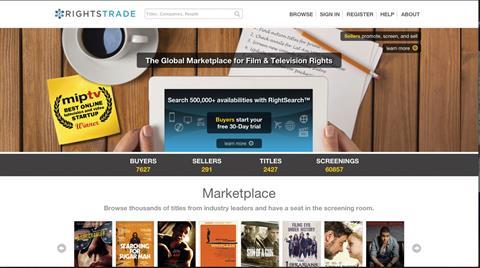 In four years, RightsTrade has gone from concept to the world's largest online marketplace for film and television licensing, says CEO Steven Polster. The company won MIPTV's annual competition this April for best B2B start-up for the TV and video industry.
Since coming over from Miramax two years ago, Polster has overseen a rapid succession of upgrades. Features include: a screening service for sales agents and content owners for pre-release and library content; a database of more than half a million real-time available rights; and the release of the 'DealWizard', "which transformed RightsTrade from a screening and referrals site, into a place where negotiating, drafting and signing deals becomes as easy as renting a room on Airbnb".
Currently, RightsTrade has more than 8,000 participants from 150 countries who view more than 3,000 screenings each month. "Since we are seeing about 500 new members join each month, we could have over 12,000 members by the next Cannes film market," says Polster.
"We were fortunate in that we were able to learn from others who tried to create an online marketplace over the past 10-15 years. We knew we needed a system that could scale with reliable rights information and our partnership with FilmTrack, the market leader in rights management, gave that to us out of the gate. We also knew this had to be more than just an exchange — this business doesn't operate from a price list. RightsTrade had to solve real administrative problems that are slowing up deals, but not dumb deals down.
"While our focus is to lower the cost
of doing business, we also happen to operate in an area of the industry where there is still limited access to hard data on how to price or acquire content. Looking ahead, RightsTrade clients could opt-in to securely pool their sales data, and in return have access to an agnostic, consolidated industry-wide analysis of sales by genre, territory, platform… which would prove extremely valuable and help make better-informed decisions."
Launch date 2011
Key executives Steven Polster, CEO; Laurie Woodrow, sales & client relations.
Cost to users Subscription fees are tiered by volume of titles with prices starting at $250 a month for producers, up to $25,000 a month
for enterprise integrations. The service fee is between 5% and 10%.
Ownership structure Privately held company in which rights management hub FilmTrack holds a minority position.
Business model A dual SaaS and transactional fee revenue model.
www.rightstrade.com