The Pinewood Group is eyeing ambitious expansion, with plans to build its first US studio and to double capacity at the UK's Pinewood Studios. Andreas Wiseman reports.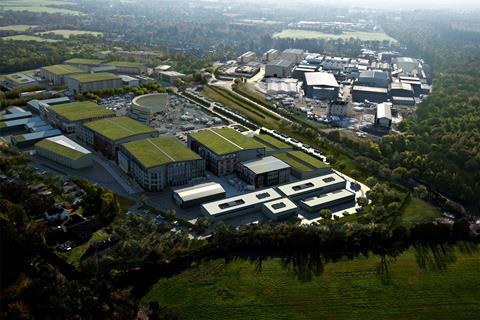 Pinewood Studios has hosted 1,500 major productions over its illustrious 76-year history but the past 18 months have been as busy as any in that period. The studios have housed a slew of ambitious shoots ranging from Skyfall to Les Miserables, with incoming titles including Marvel's Guardians Of The Galaxy and its sequel to The Avengers.
The volume of projects, which also includes UK titles Belle, Last Passenger and Dom Hemingway, is part of the reason Pinewood Group — which owns Pinewood as well as sister studios Shepperton and Teddington, all located to the west of London — has made growth and diversification its top priorities. Recent years have seen Pinewood Group revamp its UK facilities, grow an ambitious foreign studio network, purposefully enter the UK production business with its own film arm and consolidate an agreement with the Isle of Man Treasury to manage its $38.5m (£25m) film fund.
There is more to come. In January, the company submitted a new planning application to double Pinewood's capacity. The $307m (£200m) expansion, which is due to be considered by the local authority in May, would add more than a million square feet of new facilities comprising studios and stages, workshops, production offices and streetscapes.
The new plan and approach differs from a previous application that was blocked in early 2012. "We would have been delighted if the original application had been successful," Pinewood CEO Ivan Dunleavy tells Screen in the studio's atmospheric boardroom, which has featured in films including Batman, Carry On Girls and Patriot Games. "But what people forget is that was a process that started nearly six years ago. We've engaged to a greater extent with the local community on this application [the issue of building on protected green-belt land remains a sensitive one] and we've dropped the housing element of the proposal. There have been a lot of letters of support, not just from industry but also from local people because they see we're about creating jobs, and that's good for the local economy as well as the national economy."
The nascent high-end TV tax credit is already enticing major TV series to the UK and Dunleavy is one of many senior industry figures who have recognised the potential influx in production represents significant opportunities and challenges for the UK's infrastructure.
"In the six years since our last application, there's been an incredibly positive film sector in the UK," Dunleavy continues. "There is more demand today than six years ago and we have to respond to that demand. If you look at macro factors like exchange rates, the film and TV tax credits and the UK skills base, there's going to be an enormous step change, and our latest application is about making sure we have world-class, sustainable centres of excellence in the UK to meet those demands."
The offer would complement recent upgrades to Pinewood's UK base, which include new TV and film studios, improved digital solutions and revamped mixing studios, which last November became the first in the UK to be fitted with Dolby Atmos.
Outside the UK, Pinewood Group is building a significant international presence. In addition to the UK sites there are the part-owned operations Pinewood Toronto Studios in Canada, which last year hosted Total Recall and Pacific Rim, Pinewood Studio Berlin in Germany and soon-to-be-opened facilities in Malaysia and Dominican Republic. The latter, Pinewood-Indomina Studios, will include an eight-acre water-effects facility with a 60,500 square foot exterior water tank. "We are just doing the final tests and tweaks on the water facility in the Dominican Republic," Dunleavy says. "That should open before our summer. It really does look stunning."
The first phase of Pinewood Iskandar Malaysia Studios' opening is due to take place at the end of this year, with the site's remaining facilities to be opened in 2014. The Toronto studio is also expanding this summer, adding three more stages to its existing nine.
Amid impressive growth, Dunleavy recognises the need to avoid cannibalising the UK business, which accounts for the lion's share of the group's revenue. "We have been quite careful to pick locations that are not necessarily overly competitive with the UK. Malaysia, for instance, is clearly targeted at the South-East Asia market," says Dunleavy. "The kind of work that goes to Canada is not necessarily the same kind of work that's going to come to the UK, either, with more episodic TV, movies of the week and films that are more tailored to the North American market."
Pinewood also has an eye on the US and China. At the end of April it announced the start of construction on its first US studio, in Atlanta, Georgia. It also announced a joint venture with Bruno Wu's Seven Stars Media for the rollout of training academies and co-productions with China.
UK production
In addition to its studio business, Pinewood has also launched a number of production initiatives aimed at increasing Pinewood's stake in UK film-making and further growing the Pinewood brand.
In 2010, the group launched Pinewood Productions under the stewardship of former British Film Commissioner Steve Norris. The outfit has subsequently backed UK films including comedy A Fantastic Fear Of Everything, thriller Last Passenger, Amma Asante's period-drama Belle and Richard Shepard's crime-drama Dom Hemingway, starring Jude Law and produced by the Recorded Picture Company.
Norris explains the reason for the move into production: "We felt it was a better time than it had been in a generation to re-engage. The idea was to take this huge ship and turn it slightly in a new direction by getting another generation of film-makers to come and work in the studio." Pinewood can provide equity, cashflow the UK tax credit and provide gap finance, as well as offer studio space to up to four productions per year each budgeted at $3.1m-$15.4m (£2m-£10m), which would shoot at one of the Pinewood Group studios.
That plan was further strengthened last year when Pinewood took over management of the Isle of Man government's $38.5m (£25m) Media Development Fund in return for the Isle of Man taking a 19% stake in Pinewood Group. The group charges the Isle of Man an annual management fee and it earns commission on films introduced to the fund by Pinewood. The move also saw Steve Christian, founder-chairman of CinemaNX, which had been managing the island's film development investments, join Pinewood Group.
"Buying a stake in the studio meant our geography increased," explains Christian, who is based in the Isle of Man. "I had to turn away some of the best projects at the Isle of Man because I couldn't physically do them. The challenge was how to expand without going to war with Ireland or England. So, the Pinewood solution was effectively like the Isle of Man broadening its borders."
Norris explains: "Steve [Christian], under Pinewood's management, invests commercially for the Isle of Man. I invest in films that suit Pinewood's broader agenda as a studio. The next film we announce we're going to be working on together; the one after that Steve is investing in without us; the one after that it's vice-versa. It's a film-by-film basis, but of course we can be very effective when we work together."
In the last year the partnership has backed Belle and Dom Hemingway. Christian has invested in documentary chiller Camera Trap and drama The Christmas Candle, starring Susan Boyle, while Norris has invested in MJ Delaney's low-budget comedy Powder Room and thriller Last Passenger. A number of the films have shot on the Isle of Man.
The fund also includes a $7.7m (£5m) p&a budget, meaning the studio now has distribution capability to boot. Belle and The Christmas Candle are among early films on the distribution slate, with Pinewood looking to work on three to four films per year.
Alongside their own and combined production activities, Pinewood and Norris also recently announced a partnership with VFX powerhouse Double Negative on a slate of market-facing UK films. Pinewood will provide studio space and potentially some equity, Double Negative will handle the VFX while Norris will produce.
It is clear Pinewood is on the march. "We are pleased with the progress we're making but there's a lot more to be done," Dunleavy says with a smile.
Pinewood by numbers
Pinewood Group: 1,110,355 sq ft globally
Total stages: 55 worldwide
Backlots worldwide: more than 300 acres
Water-filming facilities worldwide: two exterior tanks, interior tanks on 15 stages and the underwater stage at Pinewood Studios.
Pinewood, Shepperton, Teddington (UK) 506,409 sq ft (inc new stage and new TV studio)
Pinewood Toronto Studios 236,350 sq ft (inc three studios to be completed this year)
Pinewood Studio Berlin 189,519 sq ft
Pinewood Iskandar Malaysia Studios 124,000 sq ft
Pinewood-Indomina Studios (Dominican Republic) 74,475 sq ft
Figs do not include production accommodation and tank space