From the challenges of shooting on a remote Scottish island, to finding a window in Damian Lewis's busy schedule, Nicky Bentham talks to Maria Sell about producing period love story The Silent Storm.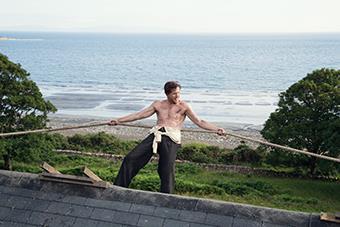 Producer Nicky Bentham met writer-director Corinna Villari-McFarlane more than 10 years ago on the set of The Great Ecstasy Of Robert Carmichael, and since then the pair have been looking for a project together. They finally got their opportunity with The Silent Storm, Villari-McFarlane's fictional directorial debut, after 2008 documentary Three Miles North Of Molkom. The project shot for five weeks this summer, the first feature to come out of Bentham's London-based production company Neon Films.
Set on a remote Scottish island in the 1950s, it follows a 30-year-old woman (Andrea Riseborough) who is caught between her overbearing minister husband (Damian Lewis) and a charismatic 17-year old criminal (Ross Anderson) who is delivered to them as part of a rehabilitation scheme.
Villari-McFarlane had taken a trip to Scotland — sleeping in the back of a converted Land Rover — to retrace her ancestry, and spent nine months researching and writing her script. Bentham read it and signed up immediately. "I fell in love with it. In many ways, it's a classic universal love story, but it's also a very personal story to [Villari-McFarlane] and I think that's what makes it so special," says Bentham, who previously worked for Duncan Jones' production company Liberty Films on Jones' directorial debut Moon, before setting up Neon Films in 2008.
The finance was pieced together largely through a group of private investors, and also had the support of one of the UK's top producers. EON Productions boarded the project after Bentham was introduced to executive producer Barbara Broccoli through mentoring scheme Guiding Lights.
"When I showed her this script, she immediately fell for it too and said she'd do whatever she could to help me make it happen. It was a process from there," Bentham explains.
Meanwhile, after pitching the project at the Junction Market Mentor Scheme last November, Bentham convinced Welsh producer John Giwa-Amu to board as a co-producer through his company Red & Black Productions, which helped to secure funding from the Film Agency For Wales.
From the outset Bentham and Villari-McFarlane wanted Damian Lewis to play the film's male lead, which Bentham describes as a "difficult character and quite severe on the page, but with a lot of humanity in him".
However, considering Lewis's Homeland schedule, they did not think their dream casting would materialise until suddenly a slot became available in the summer. "When the opening came up, we all just jumped on it," she says.
Bentham also praises Riseborough who, she says, effortlessly fits the profile of the "beautiful, brave and wild" heroine who is "in tune with the landscape and nature". Newcomer Ross Anderson was discovered after gruelling casting sessions but as Bentham reveals, "We were really delighted when we found Ross — Corinna actually cried when he auditioned." After Lewis put him through his paces a little more, Anderson was offered the role.
Shooting took place over five weeks on the remote Scottish island of Mull, which also provided the location for Powell and Pressburger's I Know Where I'm Going! in 1945.
"It's a unique landscape. I don't think everyone would necessarily think it's in Scotland, because we've got beautiful Jurassic cliffs and the most stunning lush vegetation," says Bentham. "A lot of the cinematography has a very composed painterly style."
The crew captured the dramatic fog that occasionally descends during the day, while the island's unspoilt coastline and period buildings made shooting the period feature fairly straightforward. These provided an "authentic look and feel", says Bentham.
She is also proud of successfully completing some "very demanding and dramatic" five or six minute scenes, which were shot in one take with stunts, flying props and light changes taking place concurrently.
WestEnd Films is handling international sales on the project, currently in post, with plans to showcase it at Berlin's European Film Market in February.