The director discuss his documentary about the recent Ukrainian Revolution.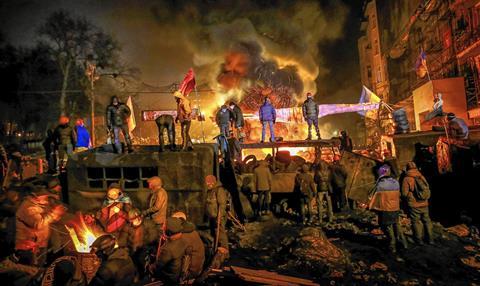 Russian filmmaker Evgeny Afineevsky thought he was going to spend two weeks filming peaceful anti-government protests when he jumped on a plane to Kiev in late 2013.
He ended up staying for six months and documented the Ukrainian Revolution that ultimately led to the ousting of pro-Russian president Viktor Yanukovych.
"One of my friends went there [Ukraine] and called me and said, 'You need to go down because something is happening deeper than the Orange Revolution and you need to document it,'" says Afineevsky, whose Winter On Fire is one of the most acclaimed documentaries of the year.
"We hired two cameramen. Some days it was peaceful and fun," he said of the early stages of the protest that occupied Kiev's Maidan Square in opposition to the government's refusal to modernise and join the European Union.
"I was interested because it was a self-organised kind of festival – a youth movement that wanted to be heart by the government."
Then, as the brutally cold winter wore on, everything changed.
"We started to film and events started to unfold. Suddenly kids got beaten and people were kidnapped, so I engaged cinematographers and professionals who had been there," he says.
"We ended up with 28 cinematographers because events were becoming so big that we needed eyes everywhere. It was becoming a huge, massive protest. It was so spontaneous and we needed to document everything that was happening."
At its height there were around one million protesters in Maidan and the response by police and hired thugs got more and more brutal.
Winter On Fire shows it all – the violence, police intimidation, military defectors and defiant protesters and intersperses excerpts of interviews with participants after the government's eventual collapse.
"We were all in the same danger," says Afineevsky. "I was injured. My health suffered and I developed asthma from the tear gas and the smoke from the burning tyres. I got bruises and splinters from grenades. We were hospitalised. We were all exposed to the possibility of death but at those moments the feeling of documenting history was stronger than thinking about our live.
"We were all there on the frontline. The people surrounding us were amazing. The unity of all these people was amazing. I have never seen such unity. I am from Russia and living in the US. People of all ages and religions [stood] against this army and this dictatorship. As a filmmaker it's our duty to document the moments that are changing history."
The collective sense of purpose among the mass of protestors prevented fear of the authorities from taking hold.
"The fear was everybody leaving the square. You weren't really feeling a fear of the police when you were surrounded by thousands and thousands of people. You had this adrenaline… the human spirit was there."
But the filmmaker had to take precautions. The authorities had eyes everywhere. "We were filming and saving it into difference places and backing up in difference places because we were afraid something would happen," he says.
"We had an office next to the square and I was using my friend's place a couple blocks close to the square."
Once the protest ended Afineevsky assembled the rough cut and began interviewing protest participants, amazed at the diversity of subjects. "Some were wealthy and celebrities – despite their social position they all came together to stand against this corrupt government."
While Afineevsky was in the Ukraine assembling the first rough cut his producers – among them the UK's John Battsek– shopped the film around.
That is when Netflix came aboard and so began a partnership that the filmmaker values highly. He says the company's executive practical suggestions and then stepped aside to let him tell his story.
"It's a dream of every filmmaker to have their film delivered to the most viewers.
Afineevsky recently returned to Kiev at the behest of the government and accepted the Medal Of Honour for his work before presenting a screening of Winter On Fire.
Next up he is making a documentary about Syrian refugees in Europe.
"I am trying to tell the human story from across the globe." He says. "The young generation escaping from their country. A story without politicians. A story of injustice that needs to be told. I want to bring this voice through the medium of cinema."