Prolific producer was talking at Qumra Master Classes event in Doha.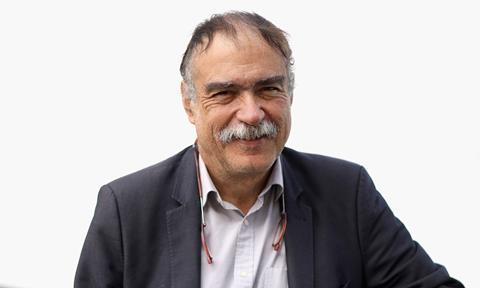 "Don't send me scripts, I don't read them," maverick Portuguese producer Paulo Branco's told budding film-makers at the Doha Film Institute's talent event Qumra over the weekend.
The prolific producer – who has clocked up than 300 feature credits over four decades with directors such as Manoel de Oliveira, Raoul Ruiz, Wim Wenders and David Cronenberg – was speaking as one of five masters at the third edition of Qumra (Mar 3-9).
"Most the films I'm closest to came out of a dinner, a lunch, an idea and then a discussion around how to do it, why not and let's go," he told attendees after a screening of Wim Wenders's 1994 film Lisbon Story.
That film, he revealed, had come together over a dinner at the Berlinale which Branco arranged to pitch a film set in the Portuguese capital, for which the city was putting up money to mark its term as European Capital of Culture in 1994.
Wenders and Branco had previously collaborated on The State of Things.
"He said he was coming with a friend, the writer Paul Auster. Three films were born out of this dinner – a film by Auster [The Inner Life Of Martin Frost]; a film by Wim's writer Peter Handke, The Absence, and Lisbon Story. The only one that had a script was Peter's."
Branco told the master-class he fell into cinema by chance after quitting his native Portugal in 1971 for London and then Paris, leaving behind chemistry studies in Lisbon.
"It was before the 25th April revolution and the fascists were still in power," said Branco, referring to the 40-year Estado Novo dictatorship which was ousted in 1974.
"I couldn't go back. I lived clandestinely in France for 14 years. Some might say I'm still living clandestinely," said Branco with a laugh. "At first, I was just surviving, meeting people, living day by day – not knowing what I will do tomorrow."
This experience, he said, prepared him for the role of producer, teaching him how to deal with setbacks and the unexpected.
"I like living not knowing what is going to happen in the next hour. When I got back last night there were three messages on my phone… two disasters and one fantastic… this happens all the time."
By the late 1970s, Branco was running the Action République cinema in Paris, which he transformed into a major hub for cinephiles and directors. From there, he segued into production, operating between France and Portugal ever since.
Working with Oliveira
His first big production was Oliveira's 1981 love triangle melodrama Francisca. The septuagenarian director's career had hit a rocky patch following the failure of his Ill-Fated Love.
"It was a masterpiece but it was shown on Portuguese TV in black and white when it was shot in colour and everyone hated it. They said Oliveira is through, he is finished, he doesn't have anything new to say. He was 74, 75," recalled Branco.
A fan of the work, Branco organised the release of the film in France, in its planned colour feature-length format, where it was a critical success which in turn led to it being released in theatres in Portugal.
"The same critics in Portugal who had torn apart the series on TV, then hailed it as masterpiece in the cinemas," said Branco. "I had just started my producing adventure. He came to me. I was 29-years-old and he was 78 and said Paulo 'I want you to produce my movie'."
"I thought fantastic, 'I'll produce the last Oliveira movie," said Branco with a laugh. The pair would go on to collaborate on 22 features with Oliveira making films up until two years before his death at the age of 106-years-old.
"The problem was that nobody wanted to work with him after Ill-Fated Love. Everyone said he was complicated, tyrannical and out of control. I had to build a new crew from scratch. I enlisted my friends and family, including my sisters who were in their 20s at the time."
As he was gearing up for the shoot of Francisca, Branco was also approached by Ruiz to produce his upcoming film The Territory.
Ruiz had been promised financing by troubled oil heir Paul Getty Jr. and Roger Corman but it was slow in coming. While they waited for the money, they embarked on the shoot in the small town of Sintra just outside Lisbon.
"We set off without money. Raoul was shooting with the short ends from Francisca - I had a car going back and forward every time Manoel messed up a shot - and also doing the cooking."
Wim Wenders
A chance visitor to the set of The Territory was Wim Wenders – to see then partner Isabelle Weingarten who was in the cast.
Wenders, who was blocked with the financing of his next project, took inspiration from Branco and Ruiz's can do attitude and asked the producer to help him shoot a film in the same way.
"Two weeks later we started The State of Things, using the same crew and shooting in the three and a half weeks."
The tale about a film crew stuck in Portugal after the production runs out of film stock and money went on to win the Golden Lion in Venice in 1982.
This trio of films shot back-to-back marked the beginning of a frenetic two decades for Branco who at times in his career has juggled 15 to 17 productions a year.
Some 30 years later, Branco shows no signs of slowing down. He currently has four productions underway including Cannes hopefuls Sunbeat and Brigitte Sy's Happiness Is Tomorrow.
Asked what producing a film meant to him by one attendee, Branco replied: "It's a gamble. You just play. I hope to win. When you go to the casino you lose most of the time, but when producing films, you always win, even when you lose a lot of money, because at the end there is a film."