Her acid-witted courtier in The Favourite has taken awards season by storm. Rachel Weisz tells Screen about loving her female co-stars and being directed by Yorgos Lanthimos.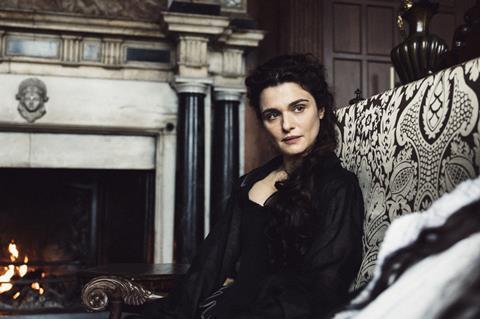 Rachel Weisz couldn't get away from The Favourite even if she wanted to. Speaking to Screen International from New York one mid-January morning, she has just come from dropping her oldest child off at school, where, she says, she was stopped by another mother at the gates who told her she had particularly enjoyed the scene where Weisz's sharp-tongued Lady Sarah Churchill describes a rival as smelling like "a 96-year-old French whore's vajuju".
Weisz laughs. "She said, 'I just love that line.' The Favourite is an extraordinary piece of writing. I'm thrilled that people like it."
Yorgos Lanthimos's darkly comic period drama, set in the turbulent, decadent court of Queen Anne in the 18th century, is not short of appreciators. During the first three days of its US release, it earned the biggest per-theatre average of 2018 (at $105,000) and has so far grossed $23m; in the UK, it reached $14.5m (£11.1m) after three weekends.
Its strength at the box office has been matched by its awards-season heat. Olivia Colman won a Golden Globe for her performance as the malady-inflicted Anne; the film has 10 Oscar nominations (tied with ROMA) and 12 Bafta nominations. Weisz herself has received no fewer than 35 best supporting actress nominations for her steely performance as Anne's straight-talking confidante, whose position in court is threatened by her ambitious young cousin (Emma Stone).
It is a towering triumph for a script by Deborah Davis and Tony McNamara, which took 20 years to get to the screen and was, for many years, tricky to finance because it was a British period film that has same-sex relationships and no male lead. "It takes someone from Greece to make it happen," says Weisz of Lanthimos, praising him for crafting a period drama with an immediacy and freshness the genre often lacks. "There's a received way of doing things on period films. Yorgos really wanted to blow that up, and I think he did. It's not a dusty museum piece."
Role playing
The Favourite marks the second time Weisz and Lanthimos have worked together following The Lobster in 2015, but she found the Athens-born filmmaker to be "exactly the same" this time, despite the shift in genre and increase in scale. "It was just how he'd collaborated with his group of actors on The Lobster, except on The Favourite we had time for rehearsal," says the actress.
Over a three-week period, Weisz and her co-stars were able to "really get to know each other and play lots of games". She likens it to theatre rehearsals, except with Lanthimos, "you never talk about your character or your psychology. There's nothing like that. You just play the games, like saying other people's lines, or making a speech very fast while jumping on one foot and throwing a ball up in the air. Anything to take your mind off the acting. [Yorgos] likes things to be just based on instinct. He likes to get actors reacting, with no analysis."
Though Weisz confirms Lanthimos pushes her as a performer, he is not forceful about it and creates a "safe environment among the actors, a real feeling of an ensemble". His notes are brief and specific: "Do it faster," for example, or — Weisz's favourite — "Don't sound like an X-Men baddie".
"It's very peculiar. He's a very gentle presence on the set, just watchful," she explains. "He says a couple of words, maybe one word. Then, between action and cut, things get pretty crazy."
For Weisz, the greatest joy of making The Favourite was getting to play out that craziness with Colman and Stone. "The whole experience of being in these love relations and power struggles with both of them was just extraordinary," she says. "It's just great playing opposite women."
Her highlights were performing the trio of bird-shooting scenes with Stone — "they were like one-act plays, where you get to shoot and have bitchy dialogue" — and any scene with Colman. "I just loved all of them. It was a very intimate relationship where you can say anything and do anything."
Despite the three having virtually equal screen time, Weisz and Stone have been categorised by most awards bodies as supporting actresses, with Colman put forward as the film's lead — a decision made by Fox Searchlight early on in awards season, cemented by Colman's best actress win at Venice. It was not, says Weisz, ever a discussion she was part of, or privy to. "Absolutely not. We all leave that to the people whose job it is to think about that."
However, the three co-stars have found their own way to maintain the balance. When Weisz accepted the Gotham jury award for best ensemble performance, she walked up on stage with cut-out masks of Colman and Stone's faces. "I asked them if I could do it," she says, "and then Olivia did it in London"; when accepting the BIFA for best supporting actress on Weisz's behalf, Colman followed suit and held up a Weisz mask while reading her acceptance speech. But it doesn't sound like they'll need any masks for the Baftas or Oscars. "I'm definitely going to be there," Weisz confirms.
Once the season is over, Weisz's future is something of an open book. Having taken time off to have a baby last year, she is not working on anything at the moment, other than "developing projects as a producer". Even so, there will be no immediate follow-up to her producing success with Sebastian Lelio's Disobedience, in which she also starred. The new projects are still "too embryonic" to reveal, she says.
While she does not do "the nuts and bolts and the number crunching" side of producing (her credits also include 2014 UK indie Radiator and 2003 Neil LaBute-directed drama The Shape Of Things), it is a role she relishes. "I love looking for material and finding a director and then working with writers on scripts," Weisz says.
She admits she cannot deal with both roles simultaneously. On Disobedience, the producing stopped once she began performing. "You can't be thinking about that while embodying the character you're supposed to be," she says. "Acting is really challenging on its own."