The French business is vulnerable as the digital revolution shakes its foundations to the core.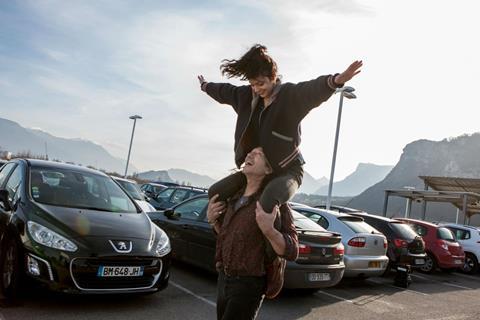 The French film industry is out in force at the Berlinale as actress Juliette Binoche presides over the jury, majority French productions By The Grace Of God, Synonyms, Varda By Agnes and Farewell To The Night are premiering in and out of Competition and some 40 sales companies are attending the European Film Market.
But this show of strength comes as many French cinema players — both mainstream and niche — are feeling vulnerable amid the ongoing digital disruption of France's finely tuned, world-envied, state-supported film and TV ecosystem underpinning their activities.
The challenges range from the fall in the box office for local arthouse films, to uncertainty over investment by state and private broadcasters in the face of competition from global platforms and state cuts, and the continuing debate on how to update strict chronology laws to fit the digital age.
The good news is that French cinema is holding up relatively well at the local box office. Preliminary CNC data indicates local productions generated 77 million admissions in 2018 for a market share of 39.3%, a far higher percentage than many of its European neighbours where US studios dominate.
But the big French winners were largely mainstream comedies — led by The Magic Tuche (Les Tuche 3), La Ch'tite Famille and male synchronised swimming team comedy-drama Sink Or Swim (Le Grand Bain) which is now a front­runner at the César awards.
Just 33 of the some 320 new French films released theatrically or directly on DVD or VoD in 2018 broke the 500,000 admissions mark and only 11 drew more than 1 million entries.
"It is increasingly rare for an arthouse film to hit 1 million admissions or even 500,000 admissions, but there are still pleasant surprises such as our films Bloody Milk [Petit Paysan] and The Art Of Seduction [Mademoiselle De Joncquieres] last year," says industry stalwart Eric Lagesse at Pyramide Distribution.
Emmanuel Mouret's 18th-century comedy of manners The Art Of Seduction drew more than 546,000 spectators in France. It is enjoying a successful local VoD release on multiple platforms and was picked up by Net­flix, for all international territories excluding France, Benelux, Switzerland and Canada. Lagesse also cites the performance of Mikhaël Hers' post-terror-attack drama Amanda as a success. The film attracted 250,000 spectators.
But it is possible these films, particularly the more commercial ones, would have done much better at the French box office a decade ago. "I think [The Art Of Seduction] would have touched 1 million entries 10 years ago," says Lagesse. "It's precisely on these 'films d'auteur' with wider audience appeal — especially in the higher income market segment — where we've lost the audience."
International picture
The international outlook for French cinema is more complex. Unifrance's annual international box-office report showed a 52% year-on-year drop on admissions to 40 million in 2018. However, Gilles Renouard, Unifrance's deputy managing director and box-office guru points out recent stellar numbers have been driven by
English-language features produced by Luc Besson's now ailing EuropaCorp and family-focused feature animations. International admissions for French-language films have remained relatively stable, oscillating around the 30 million to 40 million mark.
How to boost the international profile and performance of French cinema is an ongoing debate. "I regularly hear buyers say our films are sometimes too long and too talkative," said Unifrance director general Isabelle Giordano in an interview with Le Figaro newspaper last year.
Doc & Film International CEO Daniela Elstner, who is also president of sales agent body ADEF, does not believe French cinema has fallen out of favour. She suggests monitoring all turnover, including digital revenues, would give a better indication of performance. Total sales revenues for French films have yet to be collated for 2018, but came in at $193m in 2017.
Elstner also suggests the move by Netflix to dub a slew of French mid-range comedies — including Fred Cavayé's Nothing To Hide, Eleonore Pourriat's I Am Not An Easy Man and Kheiron's Bad Seeds — may be a game-changer.
Watching Catherine Deneuve in Bad Seeds or Bérénice Béjo in Nothing To Hide on the small screen with a US accent may not appeal to Francophile cinephiles, but it is a strategy that could draw those international audiences who are reluctant to read subtitles.
Evolving audiences
A major challenge for traditional French cinema players is the evolution in how younger audiences are watching film and TV content, and what they are watching. French teenagers are more likely to be streaming the UK series Sex Education and US teen drama Riverdale on Netflix or watching various forms of YouTube content, than seeking out films such as Gaspar Noé's 16-rated Climax, which drew just 60,000 spectators in France last year.
A recent CNC report revealed of the 42.6 million individuals who went to the cinema at least once in France in 2017, 18.3% were aged between three and 14 years old; 15.2%, between 15-24 years old; 35.8%, between 25-49 years old; and 30.8%, over the age of 50.
Lagesse says the age split is even more pronounced when it comes to the arthouse sector. "Unfortunately, we have become a distributor of films for the over 40s, perhaps even the over 50s," he laments. "We've lost the young public. When I say young, I mean the 20-35 years old age group. The public that watches films on its smartphones will go and see Black Panther on the big screen but are unlikely to explore beyond.
"TV series are our biggest competitor," he continues. "There are some great series out there, which nurture real talents, but it is an impenetrable wall. An adult who has been brought up on cinema will love series but not only series. Whereas youngsters growing up on series won't know how to watch film."
But even Lagesse remains determinedly upbeat. He highlights the key role played by the CNC in its attempts to ensure French cinema remains relevant and accessible. "As long as French governments continue to support auteurs with the magnificent machine of the CNC, independent distributors will continue to be able to discover new talents and support cinema in all its diversity," he says.
And there are many who believe the French film industry is already embracing changing audience tastes, viewing habits and the economic realities of the digital era.
"There was a lag as the French cinema got up to speed with what was happening internationally but now it's moving very fast," says Frédéric Fiore, co-founding president of film finance and production company Logical Pictures.
Launched in Cannes in 2016, Logical raised a $22.3m gap financing, production and development treasure trove in private equity. It has since backed Coralie Fargeat's thriller Revenge, Adewale Akinnuoye-Agbaje's Farming and is finishing its first in-house production No Gods No Masters, a medieval action drama directed by Eric Cherriere. Last year it also took a stake in Manuel Chiche's genre-focused French distributor The Jokers.
"We're seeing more and more projects with export potential," says Fiore. "French producers and filmmakers are increasingly open to working in the English language and producers are reining in their budgets to more realistic, less risky levels. Proposed budgets on the projects we receive have fallen some 25% in the three years since we launched."
Another key development has been the French embrace of genre filmmaking. Even the CNC launched a special genre-focused funding strand last year.
"The French have got over their complex around genre," suggests Fiore. "[The success of] films like Revenge and The Sonata have helped liberate them."
The area in which Fiore would like to see more change is in the country's strict chronology laws. At present they impose set windows between a film's theatrical, VoD and SVoD distribution releases respectively.
"Day-and-date releases are perfect for genre films like Revenge but it's just not possible in France under the current laws," says Fiore.
He says Logical is debating whether to even do a theatrical release for No Gods No Masters. "It's the sort of film that is unlikely to generate a huge box office and we're asking ourselves whether it's worth forfeiting a streaming release for 25,000 spectators," he reveals.
French cinema is alive and kicking, it just remains to be seen whether its place will be on the big screen.
Media chronology: the lowdown
France's rigid media chronology laws were lightly reformed at the end of 2018, in an update meant to make the system fit-for-purpose for the digital age. The rules were ushered in with little fanfare on December 21, 2018 mainly because few were entirely happy with the accord. Many believe the changes have not gone far enough.
Under the reforms, the window between a feature's theatrical release and VoD availability remains at four months. It has been reduced by two months to eight months for the first pay-TV window but remains at 22 months for free-to-air channels, investing 3.2% of their turnover in cinema. Films that draw less than 100,000 spectators in the first four weeks on theatrical release can be made available on all these platforms one or two months earlier than films with bigger box offices. But the legislation rules out any scope for day-and-date releases.
The all-important SVoD window has been reduced to 17 months for so-called 'virtuous' platforms that adhere to a strict set of obligation and distribution rules. These are unlikely to be endorsed by players such as Netflix or Amazon, who are now referred to as 'non-virtuous platforms' and will remain stuck with a 36-month window.
The two key winners of the agreement were Canal+ and Orange Cinema Studio, which managed to negotiate the reduced eight and six-month windows in return for sizeable investments from them in French cinema.
However, with Cannes Film Festival on the horizon, the media chronology system is likely to be back in the media spotlight once again very soon.