Opportunities are opening up to restore classic assets on new formats - but film restoration is an art form in danger. Ann-Marie Corvin reports from Screen International and Broadcast's Restoration & Archive Forum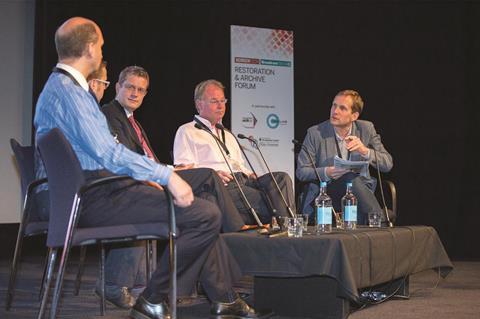 "If there's been a gold rush in film archive then it's kind of passed me by," says Paul Collard, vice-president of film and digital services at film processing company Deluxe Digital.
While there have been a few showcase renewals in the US, such as Sony's 4K restoration of David Lean's 1962 classic Lawrence Of Arabia, the main drivers for restoration of archive in Europe are commercial - the Blu-ray sell-through market and broadcasters looking to release TV classics on new distribution formats - or cultural, from national institutions and trusts that find the money to achieve a handful of significant projects.
Deluxe, for example, recently completed full Digital Intermediates (DI) restoration of the 1927 silent film The Battles Of The Coronel And Falkland Islands for the British Film Institute, which is set to feature in this year's BFI London Film Festival archive gala together with a newly composed live score performed by the Royal Marines Band.
According to Collard, it is these signature projects that are alerting content owners of all sizes to the possibilities of archive. Why keep it locked away in a dark basement when it can be restored digitally and accessed by millions, thanks to new VoD platforms?
"Previously when restoration was carried out on film there would only be a handful of prints but the spread and reach and contribution and knowledge to understanding these clips is now in huge demand," Collard says.
The BFI's ongoing Film Forever initiative also looks set to make some of the nation's hidden celluloid treasures even more accessible. It wants to help content owners 'unlock' 10,000 UK film and TV titles and is offering an $8.1m (£5m) digitisation fund through its Film Heritage Fund. The fund's second phase opened for applications in September.
However, restoring content to its former glory can be a painstaking and lengthy process. In the commercial sector, BBC Studios and Post Production's Digital Media Services division recently carried out a detailed scene-by scene restoration of 1970s police series The Professionals for the ITV network, to be released on Blu-ray.
While the team was fortunate to be able to work from the original 16mm negative for most of the four-season show (a key reason that ITV selected this particular project for restoration) the average 50-minute episode took around one week to complete - longer still in the many instances where dust had contaminated the film.
"Some episodes took 10 days, and that's not just one person but 10 days of a team of between three to 10 people working it," says Kevin Shaw, lead technologist for BBC Studios and Post Production Digital Media Services.
According to Shaw, retaining a balance between the original artistic intent while bringing it up to modern standards is key to restoration.
"The Professionals was intended to be a gritty show - an antidote to glossier offerings such as The New Avengers - and this affects restoration. If it is intended to be a bit grainy then you don't remove all the grain. Leave some in so it still looks like film and not video.
And if there are hand-held cameras, don't stabilise it too much so it looks like it's been locked off." These are the skills that Simon Marbrook, head of restoration at Premier, thinks are often overlooked by clients when it comes to the budget.
"You have to know what to restore and what not to restore, and have some understanding of the original filming techniques and formats that were used. There's a huge knowledge and skill in that, but trying to convince people it's an art and that they need to pay for it can be challenging." Shaw adds that there is a danger these skills will disappear altogether in time, as a new generation of technicians move towards a file-based background.
However, BFI head of conservation Charles Fairall hints that funds will be released through the Film Heritage initiative to ensure key film restoration skills are maintained. "My work is about releasing content but equally retaining and understanding the technologies and skills needed to maintain and restore archive," he says.
Commercial strategy
The proliferation of distribution platforms in recent years has increased the demand for content. Meanwhile, search and restoration tools are improving, and new formats such as UHD and 4K open up the possibility of restoring a whole host of content to a new level across numerous distribution channels.
You can almost picture old news footage of 1950s UK prime minister Harold Macmillan springing to life from the vaults, famously announcing: "You've never had it so good." But the reality is not quite so golden and there are steps to consider for the average indie trying to get the money required to commercialise an archive.
According to Dock 10 head of business development Emma Riley, content owners would do well to start by assessing how much it costs to store its current content and how much of it is worth keeping.
"There are companies out there holding onto warehouses of unlabelled content because they've had it drilled into them that they mustn't throw anything away. It's costing them six figures a year to store," she says.
Riley is working with film researchers and producers to advise companies on maintaining their content, which often starts by putting a value on it.
Restoration: Gold, Silver or Bronze standard?
Film-processing firms tend to offer three types of restoration: 'bronze' would typically be a traditional telecine service; 'silver' includes a DI scan using automated restoration tools; while 'gold' includes all of the above plus more individual scene-by-scene grading and frame-by-frame restoration (as received by new theatrical releases).
"The problem is that the clients always want gold even if they're paying for bronze and when the passion is there you can't compromise; if there's something offensive to the eye, it needs to be removed," says Matt Bowman, commercial director of RRMedia.
According to BFI head of conservation Charles Fairall, prioritising which footage will be awarded gold treatment as part of its Film Heritage initiative involves "a matrix of all the available resources against time, budget and expectation".