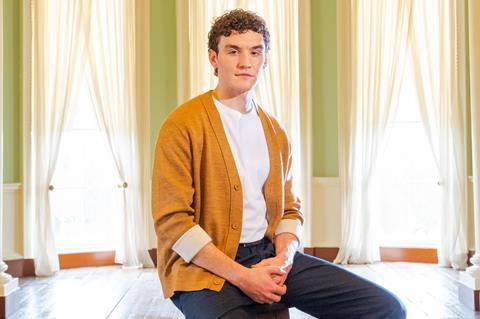 Dónal Finn has just completed a run of Sing Street in Boston. "I was playing Brendan, the character in the film played by Jack Reynor," says the County Cork-born actor. "Theatre, I hope, will always be a part of my career."
Born and raised as one of eight children from a farming family in the village of Dromina, Finn was taken by acting as a boy, travelling to Cork most evenings to take part in drama groups and musical societies. "I got the bug for it through doing local plays and musicals, but I didn't really think you could start working as an actor without going to drama school first." With the support of his parents and his drama teacher, he applied to several UK schools, and was given a place at LAMDA with a three-year scholarship through the Overstall Charitable Trust.
In his final year, he won the Sir Alec Guinness Award and scored an agent. Upon graduating, he picked up several film and TV roles, including Film4's How To Build A Girl, Netflix's The Witcher and Warner Bros' Fantastic Beasts: The Secrets Of Dumbledore.
His recent roles include playing Eoin McGonigal, a Dublin-born soldier who served with the Royal Ulster Rifles, and was a founding member of the SAS in Steven Knight's BBC miniseries SAS: Rogue Heroes, as well as Mat Cauthon in The Wheel Of Time, which required a West Sussex accent and hours of stunt training. This year, Finn will return to Prague to shoot the next series of Amazon's epic fantasy show opposite Rosamund Pike. "The size of the production was on another level, and I felt I had been given a huge opportunity I wanted to grasp," he says.
On stage, in addition to Sing Street, he starred in Chasing Bono at the Soho Theatre and played Gabriel alongside Daisy Edgar-Jones in Albion at London's Almeida Theatre. "It's been amazing to work away from home. But there's a big part of me that wants to work with Irish storytellers and to be a part of these amazing stories coming out of Ireland right now."
Contact: Natalie Day, natalieday@independenttalent.com