The Lighthouse features two men cut off from the world, descending into madness. Writer/director Robert Eggers tells Screen about conjuring up the intense atmosphere.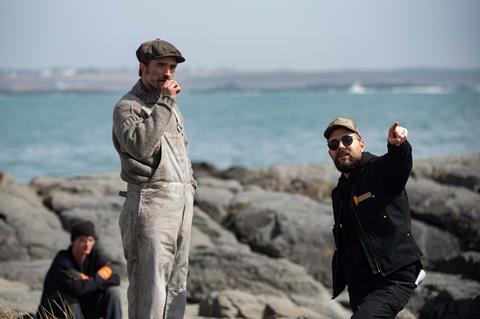 After winning the drama directing prize at Sundance for his debut feature The Witch, Robert Eggers was a hot property. But he was still struggling to get projects off the ground, including a remake of Nosferatu, when he decided to return to a script he had started a few years before, ironically at a time when The Witch itself was stuck in development.
"As soon as we finished writing The Lighthouse, it was financed," Eggers says of the perfect alignment of timing, project and buzz surrounding him. On the last of those factors, he is quick to add: "No-one would have greenlit this movie if I hadn't made The Witch. There's no way. And Robert Pattinson and Willem Dafoe wouldn't have been in it."
But he did and they are, and the result is a wildly atmospheric, mysterious, almost uncharacterisable film (Eggers describes it as "horror adjacent"), which was a highlight of Directors' Fortnight in Cannes, where it won the Fipresci prize. Produced by RT Features' Rodrigo Teixeira and Lourenco Sant' Anna, Parts and Labor's Jay Van Hoy, and Youree Henley, the film is co-financed by A24 and New Regency. A24 distributes in the US, grossing just over $10m as of November 24.
Scene setter
The idea originated when Eggers' brother Max mentioned he was writing a screenplay for a contemporary ghost story set in a lighthouse. "His story is not what this film came to be, but when he said that, I pictured the first dinner scene — black and white, 35mm, kind of grainy, very contrasty, crusty, dusty, musty, rusty, cable-knit jumpers, clay pipes, the smell of the salt cod, craggy faces, facial hair. And a boxy aspect ratio.
"My brother decided his script wasn't really working, so I asked him if I could give it a shot. I started researching and finding elements to make this a story that would match that atmosphere."
When he returned to The Lighthouse, nothing changed from that initial visualisation, including the ratio (Eggers opting for 1.19:1, the almost-square frame that was used in the early sound era). But the resulting story, which the brothers eventually scripted together, did become radically different: a tale of two lighthouse keepers on a remote New England island in the 1890s, trapped by a ferocious storm and locked into a psychological battle that sends them full-tilt towards madness.
It is fuelled by the driving interests —folk and fairytales, mythology, religion, the occult — of a filmmaker whose most numerous screen credits are for production design, and whose preference is for locating his stories in the past. It is possible, too, that his work on the Nosferatu project fed into what might be thought of as a fantastical meeting of Herman Melville and FW Murnau.
For the film's fruity period dialogue, the brothers drew on Melville, Robert Louis Stevenson, 19th-century slang and nautical dictionaries, and the work of Sarah Orne Jewett, a Maine-based poet and novelist at the turn of the 19th century, who interviewed sailors and farmers to capture their dialect.
The Eggers brothers employed dialect in early drafts, even before they had mastered it. "There's something about the way a character speaks that influences what they're saying, it puts a different perspective on how they live and experience life. So starting in modern English and translating it wouldn't quite work."
Dafoe's veteran lighthouse keeper Thomas Wake speaks as the mariners of the time would have done, with all manner of florid excursions (Eggers sees "a little Prospero, a little Lear" in the old seadog, along with Robert Newton's scenery-chewing pirate from the 1950 Disney live-action feature Treasure Island). Pattinson's intense, introverted former lumberjack Efraim Winslow speaks more as a farmer of the era.
"We both wrote both characters, but the faux Shakespearean/Miltonian language is, I think, all me, because after The Witch and other stuff I'm pretty [proficient] at that," says Eggers. "Thomas Wake became so much fun to write that before we went to camera Dafoe was saying, 'You've got to cut some of this, it's too much.' Think about how much he talks in the movie; we had more."
Of the casting, Eggers reflects: "Wake is a fucking cartoon pirate, right, but we believe it, and no-one but Dafoe can do that. Rob has a mysterious quality to him that I've always thought was interesting, even in the Twilight days. Josh Safdie said in an interview, about casting him in Good Time, that he has a kind of paranoid quality to him. And it just suited this role very well."
Eggers convened a rehearsal period, principally to determine the blocking for his shots and gain a sense of pacing, given the amount of dialogue. With his theatrical background, Dafoe was in his element, Pattinson far less so; the director cheerily admits that the necessary tension between the characters got off to an early start. "I'm not a sadistic, Kubrickian manipulator, trying to make that any more pronounced than it is," he smiles. "I'm trying to make everybody happy and comfortable. But you know, the camera sees what's there."
The attention to detail in the script carried over to production, which involved key personnel from The Witch, including cinematographer Jarin Blaschke, production designer Craig Lathrop, costume designer Linda Muir, composer Mark Korven and editor Louise Ford.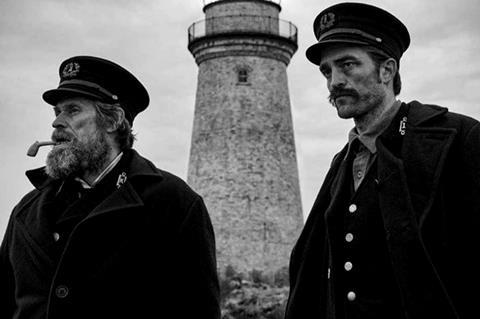 Lathrop and his team built the exteriors of the lighthouse station from scratch, on Cape Forchu in Nova Scotia, including a fully functioning, 70-foot tower that could shine for 16 miles (so powerful that the crew had to wear sunglasses when shooting night exteriors). Blaschke shot on Kodak Eastman Double-X black-and-white film stock, used vintage lenses from the 1930s and custom-made filters to create the texture of film from a century ago.
The authentically diabolical weather came courtesy of the location, which Eggers calls "an incredibly punishing and inhospitable place", with relentless gale-force winds and torrential rain.
"Everything was difficult. In Nova Scotia they do European TV movies of Moby Dick and The Sea Wolf, so they're used to it. But when Dafoe and Rob are on the rock waiting for the lighthouse relief boat, that was the real weather. That morning the Nova Scotia crew said, 'OK, this is actually the worst day we've ever had shooting.' It was tough for the actors. They each had their share of physical misery. We all did."
The Lighthouse shot in Nova Scotia for 32 days: the exteriors on Cape Forchu and interiors at soundstages near Halifax. Though the $11m budget was a significant uptick on the $4m for The Witch, Eggers says the producers gave him "incredible freedom".
No doubt happy with the results, New Regency is currently setting up Eggers' Viking drama The Northman, with Skarsgard brothers Alexander and Bill, Nicole Kidman, Anya Taylor-Joy and Dafoe mooted for roles.