Robert Eggers' desolate, windswept The Lighthouse sees Robert Pattinson explore a character whose psyche finally fractures under pressure. He tells Screen about his most intense role to date.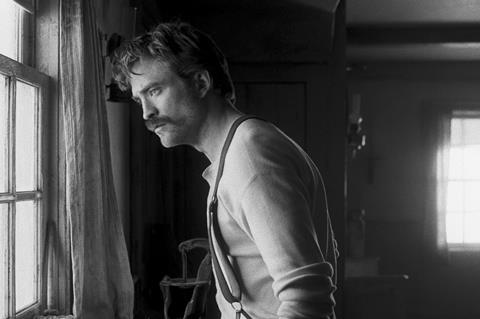 Robert Pattinson wanted to meet director Robert Eggers, although he wasn't sure they'd click. "I saw The Witch and really enjoyed it," recalls the actor, referring to Eggers' unnerving 2015 debut. "You could see that he was a master, technically. I liked that it seemed as if they built a world — where if the camera were to move in any direction, it would seem just as full. But I didn't think I wanted to do a horror film."
Nonetheless, the 33-year-old actor decided to pay Eggers a visit. After all, Pattinson has sought out filmmakers based on less. He famously rang up the Safdie brothers, for whom he starred in 2017's Good Time, simply because he was struck by a production photo he had seen from their previous film, Heaven Knows What.
Pattinson and Eggers hit it off, and discussion moved to possible projects. "We talked about a couple of things which were more conventional, but also big and kind of gothic. I'm always a little wary of playing in an English period [production], so I said to him, 'I just want to do something weird.' And then he sent me this."
It was the script for what would become The Lighthouse, which premiered at Cannes to much acclaim in Directors' Fortnight. It was released in the US by A24 in October (grossing around $8m to date), and rolls out internationally via Focus Features. The film is, indeed, weird: a poisonous, intimate two-hander involving lighthouse keepers, Ephraim Winslow (Pattinson) and Thomas Wake (Willem Dafoe), forced to live in cramped quarters off the coast of New England at the end of the 19th century. Production was equally stripped-down and desolate, out in the middle of nowhere in Nova Scotia. Shot in 35mm black-and-white in a boxy aspect ratio, The Lighthouse combines psychological horror with scatological humour as Winslow becomes unhinged by his overbearing colleague.
"I couldn't really get my head around it at first," Pattinson admits. "It's such a feat of maintaining multiple different tones that when I read it, I thought, 'I can't actually imagine how it's going to gel together.' I could see that it was really good, but I did feel a bit of a risk doing it."
That has been the MO for several of Pattinson's recent films. After completing the Twilight franchise in 2012, he has seemingly been on a mission to be immersed in arthouse fare, teaming up with everyone from David Cronenberg (Cosmopolis) to Claire Denis (High Life). In the process, he has reshaped moviegoers' impression of him: long gone is the image of Pattinson as the sulking vampire Edward Cullen. The Lighthouse continues a string of committed performances that keep pushing him into new emotional and tonal terrain.
"I always feel that it's just rolling the dice," says Pattinson, who initially resisted Eggers' insistence that he and Dafoe spend a week rehearsing before shooting began. Pattinson prefers the spontaneity that occurs when the cameras roll. "When I was younger, I really thought acting was much more of a test — 'Oh, the beat is supposed to be here, and that's supposed to be the change point.' I just got so nervous and stiff. Then I realised, if you know the lines but you don't know where it's going to go, it's just so much easier. It's also much more enjoyable."
Winslow is presented without much backstory, and Eggers did not fill any gaps for Pattinson, who used that mystery as an insight into the character. "Someone who wants to not really talk about their past has either done something wrong or something wrong has happened to them — they just want to get away from it. I knew he had to be very emotionally unstable, but comes from this hardworking, puritan background. He's a very masculine person who's going through extreme turmoil, yet he's looking for validation from an older father figure."
Pattinson avoids dailies or playback if he can help it. "I'm quite good at being objective about stuff," he says with a self-deprecating laugh. "If someone says something's shit, I'll generally be on the same page."
But a few weeks into shooting The Lighthouse he watched playback and was surprised how he looked in 1.19:1 aspect ratio — which ended up informing the performance.
"I was doing a scene just pushing a wheelbarrow around. Up until that point, I had no idea what [the film] actually looked like," he says. "It was interesting, that boxy ratio elongates your body, and it makes everyone look like they're walking really quickly. It's funny. And so I realised, 'Oh, you can do physical stuff that's comedic.'" As a result, some of The Lighthouse's darkest moments are unexpectedly humorous, an impulse that Pattinson shared with Dafoe. "That element of the mischievous Willem just has naturally, which makes it more playful."
Back to the multiplex
With The Lighthouse behind him, Pattinson will be saying goodbye to indies for the time being. Next summer, he will be starring in Christopher Nolan's top-secret thriller Tenet. The following summer he becomes the latest iteration of the Caped Crusader in The Batman. Because Pattinson has been so focused on idiosyncratic, low-budget projects since Twilight, it was tempting to assume he had turned his back on the multi­plex. But to his mind, the return to blockbusters was a natural transition.
"There hasn't been a big movie that I've heard about to even chase," he insists. "I was really happy with the stuff I was doing — a lot of the movies I did over the last few years took such a long time to come together that I was holding out just to do those. So I wasn't really looking for other stuff."
Asked what appealed to him about Tenet and The Batman, Pattinson says: "I guess I was trying to do the opposite of what I've been doing. I started thinking, 'I really want to do a big thing.' I hadn't done something with a massive budget for ages. But you approach it exactly the same way."
Pattinson laughs, correcting himself. "The difference is, with Robert's movie, you can be on this little outcrop and everywhere you look is just The Lighthouse world. But on Chris's movie, you look out, and it's Mumbai!" With knowing understatement, he adds: "There's a few more extras."