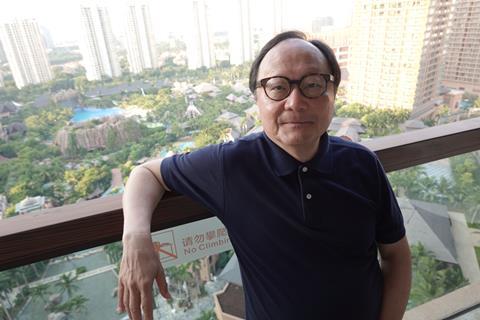 The 2nd Hainan Island International Film Festival (HIIFF), which kicked off December 1 in the resort city of Sanya, has enlisted Roger Garcia, former executive director of Hong Kong International Film Festival, as new artistic consultant.
HIIFF is co-hosted by China Media Group and the People's Government of Hainan Province under the guidance of the China Film Administration.
How would you describe the festival to someone who has not been there yet?
HIIFF is the newest of China's large-scale film festivals. It takes place in the resort town of Sanya, Hainan Island, and the second edition will comprise an international film festival with a competition, a film market with an emphasis on locations, and a project market for Chinese-language genre films. Sanya has good infrastructure for visitors, and the weather is pleasant at this time of the year. The festival selections are from around the world, as well as China and Asia. It is largely a celebration of cinema for all, but especially for local Hainan audiences, who have not had the opportunity of a large-scale international film festival before.
What distinguishes HIIFF from other Chinese festivals?
HIIFF takes place at the end of the calendar year and therefore we are able to avail ourselves of the year's crop of festival and arthouse films, as well as some commercial works. We set out consciously to produce an international-style film festival programme that is curated and selective. We have limited the number of films to around 150 compared to the 300 or 400 films in the festivals in Beijing and Shanghai. Unlike Pingyao and Xining's First International Film Festival, our focus is wider and not only on indie-inclined and emerging filmmakers.
How has your background informed your role in HIIFF?
Since I ran my first film festival in the late 1970s, and have helped programme film festivals in Asia, Europe and the US since the 1980s, I have some background in both programming and managing a film festival. As I worked as a producer in indie and studio pictures in Asia and the US, I also look at the festival selection from what might appeal to a larger audience. As a cinephile (and film critic) I try to weigh what a festival should show in terms of promoting film culture and the art of cinema, and of course what films I would like to see myself. Although I am not involved in the day to day running of HIIFF and its market (and project market), I do have some experience, knowledge and contacts in those areas so, apart from the film programming itself, I have made some suggestions on the market side.
How do you make a young festival relevant to the ever-growing film festival world?
What is a priority for Hainan is making the festival important to Hainan's cultural scene itself and relevant to its audience. As I said, when I was running the Hong Kong International Film Festival, a critical part of my job was to preserve and promote the communal film-going experience. It is the same in Hainan. We need to encourage the public to visit the cinema, not just to watch films, but to experience films the way they are meant to be experienced – on a big screen and enjoyed with other people. Moreover, China is a large country with a huge population, much of it young. There are Hainan audiences here that do not have the resources or time to travel to Beijing or Shanghai to watch films. It is important to bring the cinema, the film festival experience to people here.
What are the some of the new elements and other highlights in the programme?
I have tried to keep the programme reasonably simple – international, regional (Asian), Chinese-language and classics. This is new as the structure was not solidified in the first edition last year. The Golden Coconut Awards are a new addition, with cash prizes to be given in 10 categories for feature, documentary and short films.
We have about 150 films in total. We are happy to be screening the latest films by Mohsen Makhmalbaf (Marghe And Her Mother) and Kiyoshi Kurosawa (To The Ends Of The Earth), with a small tribute to the latter; Deerskin and The Whistlers from this year's Cannes; and the premiere of Beneath The Shadow by Keishi Otomo. We also have films from first-time feature directors, such as Oualid Mouaness' 1982 from Lebanon, and Verdict by Filipino filmmaker Raymund Gutierrez. Documentary highlights include Leo S. Chiang's Our Time Machine, and Hassen Ferhani's Algerian 143 Sahara Street.
I am also focusing on a section of classics, with a panel discussion on film preservation, a presentation by the Bologna Cineteca, and an outdoor screening of Chaplin's silent film The Gold Rush with live orchestra, and one of my favourite Astaire-Rogers' films, Top Hat. Film history and preservation are important areas which festivals can highlight and I hope we can develop this further in Hainan.
Some of the notable guests are Golden Coconut Awards jury head Isabelle Huppert, Ethan Hawke, Kiyoshi Kurosawa, Mohsen Makhmalbaf, Asghar Fahardi, Abel Ferrara, Milcho Manchevski and Jiang Wenli. All foreign films will have Chinese subtitles for the local audiences. The outdoor beach screenings will be free to the public, while the theatre screenings will be CNY50 ($7) per ticket.
Who is in the core programming team?
We have a young programming team in Beijing where the festival office is located, and also overseas consultants including Elisabeth Lequeret from France (previously at Cahiers du Cinema and a former consultant for Berlinale), former Hollywood executive Barry Sabath from the US, industry veteran Teng Lee Yein (formerly with Malaysia's Astro), and film critic and head of Broadway Cinematheque, Clarence Tsui, from Hong Kong. I'm based in California and travel a few times a year to Beijing.