In her first official interview since taking up the role of director of BBC Films, Rose Garnett, joined by colleagues Eva Yates and Claudia Yusef, outlines her ambitious new strategy.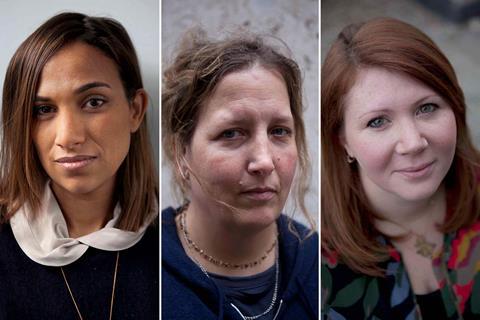 It all begins with the talent. Rose Garnett is explaining her vision for BBC Films. "When [BBC director of content] Charlotte [Moore] and I were talking about me coming to do this job, what we connected on was making talent at the heart of the conversation — that we would encourage [filmmakers] in their vision, encourage their boldness, and be a partner in their risk-taking. We'd be a partner in helping them build their authorial voice."
"Of course the stories are important," Garnett emphasises. "Of course you want a film to have the widest possible reach. But if you begin with the talent rather than the stories, you build a community of people that you know will work across different genres, in different companies, in different countries. We want to be a place of safety for filmmakers, and that doesn't mean cozy. We're rigorous, we're invested in the building of ambition, but home in the sense it's protective, it's supportive. It's about being there for work to be bold, culturally urgent, very distinctive, and to feed into the bigger BBC picture."
Scroll down for BBC Films' upcoming projects
It is an energising statement of intent that has already percolated widely throughout the UK film industry, where Garnett is viewed with immense respect garnered during her time at Film4 where she worked for four years, latterly as head of creative, as a driving force behind films including Yorgos Lanthimos's The Killing Of A Sacred Deer and The Favourite, Sarah Gavron's Suffragette, Andrea Arnold's American Honey and Lenny Abrahamson's Room. (One producer describes the esteem she is held in by colleagues and filmmakers as "the cult of Rose".)
Since her arrival in June 2017, while head count has stayed the same, 11 out of 15 people who now work at BBC Films are Garnett hires. Her major restructure has been building a new, six-strong creative team, led by commissioning executive Eva Yates and head of development Claudia Yusef. Other new faces in Garnett's team include Emma Kayee, hired to work with head of production and finance Michael Wood, and Geraldine Atlee, who followed Garnett from Film4 to be head of legal and business affairs.
In "recalibrating" the team, Garnett was keen to have everyone communicating the same vision, wanting to avoid "that thing when you speak to a wonderful creative person who makes everything feel possible, and then the minute you get onto the lawyers or onto production, everything's not possible. We wanted to make sure that, whoever you encountered from BBC Films, whatever your point of entry was, what was possible here was consistent throughout every aspect of what we do."
The end result has been revolutionary in terms of the development slate, which in a little over of 12 months has been transformed, with 70% of projects sourced or originated by the current team. That reflects Garnett's dynamic approach to building a slate that, she says, "represents who we are and what we want to do, more than getting a lot of films into production".
A variety of opportunity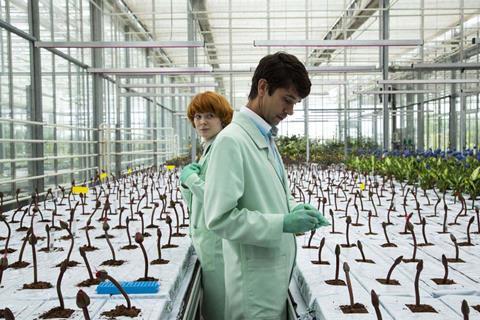 With the goal still to back 12-15 feature productions a year and an annual budget of $14.3m (£11m) — including overheads — there are still plenty of films. At this year's Cannes Film Festival, BBC Films-backed titles Sorry We Missed You by Ken Loach and Little Joe by Jessica Hausner are both in Competition, while Sundance Film Festival featured Joanna Hogg's The Souvenir (which won the world cinema dramatic prize) Chiwetel Ejiofor's The Boy Who Harnessed The Wind and Sacha Polak's Dirty God.
Garnett is guarded on speaking too much about the development slate because she wants filmmakers to view BBC Films as a place they can experiment and fail, without being held up to scrutiny. "It's a place for adventure, conversation and exploration," she says. "But we still say no to most things."
Although she is heading a body entrusted with spending public money, Garnett's view is that only through being opaque and fiercely protective can the strongest work emerge, and she is vigorously supported by her BBC boss Moore. During her overhaul of the development slate, Garnett relinquished a number of projects, including Morgan Matthews' bare-knuckle boxer biopic Gypsy Boy, to which Benedict Cumberbatch was attached.
"We made some tough decisions," she admits. "Some of those decisions were quite organic, where some of the pep had left the project anyway. It was about us looking at the slate and checking with the filmmakers: 'Were we still the right home for it? Were we still the right people to bring the best version of that film to life?'"
Yates also followed Garnett from Film4 — where she had managed new talent outreach and executive produced Rungano Nyoni's I Am Not A Witch and Tinge Krishnan's Been So Long, among others. "Eva came to look after the space of new voices, new talent debuts," says Garnett. As Yates describes it, she and Garnett "split the slate, about half and half". Yates's domain encompasses debut features, short films, new writers, directors and producers. "We have been doing a lot of work to see how we can support new producers better," she says. "There are a lot of producers on our slate that have never worked with the BBC before."
Yates also oversees and executive produces on iFeatures with Creative England, and Microwave with Film London, both in partnership with the BFI. The low-budget talent development initiatives previously sat with the BBC's film acquisitions department but have now been integrated into BBC Films.
Upcoming projects
Projects in production or post under Yates's watch include a pair of iFeatures, Eva Riley's Perfect 10 and Claire Oakley's Make Up, as well as Remi Weekes' His House, Andrew 'Rapman' Onwubolu's Blue Story, Fyzal Boulifa's Lynn & Lucy and Riz Ahmed and Bassam Tariq's Mughal Mowgli. In early development are Hayley Squires's debut Gentle In The Bones with DMC Films, and Harry Wootliff's second feature True Things.
Suggesting the diversity of the slate speaks for itself, Yates bridles slightly at the idea BBC Films is out to support edgier or more challenging fare than before. "It's important we have a sense of alternative voices and are progressive in the way that we engage with different ways of thinking about the world," she says. "But I don't think we want to do that entirely in the space of it being 'edgy'."
Yusef adds: "Of course we want to make some things that feel provocative to a bigger conversation. But our job is to be more expansive than that, that's part of the public service aspect of what we do."
Yusef, who joined from Number 9 Films at the start of this year, is tasked with having a strategic overview of the entire slate, ensuring a level of balance. "Do we need more comedies? Do we need more debuts? I'm taking the holistic overview," she explains.
She also works with development execs Sam Gordon and Dionne Farrell, to "make sure that, between us, we're covering everything and engaging with new talent in lots of different, agile ways".
Rounding out the present slate are the projects with more established filmmakers (and predominantly overseen by Garnett), including Philippa Lowthorpe's Misbehaviour with Left Bank Pictures, Horrible Histories: The Movie with Altitude, Phyllida Lloyd's Herself with Element Pictures, Sean Durkin's The Nest, Francis Lee's Ammonite, Sally Potter's Molly, Hong Khaou's Monsoon and Hogg's anticipated sequel to The Souvenir which starts shooting in June.
Since it was established in 1990, the BBC's filmmaking arm has produced or co-produced over 300 feature productions, building itself as a powerful brand and one of the three pillars of public-funding available to the UK film industry alongside Film4 and the BFI.
Under Garnett's predecessor Christine Langan (who is now CEO at Baby Cow Productions), BBC Films backed features including Made In Dagenham, Philomena, Saving Mr Banks and Brooklyn, as well as Carol Morley's The Falling and Andrea Arnold's Fish Tank. But it also developed a reputation for avoiding anything too controversial or challenging for a mainstream BBC terrestrial audience.
Garnett is fuelled by her belief in the public service aspect of the BBC, that it should be a breeding ground for backing new voices the market might not be ready to support. "That's huge," she says, "because it means we're always asking, 'Why should this be a BBC Film? What can we bring to the conversation? What can we do that the market can't do yet? What can we do that the market doesn't know they want?' We can be a filmmaker's past and their future. It's a privilege being able to spend money in a bold but wise way that helps introduce voices and stories people didn't know they wanted."
Like the rest of the industry, Garnett sees the landscape shifting, too. The days when every indigenous UK production aspired to have at least one of the three public funders, and ideally two, backing them are over, she believes. "We've got to fight hard for what our value is, and really tell people what we can bring," she says. "There's such a thirst for content, there's such a thirst for talent — you know, Netflix is sponsoring NFTS; we've got US agents taking on filmmakers from shorts — but talking about talent as an asset is really dangerous and it happens far too much."
"Before, by definition you'd end up making good films because you were [simply] there," she adds. "It's different now. Our job is to evolve to meet the needs of the filmmakers. That has got to be our North Star."
She is putting slightly more of her annual budget — which has remained static for several years, but can be topped up by recoupment — into development but the bulk still goes towards production finance. While always a minority partner, BBC Films investment can be the make-or-break element in many films getting made, as was the case with Dirty God, when it boarded late in the day.
Garnett is passionate about working with "world-class filmmakers". She backed Hausner's Little Joe, the Austrian filmmaker's English-language debut, because "her previous films are stupendous and it was an incredibly exciting moment for us to help Jessica make the best film she could in the English language. [The story] doesn't exist in any particular place, but it's clearly British."
On the subject of Eliza Hittman's Never Rarely Sometimes Always, the US writer/director's follow-up to Beach Rats about a Pennsylvania teenager trying to cross state lines to have an abortion, BBC Films developed and co-financed the project alongside Moonlight producers Pastel. The only British connection is BBC Films, with Garnett an executive producer. She defends her decision to back the "outlier" project.
"Eliza's an incredibly exciting voice and it's a story that we felt was very important to tell and that the market probably wasn't going to tell without our help. It's not our core business but never say never," Garnett explains. "Our absolute priority, and the majority of what we do, will be about working with British talent, telling British stories."
Protecting and promoting creativity
Garnett is intimately involved with those projects closest to her, most recently The Souvenir and Ammonite. "It's about knowing what the value of your voice is at the right time," she says. "There are some films that are incredibly, creatively robust, but finding the money is part of your job with the producers. With others, it really is being at the centre of the creative part."
Half her day she estimates is still taken up with development, being in rooms with filmmakers, producers and writers — "I don't write as many notes as I used to but I would miss it, I'm good at it, and we are frontline all the time" — and there are also discussions with other content-generating departments across the BBC, although so far only the Horrible Histories: The Movie has come out of those (a big-screen version of BBC sitcom People Just Do Nothing is in development.
"Part of our job is to be part of the bigger BBC and protecting and promoting all their brands," Garnett explains. "Absolutely, bring it on. But you have to navigate carefully in terms of offering something fresh. Not everything should be turned into a film.
"I hope we're good at knowing what our value is to a project, and that we're always part of the solution, not part of the problem."
Buzz projects in the BBC Films pipeline
Ammonite
Francis Lee's second feature after God's Own Country about a 19th-century female fossil hunter stars Kate Winslet and Saoirse Ronan and wrapped in late April. BBC Films co-financed the See-Saw Films production with the BFI. Sony has taken several international territories.
Blue Story
UK music artist Andrew 'Rapman' Onwubolu makes his feature debut adapting his hit YouTube series, Shiro's Story. The film shot on location in south London with Damian Jones and Joy Ghararo-Akpojotor producing. Paramount Pictures swooped to take world rights.
Gentle In The Bones
I, Daniel Blake star Hayley Squires is writing and will direct the story of a female bare-knuckle boxer. Daniel Emmerson and Conor McCaughan of DMC are producing.
Judy
Renee Zellweger is already receiving heightened awards buzz for her performance as Judy Garland, a co-production with Pathe and Calamity Films. Expected to turn up at one or more of the early fall festivals.
Herself
Production is underway in Ireland on Phyllida Lloyd's feature about a single mother who takes her future into her own hands, which BBC Films developed with Sharon Horgan's Merman and Element Pictures.
His House
2017 Screen Star of Tomorrow Remi Weekes' feature debut is a genre thriller about a refugee couple (played by Wunmi Mosaku and Sope Dirisu) adjusting to life in a small English town. The film shot last year in the UK at a reputed budget close to $10m and is undergoing extensive VFX. BBC Films is a minority financing partner with New Regency; Fox has worldwide rights.
Horrible Histories: The Movie – Rotten Romans
Dominic Brigstocke directed and Jessica Swale wrote the script for this feature adaptation of the long-running BBC children's series. Altitude Film Entertainment produced, and Amazon has taken multiple SVoD rights.
Lanny
Rachel Weisz will star in and produce, alongside The Bureau's Tristan Goligher, this adaptation of Max Porter's recently published novel. The contemporary drama follows a young boy who moves to a village populated by mysterious inhabitants. In early development.
The Lesser Bohemians
Eimear Mcbride's 2017 novel about an 18-year-old Irish girl who moves to Camden Town in the '90s to attend drama school where she falls into a passionate relationship with a troubled older actor has been optioned with DMC Films.
Lynn + Lucy
Fyzal Boulifa's feature debut, about two best friends whose relationship is tested after a tragedy, is part of the Great 8 showcase at Cannes this year. Camilla Bray produces.
Make Up
Another Great 8 selection, Claire Oakley's iFeature stars Molly Windsor is a young woman drawn into a mysterious obsession. Emily Morgan (I Am Not A Witch) produces.
Misbehavior
Philipa Lowthorpe's feature about the 1970 Miss World competition starring Gugu Mbatha-Raw, Keira Knightley and Jessie Buckley is currently in post. BBC Films co-financed the Left Bank Pictures production with Pathe and the BFI.
Molly (working title)
Sally Potter follows up The Party with this drama about a wild day in the life of a man on the edge (Javier Bardem), held together by the unconditional love of his daughter (Elle Fanning). Other cast include Chris Rock, Laura Linney and Salma Hayek, and production took place in Spain and New York.
Monsoon
Also featured in this year's Cannes Great 8 line-up, Hong Khaou's follow-up to Lilting features Crazy Rich Asians star Henry Golding as a British-Vietnamese gay man who returns to Vietnam after the death of his parents. Tracy O'Riordan produces.
Mughal Mowgli
Riz Ahmed stars in and co-wrote (with Bassam Tariq, who also directs) this tale of a British-Pakistani rapper struck down with a mystery illness when on the verge of international stardom. The film wrapped production in early April. Bennett McGhee and Pulse Films' Thomas Benski produce with Ahmed.
The Nest
British-Canadian filmmaker Sean Durkin's follow-up to Martha Marcy May Marlene stars Jude Law and Carrie Coon as a couple whose lives descend into chaos in 1980s Britain. Currently in post, the film is a co-production with FilmNation and Element Pictures.
Never Rarely Sometimes Always
US writer-director Eliza Hittman's film follows two teenage girls on a fraught journey across state lines to have a legal abortion. Focus Features has worldwide rights; the film was produced by Adele Romanski and Sara Murphy of Moonlight outfit Pastel.
People Just Do Nothing
The team behind the award-winning BBC3 sitcom about a west London pirate radio station, led by writer-performers Allan Mustafa, Steve Stamp, Asim Chaudry and Hugo Chegwin and producers Jon Petrie and Ash Atalla of Roughcut TV, are developing a big-screen version. The fifth and final season aired in 2018.
Perfect 10
2016 Screen Star of Tomorrow Eva Riley makes her feature debut with this iFeature – also part of the Great 8 – about a 15-year-old gymnast focused on her first competition. Valentina Brazzini of The Bureau and Jacob Thomas are producers.
The Power Of The Dog
Jane Campion's feature adaptation of Thomas Savage's western novel will star Benedict Cumberbatch and Elisabeth Moss in the tale of a jealous rancher who tries to destroy his brother and business partner's new relationship. See-Saw Films produce with Tanya Seghatchian.
The Silence Of The Girls
Author Pat Barker's retelling of Homer's Iliad, told from the perspective of the captured Trojan queen Briseis, has been optioned with Element Pictures.
The Souvenir: Part 2
After The Souvenir won the world cinema jury prize at Sundance Film Festival, Joanna Hogg is gearing up to start shooting the sequel in June. Returning cast include Honor Byrne Swinton, Tilda Swinton and Richard Ayoade. Ed Guiney and his Element Pictures have joined the sequel as a producer alongside Hogg and Luke Schiller for JWH Films.
True Things About Me
Ruth Wilson will star in Harry Wootliff's second feature, an adaptation of Deborah Kay Davies' book about a young woman living on society's fringes who becomes intoxicated by a stranger. In development with Wilson, Tristan Goligher, Ben Jackson and Jude Law as producers.