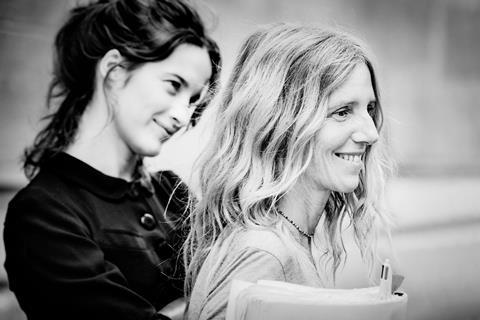 In the summer of 1942 in Nazi-occupied France, French actor Sandrine Kiberlain's Jewish grandparents received a visit from a local gendarme in the small country town where they were living.
The rounding up of Jewish citizens was gathering pace and he had come to arrest them. Kiberlain's grandmother was pregnant with her mother at the time and took drastic action.
"She had quite deliberately quickly got pregnant because at the beginning [of the round-ups] they weren't taking Jewish women who were pregnant, although that all changed with time," recounts Kiberlain.
"When the policeman, who was a friend, turned up and said, 'Sorry, I'm going to have to take you in', she took off her dressing gown and stood there naked, to show she was carrying a child. He let her go."
Around 75,000 Jewish people were deported from France to concentration camps during the war. Kiberlain's Jewish grandparents on both sides survived but lost many members of their close and wider family. The experiences of her grandparents have stayed with Kiberlain throughout her life.
The popular French actor, who has appeared in more than 70 feature films over her 35-year career, most recently in Stephane Brizé's Another World opposite Vincent Lindon, has drawn on these stories to create an entirely fictional tale for her feature directorial debut A Radiant Girl.
Set in Paris in 1942, it follows the fate of a young Jewish woman who attempts to go about her life as normal in the face of rising restrictions for her and her French-Jewish family under Nazi occupation. Rebecca Marder stars as the 19-year-old protagonist Irène, a lively young woman with ambitions to enter France's prestigious drama conservatory.
"I've been obsessed about this period for a long time and the injustice and the madness of what happened. I knew I wanted to do something to not forget and that it would be with cinema, but it took me time to come up with the point of view and an idea that would explore what happened in a different way," explains Kiberlain.
"What has always interested me is what happened just before the situation changed forever. I've always asked myself what was everyday life like in Paris in 1942. My protagonist has no idea of what is around the corner. She's full of joy. She is going to conquer the world, find love and pursue her passion for theatre."
The film, which world premiered in Cannes Critics' Week in July, has been acquired by Film Movement for a North American release, while Ad Vitam is due to release the film in France early next year.
Kiberlain began writing the screenplay under her own steam some four-and-a-half years ago, with the support of producer Olivier Delbosc, who lead produced the film under the banner of his Paris-based Curiosa Films.
"I didn't know if I was going to be able to do it. I've been an actress for a long time. I've read lots of screenplays, but I had no clue as to how you created a character that you would follow over the course of an hour and a half," says Kiberlain.
"Initially, I wanted to write with someone, but Olivier told me to try on my own at first. I did so without really believing I could do it and drew on my work as an actress and built the characters first, that of Irène, then the father, and once I'd done that it became easier to imagine the entire storyline.
"I wrote in sequence, the first scene, followed by the second scene, which was the opposite of what I had been advised to do by professional screenwriter friends. They'd told me, 'Above all don't write the scenes in order, you'll never arrive at the end.' But that's how I got through it."
In a bid to ensure that the story would chime with audiences today, Kiberlain opted to give the work a contemporary feel, even if the events are clearly set in 1942.
"I didn't want it to be a reconstruction. I wanted there to be this sense that this is something that could happen today. We've used contemporary music and shot the film in a way that's not too classic," explains Kiberlain.
As well as history, Irène's story also draws on Kiberlain's own experiences as a young actor and her own entry into the acting profession.
"We're always able to write about things we know ourselves best," she says. "I went back to the time when I'd just passed my baccalauréat and was starting to be an actress. I had the impression I was reborn or born even. I started to meet people, who are still friends and collaborators to this day, with whom I put on our first shows. It felt like the beginning of the life I have today, and I wanted to capture that."
The film marks the first leading big-screen role for Marder, whose previous credits include supporting roles in Spring Blossom, the debut feature of Kiberlain's daughter Suzanne Lindon.
"The biggest challenge was finding the actress to play Irène. I saw 30 girls and each time I spoke to them for hours. When Rebecca walked in, it was like love at first sight. It was an emotional experience for me to film her in her early days of being an actress. The actress that I am wanted to reveal an actress who reminded me of myself at the same age."
Although the young cast is at least three generations removed from the events of the Second World War, Kiberlain said the youngsters all had a strong sense of history and what was at stake in 1942.
"They all understood the enormity of the story and got how I wanted to infuse the main character with joy as a way to capture the worst of what was happening. They all had a sense of talking in the name of all those who went through that terrible period."