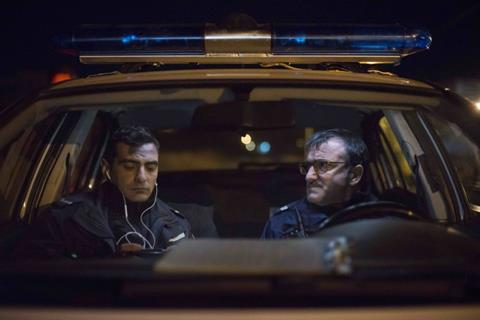 Bulgarian filmmaker Stephan Komandarev is world-premiering his fourth feature film Rounds in the Sarajevo competition.
Taking place over one night in Sofia, the film follows three pairs of police officers doing their rounds on the night of November 9-10 this year, exactly 30 years since communism in Bulgaria fell.
In this film, Komandarev takes a similar approach to his previous outing, Directions (2017), which followed taxi drivers in the Bulgarian capital. It is billed as the second part of a trilogy, and the third will be set among ambulance teams. "If it happens, we'll see," says Komandarev.
Although the director's first film The World Is Big And Salvation Lurks Around The Corner (2008) ended up on the longlist for the Best Foreign Language Oscar, Judgment (2014) won best director and best actor at the national Golden Rose awards, and Directions premiered in Cannes' Un Certain Regard, he says all this does not help him to get funding more easily.
"This film has a smaller budget than all my previous films," says Komandarev. "We received a very small amount from Bulgarian National Film Centre, a small amount from Serbia, some money from Eurimages, some from pre-sales, and some help from friends. That's what you always need to make a film."
How did you work on the film with such a small budget?
We had only 12 days of shooting, but we did months of rehearsals prior to than. During these rehearsals we shot the entire film with a small camera, without lighting, without sound, just with actors in real locations. A few weeks before the main shooting, we edited it and we had a film of 105 minutes running time. We watched it, saw our mistakes, and changed many things. This was the only way to shoot the film in 12 days, that is, 12 nights. This is what I also did on Directions, and it was very helpful to all of us - me as the director, the actors, the crew.
There is no other way to make a film with such a small budget in 12 days, except if every segment consists of one shot. We also did this on Directions, but there the action took place in the taxi cabs, and now the characters are mostly outside their police cars. Also we used different lenses this time around, a lot of Ari lenses.
We wanted to keep the film small and be fast and from the idea for the film until we finished it, it took us only one year.
What else did you do differently to the previous film?
The main difference is that we have three pairs of police officers, and we stay with them for the whole film. Directions was more of a puzzle of short stories. Here we have real protagonists and we spend the whole night with them. The characters are much more developed and this is the main difference.
There is also a lot more humour in Rounds.
This was one of our main goals. To me the hardest thing to do in cinema, and this is the type of cinema that I like very much, is when in one film within 10 minutes you can have both very dramatic moments and lots of laughter.
When we researched for the film, we got very close to many police officers in Sofia. We contacted the biggest police union in Bulgaria and we told them we want to make a film and that it's fiction but we want it to be realistic. We met many of them and collected many stories and based on these we started to develop the script. Of course, there was a lot of very funny stories and we used them. There is a lot of reality behind the script, but it is fiction film, not a documentary. It's like in real life: things are not only dramatic or only comic, they are mixed.
Both Directions and Rounds represent an image of the Bulgarian society. Why do you feel this is a subject that you want to pursue?
Today, Bulgarian society is very divided. People are either anti-Russian or pro-Russian, nostalgic or only looking towards the future… We are losing the sense of community because there are different views fighting with each other.
Some of my friends have become really crazy. I like to joke that I have friends who, before going to bed, first check if Putin is under there. And I have friends who are on a totally opposite side. They are losing the sense of real life, their whole lives are focused on issues like this. This is a part of the diagnosis of a divided society.
Of course, now it is 30 years since the political changes so it's a moment in which we think about what happened for these 30 years. I was on the streets in 1989 when the changes started. We dreamed about a better society and I am sure that for almost 90% of the people who were on the street 30 years ago, the society that we have today is not the society that we dreamed of.
So in the film we wanted to use real people's stories to present what has happened. What is the exact situation now? Because the main way to change something is to try to tell the truth.
By my first education, I am a doctor. When I was a student of medicine we had a professor who told us that exact diagnosis is 80% of good treatment. And I am trying to show what is happening.
Bulgaria is now on 118th position in the world on the Press Freedom Index. According to Eurostat, the gap between the rich and the poor is bigger than ten years ago when we became a member of the EU. We are in the first place in Europe by the mortality rate and cardiac diseases, so something is seriously wrong. I don't know what. It's not my job, but my duty is to say something is wrong.
A lot of qualified professionals left Bulgaria, and the quality of education is decreasing. I have two children and they live in Bulgaria, and this is why I am worried about this.
Also for the policemen it is difficult. I became a friend with many of them. It's not easy for them, they work for very small salaries, everybody hates them, and some of them are really good people. Of course, some are corrupt but among them there are also great people and they are a part of this society and you can see the problems through them.
How did your co-producers, SEE Film Pro from Serbia and Deuxième Ligne Films and EZ Films from Serbia, get on board?
Nenad Dukić of SEE Film Pro worked with my close friend Paulina Jeleva on the excellent Serbian film Requiem for Mrs J, and he proposed to be a co-producer on Rounds. Serbia was a very good partner, with the small amount from the Bulgarian National Film Centre, it was possible to get a similar amount from Film Centre Serbia, and Belgrade is very close so we were able to get some equipment and crew members from Serbia for about the same price as in Bulgaria.
As for France, Elie Meirovitz of EZ and Marie Dubas of Deuxième Ligne Films didn't manage to get funding, but they helped us a lot with script development, in preparation of production, and with post-production and subtitles.
In pre-sales, Beta Cinema picked up the film as the international sales agent. I know them from before but this is the first film we did together and we have good relations.
When you were developing the project, did you go to co-production markets?
Yes of course, we did, we went to Les Arc Co-production Village, Mediterranean Film Institute's Script2Film and Sofia Meetings. But you don't have many possibilities when you have too little money from your national fund. After my experience with my previous films, of course it was possible to have a German co-producer but if there is more money coming from Germany, then the film would become majority German.