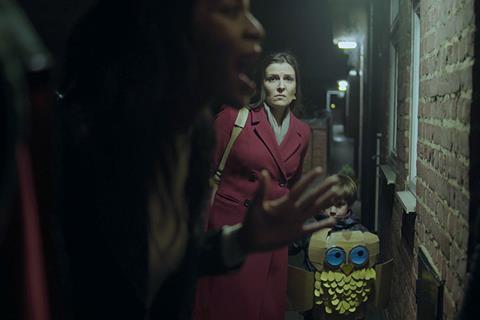 Bulgarian directing duo Mina Mileva and Vesela Kazakova are in the Sarajevo Film Festival competition with their first feature film Cat In The Wall, right after it world-premiered at Locarno.
The pair is best known for politically charged documentaries The Beast Is Still Alive (2016) and Uncle Tony, Three Fools And The Secret Service (2014) which caused a huge controversy at home for its depiction of a real-life Secret Service informer. They were attacked within their own Film Guild and their contract with the copyrights society Film Author was illegitimately revoked. The Bulgarian Cinema Council later demanded for the several support articles that were published on the websites of the European Documentary Network, EAVE, Dox Magazine and Cineuropa, to be removed.
In their first fiction outing, Mileva and Kazakova are again political, but this time around, the story revolves around the Bulgarian single mother Irina (Irina Atanasova) living on a council estate in Peckham in London and having to deal with gentrification and increasingly xenophobic neighbours on the eve of Brexit. Irina's family and people living on benefits clash over the ownership of a cat.
Screen's review read: "What's particularly striking is the authenticity of British working class voices, something that UK cinema sometimes struggles to get right. It's perhaps no coincidence that two of the films which have captured this persuasively this year – Cat In The Wall and Sacha Polak's Dirty God – come from foreign-born filmmakers looking in."
How did you come up with the story?
Mileva: This happened to me and my son in my flat in Peckham. We realized this is a metaphor for the British society and that the cat symbolizes your freedom, and within the house, you are sealed amongst the walls.
Everything that is in the film is there in my flat: behind the boiler there is still a hole. The animal did go in there and stayed for five days, and I did fret about it. All the things that happen in the film happened in reality, it's just that we combined them into one story.
How did you finance and develop the production?
Mileva: We knew that we couldn't get a lot of funding in Bulgaria. With our past, it is almost impossible to get fully supported. So we decided to use the call of Bulgarian national broadcaster for a short TV film as a way to launch our fiction career, because we knew no other outlets would let us. We won the call, but by the time the results came, our idea grew significantly. So we went to their legal department and said that we want to make a feature. They told us we can't because we are first-time feature filmmakers. We replied that we had made two feature-length documentaries.
No one in the industry seems to agree what constitutes a debut. We always fall into the same loophole.
Kazakova: We got some funding from MEDIA, so with this money and the money from the broadcaster we applied for development funding with the Bulgarian National Film Centre. We didn't get it and we decided to look for co-producers.
Mileva: I famously pitched the project in Soho on the street. I ran into my former employer from the BBC, Lambros Atteshlis, with whom I worked on short animated films. I told him I want to pitch him a fiction film, and he said, "Are you mad? You can't move from animation to fiction, it's impossible." But he agreed to hear about the story in brief. Those two-three minutes right there on the street decided the destiny of the project.
He came in full force, with equipment, studio and his very established company, Glasshead Limited, with many connections in television. He also gave us a lot of emotional support and we felt we were already on the right track. He is specialized in factual documentaries, so this topic rang true to him and he knew it had potential.
Kazakova: Later we involved the French co-producer, Christophe Bruncher of Ici et Là Productions who got some money from Île-de-France Fund for post-production.
Did you go with the project to any co-production markets or development programmes?
Mileva: We pitched it at CineLink Co-production Market and later Work in Progress, Connecting Cottbus, the Edinburg Showcase of 10 upcoming British features, and Sofia Meetings.
Kazakova: In Cottbus we won the award from the Berlin-based The Post Republic in the amount of €25,000 in services for post-production and colour grading. So we used the Île-de-France money for sound, visual effects and deliveries.
CineLink was the most useful for us in the sense of connections, because we took part in it twice. It's a huge industry gathering and everyone is here, so in the sense of networking, which is quite easy-going in Sarajevo, it was really important for us.
Mileva: The interest of sales agents, distributors and festivals started gaining traction here in Sarajevo. Of course, Edinburgh was extremely useful because it gave us confidence. Just being in the company of Ken Loach proved that we were doing something right.
But Edinburgh happened thanks to Cottbus because they invited Ben Gibson and Simon Perry who really understood our project and gave us very good tips.
Kazakova: I was at home and Mina was pitching in Edinburgh as they only invited one member of the team. Everybody congratulated her, and she said, "I've been here in the UK for 20 years and finally I am perceived as a director." This was a big step for her position in the UK industry.
After CineLink Work in Progress, many people asked us for the rough cut. We didn't want to give it to many people because we had a 2-hour cut, we thought it was too much. So we were careful with that.
You have to be careful and you never know who will select your film. Some of the sales agents were not sure that they can earn money from it, if it is interesting for the audience. They thought it's a very arty film for festivals, but after the two screenings at Locarno and the press screening that we had just now in Sarajevo, it's clear that it's not just a festival film. People relate to it and connect emotionally for the story, which is very current.
The film is very naturalistic, and at some points it feels like a documentary, both in the camerawork and performances. Did you improvise with the mise-en-scene, and are some of the actors non-professionals?
Mileva: Everything was scripted and staged. We asked our DoP Dimitar Kostov to use wide shots and continuous shots, not to cut too often. We wanted to preserve a realistic look, because we experienced those things and we wanted the film to match our memories.
We also instructed the actors not to wait for each other with their lines, which is a frequent problem in Bulgarian cinema, but to try to be natural and use the situation. They were really enjoying the process.
Kazakova: We had a problem with the British actors' accents because most of them are very middle class and very well spoken. And Gilda Waugh is from Kent and she is very rich. With this background, she was even quite afraid to enter the block.
She really liked the role and she understood that her character is completely different from her. She helped with the other British actors who came later. When one actor who said he was a cockney came in, and because we couldn't tell the difference, Gilda said he was not a real cockney, so we found another actor for this role.
Mileva: We had a lot of different difficulties in finding the actors. For the role of Feebee, the 12 year-old girl who lost her cat, we didn't have an actress until three days before the shooting. We didn't want to take a slim actress, this character had to have a strong bodily aspect. And we saw a lot of girls like this on the street, obesity is a big problem in the UK.
So we went to scout for them, and we went with sound equipment instead of a camera. People are curious about sound equipment, they think we are recording nature or city sounds. Then you say you are working on a film and this melts the barrier.
Kazakova: We could not find the right actress for the role of Feebee in casting agencies because most of the actresses are over 25, slim and educated. So we practically did the casting on the street. We'd tell people we saw that we want them in the film, and asked if we can do a screen test. We would give them a simple scene regarding the lost cat and foreigners in the UK, a bit of a Brexit theme.
We found Kadisha Gee Camara, who ended up playing Feebee, in a supermarket. She was there with her aunt and her little sister. We told her we were making a film and that she was our character. She panicked, she didn't know what to say, and her aunt said, "But she is taking drama classes, she wants to become an actress." And it turned out she was living in the neighbouring block in Peckham where we were shooting. She was exactly what we needed for the character.