In The Laundromat and The Report — both of which he scripted and the latter he directed — Scott Z Burns makes complicated true events coherent to audiences. He tells Screen about the power of facts.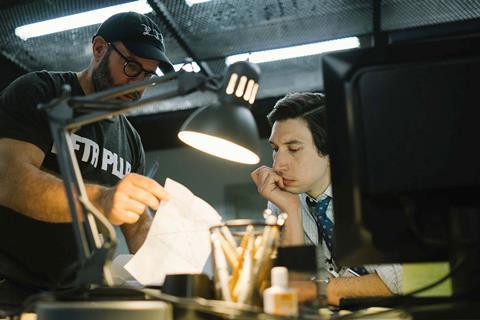 Scott Z Burns is on a roll when, midway through the phone interview, the line goes dead. When the writer/director of The Report and writer of The Laundromat reconnects, he does not sound too bothered. "That's probably good. I was turning into a crazy person."
Burns is always a thoughtful interviewee and "crazy" is a highly subjective term in Donald Trump's America. His choice of word says a lot about the times we live in, when theorising about the interconnectedness of things can cause eyes to glaze over, and belief in the sanctity of facts can invite ridicule.
Similar concerns attracted Burns to The Report, which stars Adam Driver as the author of a damning Senate Intelligence Committee report into the CIA's now-defunct post-9/11 detainee torture programme, and The Laundromat, which his friend Steven Soderbergh directed and uses vignettes to illustrate the damaging effects of the financial system exposed by the Panama Papers leaks.
"Right now, more than ever, what scares me the most is that we're living in a moment when there's so much confirmation bias and everybody can go online and find a narrative that matches up with their preconceived notions," says Burns, whose screenplay credits include The Informant! and Contagion for Soderbergh, as well as The Bourne Ultimatum and the upcoming James Bond thriller No Time To Die.
"That's very dangerous to all of us, not just as people but also as storytellers because it's basically saying you can't change another person's mind. I've always believed that facts were the best inoculation for confirmation bias, but now even facts have become up for grabs."
He had followed news reports of the CIA programme under the George W Bush-Dick Cheney presidency, and got hooked when he read a Vanity Fair article about the two psychologists who were given credit as being the architects of the programme. Research began in early 2014 and when the Senate Intelligence Committee report was published later that year, he "devoured" it. Burns then got in touch with the report's author Daniel J Jones — who pursued his investigation for five painstaking years, and then battled to get it published — through committee chairman senator Dianne Feinstein's office.
"It was a bit frustrating initially because he [Jones] couldn't tell me anything that wasn't in the report," says Burns. "Finally I said to him, 'This must be frustrating for you as well because you uncovered so much — tell me your story.' And that's when he told me this very Kafkaesque odyssey he went on and I decided it would be better to tell the story through the eyes of someone who was trying to get out the truth than to do an absurdist, Dr Strangelove-like comedy about the psychologists."
Mounting the production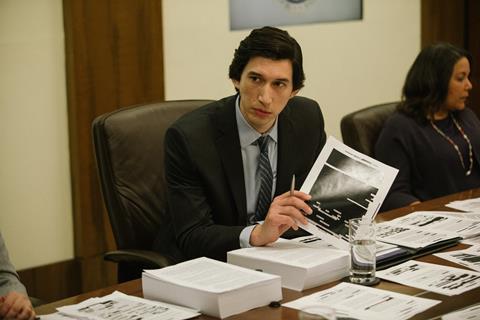 Captivated by the project, Burns and his talent agents fought to secure financing. What started out as a $16m feature at HBO, before the company declined to pursue it, ended up at roughly half the price, with Vice Media investing $4m thanks to Burns' friend Eddy Moretti, former Vice Media chief creative officer and a producer on the film, and the balance from international pre-sales through IMR International (now MadRiver International).
The film shot in spring 2018 over a brisk 26 days. The actors worked for scale. Driver had been the first choice to play Jones after Soderbergh, who produced, suggested him. Annette Bening came on as the hard-charging committee chair senator Feinstein. "She really knew this story," says Burns. "She had actually read the report when it came out."
A pedigree cast gave the filmmaker the opportunity to invest The Report with more cerebral thrills than those he had crafted on The Bourne Ultimatum, as Jones navigates the labyrinthine corridors of the US intelligence sector and faces countless obstacles. "The Bourne movie [shifts] from one landscape to another — you change locations and go to new cities and that becomes the escalation for the audience," he says. "For this piece, the escalation took the shape of introducing new, amazing actors. At first Dan's obstacle is the CIA and it's in the shape of Michael C Hall and Maura Tierney, and then you have Ted Levine [as Barack Obama's newly appointed CIA director John Brennan], and then Jon Hamm [as White House chief of staff Denis McDonough] sort of becomes a shifting figure."
Why did it take Burns so long to direct a feature again after HBO Films' Pu-239 in 2006? "Thank you for remembering that," he laughs, adding that he has always loved writing with Soderbergh and was about to direct Side Effects when his friend decided to do it. "I stepped off that because as a screenwriter if Steven Soderbergh wants to make your movie, you say yes. That being said, Steven said to me during that production, 'You need to go and write something for yourself,' and this was that movie."
Amazon Studios snapped up worldwide rights to The Report for $14m after its world premiere in January at Sundance, and scheduled a two-week theatrical release on November 15 before it debuted on Prime on November 29. Burns and Soderbergh were swayed by the Amazon Studios team's promises to give the film a theatrical launch as well: "For me that ticked the boxes."
Paper talk
Damian Szifron's dazzling Argentinian portmanteau film Wild Tales was the inspiration for Burns' screenplay for The Laundromat, which enjoyed limited theatrical releases in the US and UK and launched on Netflix in October. "Working with Steven, it's not just about bringing him a cool story — you also have to engage in a conversation about the form and how you want to tell that story. Those two things have to connect for him, so on the one hand I thought the anthological structure of Wild Tales would work really well because there were more than 200,000 shell corporations that were revealed in the Panama Papers leak and each one of those is a story… Even if you're not a billionaire, you feel the effects of this system every day of your life."
The filmmaker has also been on the writing team for Eon Productions' No Time To Die, which is due to open in April 2020. "It was the thrill of a career to work on a Jason Bourne movie, and a James Bond movie — as someone who loves movies, it's a dream come true. Being part of the custodial team of that character is kind of why you get into this business.
"I didn't get to work with Phoebe [Waller-Bridge, co-writer] as much as I wanted to. She was in New York, I was in London and I wasn't able to stay on the film for as long as I wish I would have been. She's one of the most talented people I've ever met."
For his next trick, Burns is trying out a series. "I have a scripted series that I'm completing a deal on about climate change, so I think that will be the next activity for me. It's basically a series of episodes that looks at how life is going to change on Earth as we move through this century."