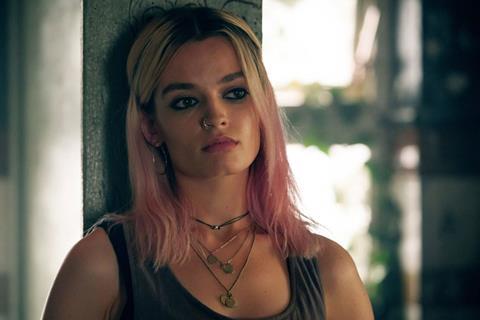 Franco-British Sex Education star Emma Mackey has just signed to make her big screen French-language debut opposite Romain Duris in Pathé's upcoming €22m production Eiffel, about the untold love story behind the creation of the Eiffel Tower.
She will play Adrienne Bourgès, a mysterious woman from Gustave Eiffel's past who inspired the celebrated engineer's creation of the Eiffel Tower.
The production – co-written and directed by Martin Bourboulon and lead produced by Vanessa Van Zuylen for VVZ Production/L'Insensé Films – is due to start shooting at the end of August.
It will take Mackey back to her native France, which she left some five years ago to studyEnglish language and Literature at Leeds University.
Before that, Mackey will spend two months on set for the second series of Sex Education, reprising the role of the sassy, no-nonsense character of Maeve Wiley, which shot her to stardom at the beginning of this year.
The actress chatted with Screen on the eve of Cannes about her busy summer schedule.
You've just started shooting the second series of Sex Education? How is it to be back on set?
We haven't been there since last August but it felt like nothing had changed. The crew all looked the same, the school looked the same. It felt very Truman Show-esque, likes someone was filming us to see how we were going to react. It all felt very familiar but also quite uncomfortable being back in teenager clothes, the nose rings and tights.
Can you give any clues about where Maeve's character is going this series?
All the character arcs are incredible. Season one was great and it feels like they've raised the bar even higher. When you read the script, you feel they've written it with us in mind.That changes your own perspective. We've got season one under our belts, and we know what we're doing. It's a question of where we can take these characters now.
How did your upcoming role in Eiffel come about? Did you have any contacts in the French film industry? Were you looking for a French-language role?
It's a big old dream of mine to do French cinema and go back to my roots, or one part of my roots. I don't actively look for specific things. I just play it by ear really and this came along. Martin and Vanessa sent the screenplay to my agent, who passed it on to me. I absolutely adored it and the character. It was inevitable I would work in France at some point so I thought why not with this?
Your Sex Education character Maeve Wiley is a strong and complex female role. Is this now influencing the sorts of roles you're prepared to take on?
Playing Maeve has given me more confidence in myself. In terms of the choices I make now in my career, I'm actively going for the things that are worthwhile. I'm not going togo after characters which are secondary or don't have their own narrative or personality. I think Adrienne is the perfect example of a woman who is ahead of her time and is her own person and her own entity
Did you know much about Gustave Eiffel or the love story behind the creation of his world-famous Eiffel Tower?
No matter where you are in the world if you see a picture of the Eiffel Tower you know exactly where it is. People across the world are so aware of this structure but no-one knows the story behind it. I certainly didn't. I also love the fact we're humanising the story of a feat of engineering which was pretty astonishing for its time. Nothing had ever been done like it before. These days, we take it for granted because there are so many ridiculously tall skyscrapers - at the time it was phenomenal.
What's it like to be heading back to France?
I spent all of my childhood trying to catch up with British culture because I wasn't learning about it at school. I would devour all these history books and novels in English. Now I'm thinking, maybe I should be reconnecting with my French side a bit more.
Aside from Gillian Anderson, most the cast members on Sex Education were your peers and getting their first big break in TV, like you. Are you nervous about now playing opposite an experienced actor like Romain Duris?
We recently met for the first time in Paris with the director. I'm not easily intimidated by anyone really and he is certainly not intimidating. He's a really lovely, down-to-earth, funny guy. I knew of his work. I think I've only watched about two of his films, don't tell him [said in mock hushed tones], which actually is quite good. There's a risk when you've watched someone's films all your life that you could be a bit obsessive and come to the set with expectations.
And any nerves about working in the French film industry, which is quite different from that of the UK?
They are very different. I just want to do the film and character justice and make sure I honour the director and everyone at Pathé in their decision to choose me. Other than that, I'm quite calm. It's such a thrill. Being in films and costume dramas and all that kind of thing is something I always dreamed about when I was a little girl.