The director discusses her new Cannes title The Beguiled, the Netflix row and acting in The Phantom Menace.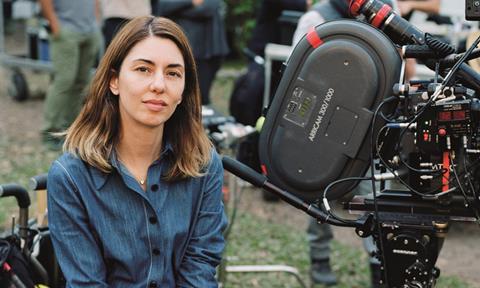 Sofia Coppola has been coming to Cannes since she was a child, telling Screen that her favourite festival memory is sitting in dad Francis' lap at the Apocalypse Now press conference in 1979. "He thought they'd be less harsh if he had his daughter with him!" she said.
Now she's back in Competition for the second time (after Marie Antoinette in 2006) with The Beguiled, a remake of the 1971 Clint Eastwood film about a wounded soldier taken in by an all-girls school. Nicole Kidman, Kirsten Dunst and Colin Farrell star. Focus will release in the US with Universal distributing internationally.
Screen talked to her ahead of the festival.
Screen: How did you react when you got The Beguiled into Cannes official competition?
Sofia Coppola: It added some excitement to post-production. We found out we were in right away and then we had to scramble to get the film finished!
Why remake the Clint Eastwood film?
My friend Anne Ross who is a production designer/producer showed me the movie and said: 'I think you need to make a version of it'. I would never plan to remake someone else's movie but when I saw it, it just stayed in my mind. I love [the Clint Eastwood original], it's so weird and I thought it would be interesting to tell the story of a soldier in a girls' school but from the women character's point of view. I also wanted to do something in that southern gothic genre, which I've never done before.
Based on the trailer The Beguiled seems be more action-packed than your previous films?
They definitely put all the most exciting parts in the trailer! It's not as jam-packed as that. It has different elements that I haven't done before, but it's still in my style and my way of working.
Was it easy to get the budget together?
It's always a challenge. Has anyone ever told you that its easy? Even though I've made so many films it still feels difficult. Universal own the rights to it so we had to deal with them and luckily they were open to it. I think they thought it was a weird idea to take this out of their library and do a new interpretation but I was lucky they were up for it and let me do it.
But its low budget, we shot it in 26 days in New Orleans so it was definitely a hustle but saying that I was able to get creative freedom because it was done on a small scale. I still got to make the movie I wanted to make.
Is it easier or harder now to make independent films compared to when you first started out?
I feel like 5 years ago before all the streaming companies came along it felt like it was just over - independent film that are unusual. It's still hard to get unusual things made but with all the streaming companies now bringing money into [the business] it has rejuvenated it a little bit. But I still think it's hard to get a theatrical release. [The Beguiled] was shot on film and I think it looks beautiful on the big screen so I hope people see it there.
What do you think of the Cannes Netflix row?
I'll skip that one! I mean if it's a theatrical film it should be part of a film festival. I feel like the upside is that [Netflix and Amazon] are giving financing and freedom to filmmakers but I do hope that the theatrical part is still an important element.
What was it like to be on the Cannes competition Jury in 2014?
It's one of the best experiences I've had being with all those fimmakers from all over the world, being with [Jury head] Jane Campion, getting to see movies every day in the Palais and watching films two or three times a day. I loved it.
Were there any arguments?
We said it was all top secret between us, we wouldn't discuss how we came to our decisions.
When she was Jury president Campion said there was "inherent sexism" in the industry, do you agree?
It's really a question for the executives financing the films and what point of views they're interested in. It's probably mostly straight white men [who finance films] and it's always a challenge to try and get a point of view that isn't that out there. I think it helped a lot when films geared towards female audiences became viable. When I started out, you couldn't have a main character that was female because it was like 'oh guys won't go to that'.
What's your favourite Cannes memory?
I remember going with Apocalypse Now and my dad [Francis Ford Coppola] had me on his lap during his press conference because he thought they'd be less harsh if he had his daughter with him! I thought late 70s Cannes was really glamorous, people were still hippies… they didn't have stylists.
What was it like being an extra in The Phantom Menace?
George [Lucas] was a close friend of my dad and we obviously grew up with Star Wars and he showed it to us early on. When they were making the new one I said: 'I want to visit the set' and I thought the best way to not be in the way was to maybe be a handmaiden in some of the scenes, which was fun.