Introducing the rising talents among US-based UK actors, writers and directors whose work is destined to grace our screens for years to come.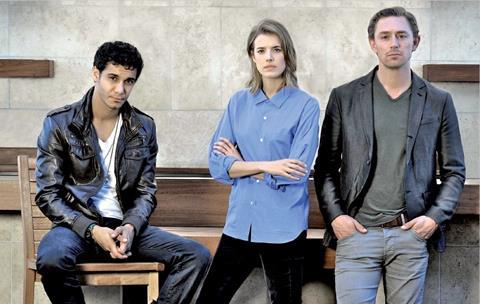 One of Screen's most popular, and rewarding, initiatives is our UK Stars of Tomorrow feature each summer, spotlighting the hottest rising talents in the UK. Over the past decade, we've featured the likes of Carey Mulligan, Robert Pattinson, Andrew Garfield, Benedict Cumberbatch and Andrea Arnold as their careers were about to take off. Not a bad track record if we do say so ourselves.
It's a natural progression that we now look at the Brits who are living and working in Los Angeles. Hollywood's fascination with British talent has only increased in recent years. Right now, Spider-Man and Superman are British, a UK period drama — Downton Abbey — is the hottest TV show in the US, and the likes of Christopher Nolan, Sam Mendes, Paul Greengrass and Ridley Scott are ruling the box office.
There is a wealth of UK talent enjoying successful careers on both sides of the pond — in this global business there's no reason a writer, director or actor has to limit himself or herself to any particular territory. In fact, any global appeal that talent can deliver will only help a producer maximise international prospects. And the shifting entertainment world presents talent with new opportunities — people are happily working across film, TV and theatre.
Alongside our US editor Jeremy Kay, I'm thrilled to feature these actors and film-makers at pivotal times in their careers, and can't wait to see what the future holds for them.
Wendy Mitchell, editor
Photographer: Adam Sheridan-Taylor
Hair and make-up: Jacqui Lillicotch
Talent co-ordinators: Sim Adam and Louise Salter
Shoot location: Thompson Beverly Hills
JJ Feild
Actor
JJ Feild has built a career out of period productions and enjoys playing characters vastly different from himself. "A lot of writing relies on archetypes," he says. "Especially if you're a person of a certain look and age. What's way more fun is when you get to play a character that's way against how you might look or sound."
Feild is currently filming the new AMC series Turn, a drama set during the American War of Independence. He plays the world's first spy, British Major John André. "Up until that point, spying existed but it wasn't an organised part of warfare. There weren't spy organisations or rings within armies; they were seen as ungentlemanly. Then the British Army and General Washington realised the gathering of intelligence was the key to winning that war." His next film is Not Safe For Work from director Joe Johnston, slated for release in March 2014.
"I was born in Boulder, Colorado but I grew up in London. My mum is Californian and my dad, who is English, was teaching in Boulder at the time. We moved back to England when I was young." Feild got his start in drama at London's Webber Douglas Academy of Dramatic Art. He won his first acting jobs while still in school: TV shows Reach For The Moon and Nicholas Nickleby.
While working on those shows, Feild landed his first feature role in Last Orders for Fred Schepisi, a film-maker whom he regards as "the greatest film director alive". The film starred Michael Caine, Bob Hoskins, Helen Mirren and Ray Winstone. "Every single day was a pinch-myself moment," he recalls.
Feild believes this is a truly exciting time for UK actors to be in the US. "We are doing really well. I'm very proud of our industry in Britain; we do fantastic work." Yet, he admits it is difficult to reach a global audience for projects produced in the UK. He is excited to be in the US and to have his work seen. On his future in the business, he says: "I hope I can continue to be a part of the American business without losing my connection to Britain."
Management Mosaic +1 310 786 4900
Arash Amel
Writer
Born in a small coastal town in Wales and growing up in west London, Arash Amel was one of those rare youngsters who actually wanted to be a screenwriter when he grew up. He started writing at the tender age of 14 and picked up his first paycheck when he was 17.
Growing up in the 1980s, his film-making heroes were Steven Spielberg and Robert Zemeckis, although he never had a traditional education in film. At 14 he found a copy of Syd Field's The Screenwriter's Workbook and started to teach himself the craft of screenwriting. He read screenplays and watched movies, and through inquiries, found companies that actually sent him copies of screenplays in the mail.
Amel penned the hotly anticipated 2014 release Grace Of Monaco starring Nicole Kidman in the title role. With his keen attention to detail and respect for accuracy, he spends a large amount of his time researching and developing characters until he has a 30-40 page outline that can take months to put together. "With Grace Of Monaco, it took about nine months to develop. And then I tend to write the screenplay very quickly. Grace was written in six weeks."
That screenplay marked the beginning of a wave of activity. "Grace Of Monaco changed my career and changed my life. I had just written my first real screenplay, which was actually my fourteenth. As I did that, it got me a job at 20th Century Fox where I wrote a film that's still under wraps. I just sold the pitch for The Infinity Principle to Summit, which is a fun kind of movie and I wanted to do something that was completely different."
Arash is in the middle of about six projects. In addition to time-travel adventure The Infinity Principle, he is writing the movie Marie Colvin for Charlize Theron. The Infinity Principle is in the process of attaching a director and will hopefully begin to shoot late next year. Of all of his recent success, he says: "It's like the kid that's always wanted to eat cake. Your whole life you wanted to eat cake, then they give you all of the cake you can eat and you realise you can't eat all of the cake."
Representation CAA +1 424 288 2000
Peter Rodger
Director
Peter Rodger has worked at every level of the entertainment industry since he was 19 years old. He was a runner in England, then became a location manager and eventually began a stint as an advertising photographer. Growing up in Kent, Rodger's father, George, was a photojournalist and founder of prestigious Magnum Photos. He found his father's work to be his first visual influence.
Eventually he ended up directing television commercials and claims the discipline is a "university" for anybody who wants to become a filmmaker. "What you learn is how to manage a troupe, how to run a ship, how to understand and get the nuances of what you want to get on film."
Rodger values his time as a commercials director and the many skills he has acquired for his film-making endeavours. "What's great about this whole business of commercials is you've got to stay on top of your game, you've got to be contemporary, you've got to understand fashions. You have to understand the way people look, the way people talk."
He will soon make the transition from commercials to movies on the upcoming film The Pseudonym. The opportunity has already allowed him to exercise his other passion — collaborating with other writers. "When the script was brought to me, it had this incredible idea but it just wasn't realised. I found a wonderful satisfaction in working with the writer, Andrea Jaag, in building that up over a period of eight months, draft after draft, until we came up with a highly polished film script."
Originally scheduled to shoot in Sweden, principal photography on The Pseudonym will now take place somewhere in the US where the production is looking to take advantage of generous tax incentives in the southern states of Alabama, Louisiana, Georgia or perhaps North Carolina.
Management Lighthouse Entertainment 
 +1 310 246 0499
Alex Hardcastle
Director
Alex Hardcastle, born in Berkshire and raised in Norfolk and London, began creating and filming short sketches at 15 years old and knew from a tender age that his life would be dedicated to telling stories that make people laugh. "Comedies, romantic comedies and action comedies are the things I like best," he says.
One of his early dreams was to work with Steve Carell and Robin Williams and that has become reality. Hardcastle directed episodes of Williams' new CBS comedy The Crazy Ones and has helmed multiple episodes of The Office with Carell. Further opportunities to hone his comedic talents came while directing Rebel Wilson in the new sitcom Super Fun Night.
A graduate of the BBC Academy, Hardcastle shot a documentary film about stand-up comedian Jack Dee that led to the moment he regards as the true beginning of his career, directing the BBC4 TV show Lead Balloon.
Having directed TV both in the US and the UK, Hardcastle explains the difference between directing small-screen entertainment in the two countries. "Certainly in Britain there's a little more freedom for the director to interpret the material how they want," he says. "Whereas in the US, it's a little more prescribed when I'm directing the bigger shows like Parks And Recreation or The Office.
Hardcastle is confident, however, in his ability to put his creative stamp on any project he touches. "I think I have quite a strong visual style and I've always been keen to elevate any script that I get in a slightly more comic way. So I would hope, and I certainly always try, to pitch and create ideas that are slightly different from what the writers saw initially, but become filmic and cinematic while retaining the comedy element."
As he makes his rounds through the studios doing episodes of New Girl and Suburgatory, Hardcastle keeps his eye on the near future, hoping to make the leap into directing features.
"For me, finding the right script is extremely difficult. I'm hoping that in the next year we will find something that's right for me."
He would love to do a low-budget comedy in the vein of Napoleon Dynamite. Until then, he will continue to make waves in TV and is lined up to shoot a pilot in the New Year.
Representation WME +1 310 285 9000
Management 3 Arts Entertainment +1 310 888 3200
Nathan Parker
Writer
Nathan Parker moved with his family from London to the US at the age of 13, and then studied creative writing and playwriting at Bennington College in Vermont. His educational background is in playwriting, which he says has "crossovers in screenwriting but they are quite different skills".
On the similarities and differences between playwriting and screenwriting, he says: "They say that theatre is a tell-me medium and movies are a show-me medium. I guess that's true. I think there are some structural similarities in plays and movies."
Parker is the scribe behind the widely lauded sci-fi film Moon. He had just finished his first paid writing assignment, a film called Blitz, which got him an agent in London. Shortly after signing with his agency, they approached him about Moon. The director, Duncan Jones, was represented by the same agency and the representatives were looking for an in-house writer. Parker connected with the material and met with the director and producers and was offered the job to write the script. Jones won the Bafta in 2010 for outstanding debut by a British writer, director or producer.
Parker's most recent project is an adaptation of the popular zombie videogame franchise Dead Island. He was told to ignore the game by the producers, who did not want a screenplay specifically based on storylines within the game. This gave him freedom to create his own story, however in a market awash with zombie fare, his challenge was to create something unique.
"It is evolving a bit from the traditional George Romero zombies and the traditional rules," he says. "We tried to create a different set of rules with our zombies. We try to play with the expectations of the audience."
Moving forward, Parker has a few directors in mind that he would love to work with at some point in his career, such as red-hot Gravity film-maker Alfonso Cuaron. Parker is also a fan of the film Drive and would like to work with Nicolas Winding Refn. After making his own short film, Parker may one day make the transition into directing features. For now, however, he is quite happy concentrating on writing.
Representation WME +1 310 285 9000
Miguel Sapochnik
Director
TV director Miguel Sapochnik has built up a respected body of work on the likes of House and Fringe, although film is his first love and he never felt any desire to work on the small screen until opportunity knocked.
It was 2011 and a case of right place, right time. A director dropped out of an episode of House, the call came in to Sapochnik's agent. By then the director had already shot his first feature, the Jude Law and Forest Whitaker sci-fi Repo Men that Universal released in 2010, but his newfound passion for TV saw him eager to explore both worlds.
The start of 2014 will be a busy time. London-born Sapochnik has lined up a spring shoot on the feature Ape with Josh Hutcherson, which he describes as a "slow-burn psychological thriller about a young schizophrenic".
He is also an executive producer alongside Peter Chernin on a 13-part straight-to-series order for Fox called Hieroglyph, set in ancient Egypt, and will direct the premiere episode.
Sapochnik has come to love working on TV shows: "[They are] the novels of our time; sprawling epics full of nuance and tangential musings". He thrives in the fast-paced world. "You get the script on day one of prep and seven days later you're shooting. Then you get four days to edit one hour of TV. You don't have time to ponder; you have to make a split-second decision and then stick to it."
When Sapochnik started out, his artist/teacher father was his mentor. Then Gillies MacKinnon gave him his first job as a storyboard artist and showed him the ropes of film-making. House director Greg Yaitanes gave him his break in TV.
"I certainly have had some people that have been instrumental in giving me the opportunities to get here," he says. "But I only ever think people should give you the chance, then it's up to you to bring the passion to make it happen."
Representation WME +1 310 285 9000
Rebecca Reid
Actor
Rebecca Reid received a traditional education in drama, studying at Michael Howard Studios in New York. She subsequently trained with Patsy Rodenburg, learning to perform Shakespeare's work. How Reid managed to apply her drama training is what makes her unique. "It's so funny because I found that some of the techniques we used in training, I use in my stand-up. It's very bizarre. I've learned all of these techniques, but I only really understood what acting was when I first did this play by John Patrick Shanley and when I started auditioning and doing stand-up." Reid currently performs her stand-up routine at Hollywood Improv.
She was born in south London and grew up in Hertfordshire, moving to Paris when she was 17 years old and breaking into modelling, a career that has seen her grace the pages of Italian Vogue, Harper's Bazaar, Elle and i-D magazine, to name a few.
Reid's first acting job came in a play called Pirate written by her current collaborator, Shanley. She got her start in TV on Adult Swim's Childrens Hospital. While she did not win the role for which she initially auditioned, the producers of the show created a role specifically for her. "It was short and positive," she recalls.
Reid is most easily recognisable for her role as Nadia on the popular Fox series New Girl. Originally planned to be a one-time, two-sentence part, it has become a recurring role. She is proud to be a part of the series. "It is a real pleasure to be included in that party because it's such a great show. They get me to do really weird stuff on that show. I just love doing it."
Reid is certainly staying busy. In between filming episodes of New Girl, performing stand-up and modelling for specific projects, Reid is developing a web series with Shanley based on a show she performed regularly at Hollywood Improv called Rusty And The Bird. The web series will be called Bird's World. "We are going to be putting the original material online, probably around December," she says. "It is a web series with lots of surprising celebrity cameos."
Representation CESD Talent Agency +1 310 475 2111
Management LEG +1 310 417 4800
Agyness Deyn
Actor
Agyness Deyn began her career as a model gracing the covers of Vogue, Elle and Time magazine among many others. What she enjoyed most was emulating a character in a photo shoot. After 12 years of modelling, Deyn knew she wanted to make the transition to acting.
"When I make a decision to do something, it's kind of hard to do the other as well so I definitely made the decision that I wanted to act," she says. "I haven't modelled at all for the past two or three years."
Her first acting job was a short film from Matt Greenhalgh called Acid Burn. He read an interview with Deyn when she had initially made the switch to acting and felt she would be perfect for the role. He called and she, of course, said yes. She followed that with a black-and-white short from artists McDermott & McGough.
Deyn cites her role as a dancer and heroin addict in the English remake of Pusher as a pivotal moment in her career. "It was amazing to get that. I just learned on the job with that film. I watched the other actors. I watched what they were doing. I saw that they each had their own process of doing things."
Following that she took a West End play, The Leisure Society. When she was initially offered the part, her first reaction was to say, "You're crazy!" But she took the role and gained valuable insights into her new craft. "I learned to just let go and that anything is really possible if you throw yourself into it. It was scary but I felt like a different person at the end of it."
Deyn recently wrapped shooting on the independent film Electricity. She plays a girl who has epilepsy and conducted extensive research into the condition, working with a specialist in London and becoming fully immersed in her character. "It just kind of became part of me. I like that, when you become so fused with the person that you're playing. I had a lot of fun with that."
Deyn would love to play roles that represent strong women. "I really love playing women that are fighters and survivors, Joan of Arc-type characters. I personally like watching films where I can walk away and say I feel more comfortable being a woman. Those are the type of roles I would love to play." She will appear opposite Peter Mullan in Terence Davies' forthcoming Sunset Song.
Representation WME +1 310 285 9000
Lara Pulver
Actor
At the age of 13, the Essex-born, Kent-raised Lara Pulver was with the National Youth Music Theatre where she honed her craft. She eventually ended up at the Doreen Bird College of Performing Arts where she earned her degree in theatre and performance. Her first job came four days before graduation, playing Peggy Sawyer in the UK revival of the play 42nd Street.
"I hadn't fully imagined myself going into musical theatre when I left drama school and yet it felt like the perfect fit for where I could really learn my craft," she says. "It was lovely to begin my career on stage."
Pulver has completed shooting on the mini-series Fleming, which centres on the life of James Bond author Ian Fleming. The show will premiere on BBC America in January, a timely production given the 007 film franchise recently celebrated its 50th anniversary.
Pulver has a penchant for playing in period pieces, a task she has performed brilliantly. "I discovered that [period pieces] suit my look," she says. She is now making the jump from the 1940s in Fleming to the future, playing opposite Tom Cruise in the forthcoming film Edge Of Tomorrow, Pulver's first big-budget studio production.
The film, formerly titled All You Need Is Kill, will open in May/June 2014. "I spent two days rehearsing opposite Tom Cruise, which was surreal. And yet the oddest thing is that it wasn't odd," she says with a laugh. "When you do your first studio film opposite Tom Cruise, it's a big pinch-me moment."
She is currently shooting episodes for the second season of the Starz original series Da Vinci's Demons. The show's creator and executive producer, David S Goyer, decided she was a perfect fit for the show after seeing her performance in the BBC series Sherlock. As to why she took the role, Pulver says: "I read this character who's the first lady of Florence. So she's kind of like the Hillary Clinton or the Jackie O of the Italian Renaissance. So that has been really, really wonderful to play, along with David's writing and his directing."
Representation Paradigm +1 310 288 8000
Management 360 +1 310 272 7000
Aml Ameen
Actor
Born and raised in London, Aml (pronounced Uh-mel) Ameen came into this life with performing in his blood. His father was a singer in the Caribbean and a warm-up act for the Rolling Stones. At the age of six, Ameen told his parents he wanted to be an actor. His father sent him to Barbara Speake Stage School where he trained in dance, voice and acting, staying there from the age of six to 16. "I did West End plays, a lot of musicals and TV shows. I kind of cut my teeth early in the business, I just got right in."
Ameen has a clear view of the roles he is best suited to play. "A lot of the time I've played the reluctant hero type of guy. Someone that is on the wrong side of the tracks but has a heart and therefore finds his way and leads his pack. All of the characters I've played have had that kind of thought process and element of growth. For me, the roles I like to play are those that have real humanity; where the lines sort of get blurred. Instead of things being black or white, there are several shades of grey."
He can currently be seen in the critically acclaimed Lee Daniels' The Butler as the younger version of the character portrayed by Forest Whitaker, a role he sees as his arrival in US cinema. The process taught Ameen much about himself as an actor, as did the director. "Lee is incredible. He really developed me as an actor. He puts everyone, whether you're a big star or a newcomer, on an even keel and whatever your actual thing is, whatever your schtick is, whatever strength you have, he turns it on its head and puts you in a position where you're doing things that you're uncomfortable doing."
Ameen will next be seen in Fox's sci-fi thriller The Maze Runner, about a group of children who wake up in a strange land without any recollection of who they are. Ameen will play the group leader, Alby. "We shot in New Orleans earlier this year. It's like a dream come true. When I was a kid I was into films like Hook. I'm getting to the age where I'm too old to play those kind of all-boy, Lord Of The Flies-type roles. This was my chance to really live in that world and play. It was a very refreshing experience."
Representation Paradigm +1 310 288 8000
Management Sanders Armstrong Caserta Management (SAC) +1 310 315 2100
Elyes Gabel
Actor
Born in London and raised in Manchester, Elyes Gabel attended various acting workshops throughout his life. It was not until attending Webber Douglas Academy of Dramatic Art in London at the age of 18 that he hit his stride. He left school to shoot a TV show in Toronto and hasn't looked back.
Gabel's desire to learn from every project he touches served him well on the set of Christopher Nolan's 2014 sci-fi epic, Interstellar. "To work with people that are changing people's perceptions in film is great. If you have the opportunity to work with anybody like Chris Nolan and the crowd of people that surround him, you become a vacuum. You just try to soak it up."
The actor began his career on the UK medical drama Casualty in a role that came full circle. He started as a guest actor playing a French exchange student. Three years later he returned, this time as a doctor who became a series regular.
He has come a long way from his first feature role as a frat boy in the low-budget horror film Boogeyman 3. Most will remember him from his turn as Dr Andrew Fassbach in last summer's global hit World War Z. Elyes has his eye on playing characters that are complex and give him the opportunity to showcase both strength and vulnerability. "The characters I like to play are those that make you think you have a relationship with the causality of what's going on in the scene. If they are causing some sort of communication, drama or dynamic in the scene, then there's always something you can do."
While we will no doubt see more of this talented actor on the screen, we may also be hearing him on the airwaves: when he is not acting, he is a talented singer-songwriter.
Representation Paradigm +1 310 288 8000
Management NB Management +1 310 712 9729
Dominic Mitchell
Writer
Dominic Mitchell began his journey in film and TV believing he wanted to be an actor. Before attending film school he spent a short time in drama school to study acting. "I found I really enjoyed improvising and making up the lines. When I was doing lines that other people had written, I wasn't very good at it." He discovered his calling was to entertain the masses with work behind the camera.
Mitchell earned critical acclaim for his series In The Flesh. His take on the zombie apocalypse genre instantly set his creation apart and the idea for the innovative series came, appropriately enough, from a restless night. "I was up one night watching a zombie movie and it was a typical zombie apocalypse movie and it hit the sort of beats you expect, from A-Z. I started not really liking the living characters. I started feeling sorry for the zombies. I was like, surely you don't have to shoot them in the head. It's not their fault that they're zombies, they just come out of the earth."
The Lancaster native began his training at the University for the Creative Arts in southern England where he studied film and video production. He also studied at Royal Court Theatre's young writers' programme and Soho Theatre's young writers' programme.
Mitchell is having a banner year developing and producing several TV projects, including a show called Pretty Girls Make Graves for ITV Studios that draws from his experience working in a funeral parlour as a young man. The show will air in the UK.
He looks forward to making the transition into features and whetted his appetite at art school when he wrote and directed a number of shorts. "I'd like to say what really inspired me is Pulp Fiction and from that film I got so into independent American film. It's always been an absolute passion of mine, so I hope to make the transition."
Representation UTA +1 310 273 6700