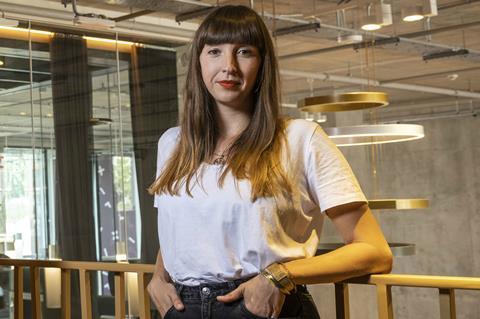 Nottingham-based Anna Griffin made her first moves into the industry during a production boom in the region, due in part to the activities of screen agency EM Media.
After working as director's assistant to Nicolas Winding Refn on 2008's Bronson, which shot in the East Midlands city, Refn took Griffin to the Scotland shoot of his next film, Valhalla Rising, and also employed her as a researcher on Only God Forgives. "Through him I got an insight into what the world of developing is and what producing can be," says Griffin of the Danish filmmaker. "That's when I realised I wanted to do it."
EM Media was wound down in 2013, meaning there was then little freelance work available. Griffin learned about the UK government's Future Jobs Fund, an initiative that gave financial support to small businesses in need of employees. On the list, she found Rachel Robey and Al Clark's Wellington Films, which Griffin subsequently joined for a year as a government-funded production assistant.
Griffin has continued to work at Wellington in a part-time capacity, including as a co-producer on Hope Dickson Leach's The Levelling, and eventually as a producer on Matt Palmer's drama Calibre. The latter, nine years in the making, finally came together when Griffin sold the idea to German sales agent Beta Cinema, which put up a sales advance to complete the budget alongside backers including Creative England and Creative Scotland. Calibre premiered at Edinburgh International Film Festival in 2018, where it won the Michael Powell Award for best British feature, and had its world rights scooped up by Netflix in a glossy deal.
Griffin now has a wealth of projects that she is working on both at Wellington and under her own banner, Griffin Pictures. At the former, she is producing undercover police drama Any Means Necessary from writer Kefi Chadwick; further projects from Calibre director Matt Palmer; and Bombay-set twisted love story Sister Midnight from director Karan Kandhari with support from Cinestaan.
At her own company, she has development money from the BFI Network for The Tunnel, a project with Bafta-nominated filmmaker Arash Ashtiani about refugees living in Calais who decide to run the length of the Channel Tunnel into the UK. Griffin is producing the project with Anna Seifert-Speck.
Contact: Anna Griffin