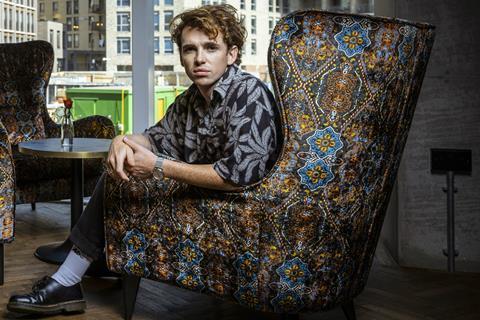 Laurie Kynaston made his professional debut six years ago, aged 18, in the title role of Clwyd Theatr Cymru's production of Terence Rattigan's The Winslow Boy. He'd been part of Clwyd's youth theatre project, and looked up to the adult company. "In the course of two days, I went from waiting in the bar to say well done [to the actors] to actually being in the rehearsal room with them, and making this piece of theatre," he recalls. "It was just so exciting."
This opportunity set the pattern for Kynaston. He grew up in north Wales listening to the music selections of his three older brothers and parents, so knew exactly what it meant ("kind of terrifying") when he was cast in Mark Gill's biopic of Morrissey, England Is Mine (2017), to play Johnny Marr.
And when he queued up last summer for tickets to see Jez Butterworth's The Ferryman ("I sat on the front row, and it blew my mind"), he little suspected that he would be joining the company for the cast refresh this January. "I got the call that I was going to be in it, and I didn't know what to do with myself," he says.
Along the way, Kynaston also landed the lead role opposite Peter Kay in 2015 BBC2 sitcom Cradle To Grave, playing a teenage Danny Baker, the radio DJ who co-adapted the series from his own memoir. He is also filming How To Build A Girl, produced by Alison Owen and Debra Hayward for Monumental Pictures and based on Caitlin Moran's semi-autobiographical novel. And he has four episodes in Amazon Prime Video series The Feed, based on the dystopian-future novel by Nick Clark Windo, also shooting.
Arriving in London on his own at the age of 19, knowing virtually nobody, Kynaston has now built a network of friends — many of them from the sets of his already-packed CV. He cites former Stars of Tomorrow Jodie Comer (an England Is Mine co-star), Josh O'Connor and Olivia Cooke as inspirations. "Jodie is completely wonderful. This is how you do it as a young actor — be gracious, be kind and be really fucking good."
Contact: Greg Herst, Troika Talent