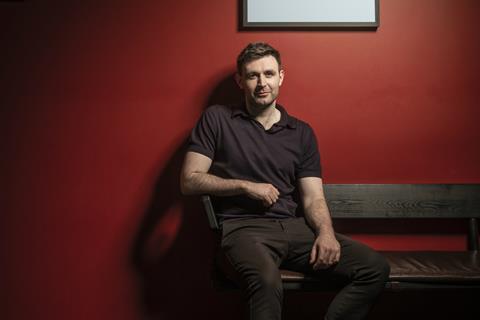 James McArdle suspects he was "not the easy choice" to play English baronet Roderick Murchison in Francis Lee's Ammonite, but the Glaswegian actor believes that helped him get the role. "By having an actor far away from a part, you immediately have a different perspective from the same-old obvious choices. You get quirks and idiosyncrasies from someone looking at it through a different lens."
The film, set in 1840s England, shot in March and April this year and is scheduled for delivery in 2020.
The Scot has built an impressive list of stage credits since graduating from the Royal Academy of Dramatic Art (RADA) in 2010. He has played title roles in James I and Platonov at London's National Theatre, and spent two years opposite Andrew Garfield in Tony Kushner's Angels In America. After a gruelling rehearsal process, he has just started a June to October run as what he calls "the largest part written in the whole theatrical canon" in Peter Gynt, a take on Henrik Ibsen's Peer Gynt, again at the National.
On screen, McArdle has played a drum technician for indie band Wolf Alice in Michael Winterbottom's docu-drama On The Road — "an alternative existence, you end up living with these people" — and appeared in Josie Rourke's "artistically rewarding" Mary Queen Of Scots as the Earl of Moray.
McArdle's family instilled in him a love of stories. "There were no avenues or options" for people from his background to enter the profession, but financial support from the Dewar Arts Awards allowed the young actor to train at RADA. "My aim is to be good," says McArdle, simply, of the direction in which he wants his career to go.
Contact: Clarence Conway, Independent Talent