Brazilian filmmaker Gabriel Martins makes his solo feature directing debut on Sundance World Cinema Dramatic Competition entry Mars One. The film follows a lower middle-class Black family living on the outskirts of Belo Horizonte as they reconcile their dreams with the recent election of far-right president Jair Bolsonaro in late 2018.
The father places his hopes in a football career of his cerebral young son who secretly yearns to study astrophysics, while his wife is beset by an unsettling encounter that knocks her confidence. Meanwhile Deivinho's older sister Eunice falls in love with a free-spirited woman. As events unfold the family's bonds will be tested.
Martins, who went to film school in his native Belo Horizonte and co-directed with Maurilio Martins 2019 IFFR selection In The Heart Of The World, shot in Belo Horizonte in late 2018 after the project became one of three to benefit from a now-defunct fund for low-budget films supporting under-represented communities. Some 10% of the budget came from Canal Brasil which funded a lengthy post-production that stretched into early 2021 due to the pandemic.
The Day One premiere screens on January 20 at 8.30pm PT and is also part of the Satellite Screens programme of films playing in person at select US arthouse venues over the weekend of January 28-30. Magnolia Pictures International handles worldwide sales and Embauba Filmes will distribute in Brazil.
Is this story inspired at all by your life?
There are definitely personal reasons because it's vaguely inspired by stories of my family or the type of place that I grew up in with money problems and things like that. It started with an image of a boy looking at the sky and holding a football. Maybe this was something to do with Brazil losing [7-1] to Germany in the 2014 World Cup semi-finals in Belo Horizonte. That was a big moment because we were also having a lot of struggles in political terms. Brazil has been a huge mess before and since then, so it's talking about soccer, politics and dreams. I decided to make this film about what does it mean for this kid to dream about something that big, something so far away from him.
Did your parents hope that you would follow a certain path?
For some time my mom really wanted to me to be a soccer player. I played a little bit when I was very young but I wasn't very fond of getting up early to train. I've wanted to be a director since I was six or seven… My mother and father were very supportive.
Yours was one of three films to benefit from a low-budget fund that vanished before Bolsonaro was elected. Did you change the script after he was elected president in October 2018?
I started writing it in 2015… I was just going to adapt the film to whomever won. Since [Bolsonaro] won everything kind of changed. I think the most significant thing was the reaction Eunice has with his election. It put her character in an edgier situation.
What was your frame of mind when you shot Mars One?
We shot in November, December 2018 so this film is like a portrait of how me and I guess many people were feeling regarding race and dreams and politics and disappointment in everything that was going on in Brazil. We'd elected this right-wing president who was openly racist and misogynistic. People had been fighting for basic rights and then we elect someone who just rips away everything. He kicked our sandcastle.
All of that was in my mind but I couldn't make a film that was kind of a revenge plot against this election because he was fairly elected. Yes there was fake news just like you had with Trump, but people elected him democratically. So there's not a problem just with Bolsonaro but as a country – how polarising we get, how and how we don't have mature discussions about politics. This is a film about differences between generations as well. How will the father relate to the daughter? Will the young man see the world as his father sees it or find his own path?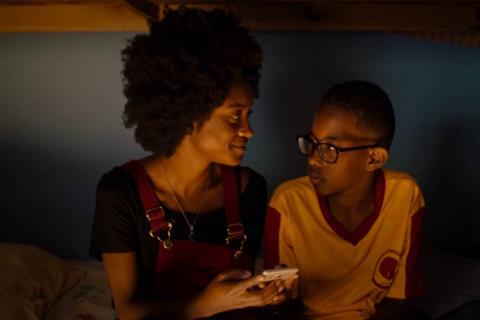 Tell us about your cast
It's the first film for Cicero [Lucas] who plays Deivinho. He's a percussionist and I saw him playing samba about four years before I made the film. Camilla Souza who plays his sister Eunice had a performance background and this is her first proper film role. The parents are played by Carlos Francisco and Rejane Faria and they've done a lot of things but this is the first feature where they're protagonists. They've both had long careers in theatre and played a mother and father in a short film I did called Nada that premiered in Cannes Directors' Fortnight in 2017.
The on-screen family feels very authentic. Did you rehearse much?
Yeah, we did a lot of rehearsing. All four of them were so open to this experience and have huge hearts. They clicked from the first rehearsal; it was more for me Rehearsal was more for me to see the script through their eyes and make some corrections. I thought Cicero might be embarrassed on camera but this generation has cameras everywhere and he's a musician so he's accustomed to being around older people and lots of people. So he just fit.
You shot in 2018. Why has it taken so long to come out?
After the shoot I had to step back and took off three months. We started editing in spring 2019 and it was hard to get the pace of the film and understand what it was about. By the end of 2019 we almost had the final cut when the pandemic hit. We were unable to finish it properly and as there was no rush we took it slow and worked remotely. By the start of 2021 the film was ready. We'd always talked about Sundance so when the opportunity came along it all worked out.
What happened to arts funding under Bolsonaro?
We're very dependent on state and federal funds support arts and one of the first things Bolsonaro did was take the ministry responsible for art and culture and destroy it and turn it into something adjacent to tourism. After that we had no more funds, everything was lost in bureaucracy. Brazilian cinema has pretty much been on pause in the last few years.
What would happen if you wanted to make a film like this today?
I'd just wait and try to go to Netflix or Amazon and get private funding. I have no idea what my next feature film will be. So far the streamers, especially in Brazil, haven't shown a big interest in very independent films; they're more driven to films that have a commercial appeal. As an independent filmmakers we're just staring into an empty space because we don't have funds anymore. It's a huge problem in Brazilian cinema.
Tell us about your production company Filmes de Plástico
Me, Maurilio Martins and Andre Novais Oliveira started it in 2009. Recently we produced our first feature film, The Joy Of Things, from a director outside the company called Thais Fujinaga. It premiered in Rotterdam last year. We want to release films directed by people outside the company and we're starting to make contact with the streamers.
Had you planned to attend Sundance before they cancelled the in-person element?
Oh yeah for sure. We already had all our tickets bought and accommodation booked. And it was kind of a bomb. But yeah, it's Covid, man. It's not going anywhere so we just have to deal with it.