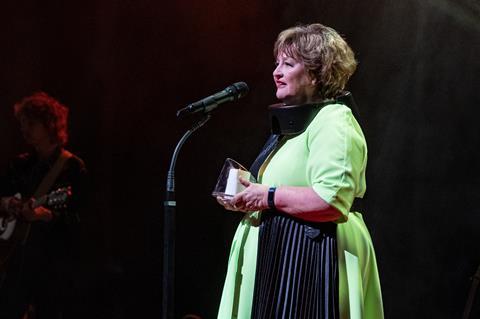 As the Tallinn Black Nights Film Festival in Estonia turns 25, festival director Tiina Lokk says the greatest gift has been the chance to take place in-person at all.
"Our biggest birthday present is being able to host the festival onsite and have filmmakers visit us in Tallinn this year," says Lokk, who was on stage to open this year's edition on November 12 with Ildikó Enyedi's The Story of My Wife.
"We have great films, great premieres, great juries… things could be much worse! I walk through the lobby of the Nordic Hotel Forum [the festival's central hub] and I get those good old POFF feelings."
The festival, which also managed to take place in-person during the Covid-19 pandemic in 2020, faced uncertainty again this year. In October, one day before the festival went to press on its programme, Estonia brought in new regulations to reduce the spread of the virus, including an 23.00 curfew and the mandatory wearing of masks indoors.
"We had one day of frantic schedule changes to deal with the curfew – we had to move more than 600 screenings," Lokk reveals.
The wider Covid situation "has certainly caused some worries," the festival head adds, particularly around admissions. "You don't know what is going on the next day, and that has an influence on ticket sales. People are afraid to come."
Ticket sales are "lower than we expected in September, but more than we expected just before the festival started".
"The pre-sales were certainly smaller, but people are still buying tickets every day, so how it is going to be in the end unpredictable, but in the end, POFF goes ahead much like a normal year," says Lokk with resilience.
The event received "special permission" from the Estonian government to go ahead, including an exemption from any additional restrictions that may come in. This allows the festival to run with a greater confidence that it will continue through to its closing night on November 28.
"Every decision is made hand in hand with our Health Office," says Lokk. "We're committed to do everything we possibly can to keep our audience and guests safe."
Daily Covid cases in Estonia have decreased over 50% since the beginning of the month, from a seven-day average of 1,810 on November 4 to 868 on November 17.
Double prizes
This year's line-up includes 181 features, of which 19 are competing for the Grand Prix in the Official Selection. Prize money for the top prize has doubled to €20,000 while the audience award has increased 150% to €5,000, backed by the City of Tallinn. "We're not the richest festival in the world in terms of money, but we've always wanted to be more generous with our prizes," says Lokk.
Standout events on the programme include two performances of Tarkovsky – The Eighth Film by Eesti Kontsert – an 'electronic opera' that is a fantasy version of Russian director Andrei Tarkovsky's last film, featuring actor-singers, virtual opera soloists, live electronics and robots. The legendary filmmaker holds special status in Tallinn, having shot part of his 1979 sci-fi Stalker in the city.
The festival is also looking to turn last year's daily winter swimming into a bracing POFF staple. It has also set up Green Wolf, an environmental support fund which enables people from both Estonia and all over the world to contribute to a new POFF Park.
The green space, aimed at improving the festival's ecological footprint, saw Lokk plant the first tree last month alongside Tallinn deputy mayor Vadim Belobrovtsev and Tallinn Film Wonderland CEO Gren Noormets.
It is located on the city's Paljassaare peninsula, where Tallinn Film Wonderland is developing what will become Estonia's first studio site, scheduled to open within the next two years.
"The POFF Park aims to demonstrate our long-term commitment to Tallinn and its environment," said Lokk. "We've always tried to be as environmentally friendly and sustainable as we can. That's not always easy for a large-scale culture event, but our position in Estonia means we need to try to set a good example."