The Irish film industry is riding high thanks to a blossoming of creative talent and the rise in international productions shooting in the country.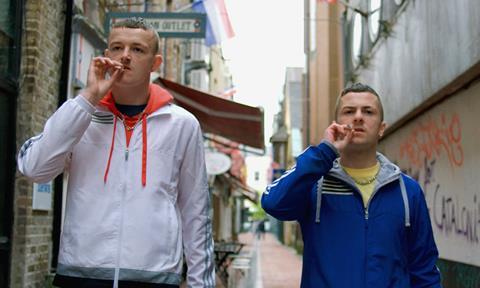 Ireland's film industry is building on the momentum of the global critical and commercial success of Lenny Abrahamson's Room and John Crowley's Brooklyn by nurturing a wave of emerging talent and increasing the country's studio space and facilities.
Coupled with an air of confidence, there is a determination that practical and fiscal steps are taken to ensure its longevity.
"There is international demand for studio space, for soundstages," says James Hickey, chief executive of the Irish Film Board (IFB). "We now have Ardmore Studios and Ashford Studios in County Wicklow and Troy Studios in Limerick. We believe these facilities are addressing that demand."
Into The Badlands 2, which shot almost entirely on location in Ireland, and The Professor And The Madman, starring Mel Gibson and Sean Penn, have both used Ardmore in recent months. Ashford Studios is currently the main base for History Channel's Vikings.
Element Pictures' Ed Guiney, the Oscar-nominated producer of Room, believes the industry is starting to see years of investment pay off.
"There's a kind of alchemy where the investment in the industry is to do with Irish creative talent and seeing the opportunities in film over a long period. And there's the coincidence of there being some really talented people around," he says.
Ireland is also set to take advantage of a surge in international demand for film and TV. Disney/Lucasfilm's Star Wars: Episode VII — The Force Awakens and Episode VIII — The Last Jedi both shot at locations in Ireland, including Skellig Islands, and employed local crew and craftspeople.
Government support
IFB directly supports a significant number of Irish productions and co-productions. Tax credits are administered via the government's revenue department. The Section 481 tax credit for film and TV productions shooting in Ireland allows relief of 32% on eligible expenditure up to $90m (€70m) and there are calls to raise it further.
International productions to benefit from tax credits include season three of Penny Dreadful, which received between $11m-$33m (€10m-€30m) in 2016.
But challenges remain. IFB's funding was cut significantly during the economic downturn and it is as yet nowhere near previous levels. In 2008, IFB received capital funding of $25.8m (€20m); by 2016 that had dropped to $14.4m (€11.2m), although it increased this year to $16.4m (€12.7m).
Yet production in Ireland hit a record $322m (€250m) in 2016. The figure includes both international film and TV projects shooting in the country and locally produced features, TV drama and animation.
Several local films have performed well at the Irish box office recently, led by Brooklyn ($4m), Room ($1.7m) and The Young Offenders ($1.4m).
The latter, a comedy directed by first-time filmmaker Peter Foott, has secured a worldwide Netflix deal. Another Irish film by a first-time director, Darren Thornton's A Date For Mad Mary, premiered to critical acclaim at Sundance in 2016.
Foott says he would like to see further support for writers. "I'm very much commercially minded," he explains. "I like to think about my audience. Everything is about the script."
Others point to the importance of attracting international productions to boost skills. "This is where the opportunities lie and Irish writers, crew and directors can gain experience," says producer Ruth Coady of Parallel Films. "The spotlight is on Ireland at the moment, we have to make the most of it."
The latest round of IFB funding decisions shows an increase in projects directed by female filmmakers. "There's an ongoing push in terms of women's voices," says producer Rebecca O'Flanagan of Treasure Entertainment. "That's something that we're more proactively doing, and delighted to be doing."
It is not just women who are flourishing. Every aspect of Ireland's pool of above- and below-the-line talent is growing. "There seems to be more diversity and individuality in terms of how people are going about putting their films together," says O'Flanagan. This is fostering a sense of anticipation both at home and internationally for Irish films and talent. "There is awareness of the breadth of talent that is here," says producer Katie Holly of Blinder Films.
Crucially, Ireland's talent base is working across both film and TV projects. "Film and TV need to go hand-in-hand in terms of creating a sustainable industry," says Guiney. "We need to think about ways of developing more successful projects that come out of Ireland, that are 'owned' by Irish people. We have demonstrated the talent exists and can make an impact internationally. It's now about doing more things ourselves, and over time, to bring more talent through."
In profile: The next wave of Irish Films
Looking forward to 11 projects that have recently been completed or are in post-production…
Black 47
Dir Lance Daly
Daly's drama, set during the Irish Famine in the mid-19th century, is the story of an Irish soldier who returns from fighting in the Afghan War with the British army to find his family and country devastated. Produced by Fastnet Films, Black 47 stars Barry Keoghan (a former Screen Star of Tomorrow) with Hugo Weaving, Jim Broadbent and Sarah Greene. The film is now in post-production.
Contact Altitude Film Sales info@altitudefilment.com
The Breadwinner
Dir Nora Twomey
The solo directorial debut from Twomey, who co-directed The Secret Of Kells, is the animated story of an 11-year-old Afghan girl named Parvana who gives up her identity in a bid to provide for her family and save her father's life. The project drew the attention of Angelina Jolie, who came on board as an executive producer.
Contact WestEnd Films info@westendfilms.com
The Delinquent Season
Dir Mark O'Rowe
Screenwriter and playwright O'Rowe, whose credits include Intermission and Boy A, makes his directorial debut with this drama set in suburban Dublin. Starring Cillian Murphy, Andrew Scott, Eva Birthistle and Catherine Walker, the story follows two couples whose apparently solid marriages come under strain. The film is now in post-production.
Contact Protagonist Pictures info@protagonistpictures.com
Good Favour
Dir Rebecca Daly
The latest feature from Daly, who made a splash with her previous feature Mammal, centres on a young man who is taken in by a remote Christian community in central Europe. The film, backed by the Irish Film Board (IFB) is in post-production.
Contact Visit Films info@visitfilms.com
Halal Daddy
Dir Conor McDermottroe
Co-written by Conor McDermottroe and Mark O'Halloran (Viva), this culture-clash comedy centres on a young man of British-Indian Muslim heritage. Raghdan Aziz (Nikesh Patel) is happy leading a laid-back life in his new home on the west coast of Ireland, not least because it has brought him away from his controlling father (Art Malik). On his 21st birthday, his life with his new girlfriend (Sarah Bolger) and his surf buddies is shaken when his father arrives with an unusual present - the 'gift' of a run-down meat factory that he wants his son to operate. Contact Global Screen info@globalscreen.de
The Killing Of A Sacred Deer
Dir Yorgos Lanthimos
Colin Farrell reunites with The Lobster director Lanthimos for this drama from Element Pictures, which screens in Competition at Cannes. The film, which also stars Nicole Kidman, tells the story of a surgeon who forms a bond with a teenage boy, to disastrous effect. HanWay Films is worldwide sales agent, with A24 as US distributor.
Contact HanWay Films info@hanwayfilms.com
Kissing Candice
Dir Aoife McArdle
The debut feature from McArdle, who has previously directed music videos for U2 and Bryan Ferry, is a drama driven by the vivid dreams of the film's titular character, a violent teenage girl. Disillusioned by the community she has grown up in, she finds favour with a new crowd. Kissing Candice was produced via IFB's Catalyst Project, which was designed to foster low-budget feature filmmaking.
Contact Andrew Freedman, Venom Film freedman@venom.ie
The Lodgers
Dir Brian O'Malley
O'Malley follows up his gothic horror Let Us Prey with this feature set in a house in 1920s rural Ireland. Each night, the property becomes the domain of a sinister presence that enforces rules on the twins who live there. The film is in post-production.
Contact Epic Pictures Group sales@epic-pictures.com
Mary Shelley
Dir Haifaa Al-Mansour
Wadjda director Al-Mansour's first English-language film is a period love story about how the young Mary Godwin met and fell in love with poet Percy Bysshe Shelley. Elle Fanning and Douglas Booth star in the film, which is produced by Parallel Films' Alan Moloney and Ruth Coady.
Contact HanWay Films info@hanwayfilms.com
Maze
Dir Stephen Burke
This prison-set drama is based on the true story of the mass breakout of Irish Republican inmates from Belfast's high-security Maze prison in 1983. Writer-director Burke's credits include Happy Ever Afters. The drama, now in post-production, focuses on the exchanges between a senior Republican and a prison officer.
Contact Visit Films info@visitfilms.com
Michael Inside
Dir Frank Berry
Berry's third feature following the acclaimed I Used To Live Here and Ballymun Lullaby is a drama about a man who is spending three months in prison for holding drugs for a friend. His life changes dramatically while behind bars. It is now in post-production.
Contact Subotica info@subotica.ie
The Third Wave
Dir David Freyne
Ellen Page and Sam Keeley head the cast of this debut feature from Freyne, which won the best story pitch prize at Edinburgh International Film Festival Talent Lab in 2012 and is now in post-production. The horror film unfolds after a cure has been found to a devastating virus that turned people into bloodthirsty zombies. There is a deep division between those who were unaffected and those still haunted by their violent actions.
Contact Bac Films sales@bacfilms.fr