Jen Handorf talks about the demise of Metrodome, the Blumhouse effect and a potential bursting of an "independent film bubble".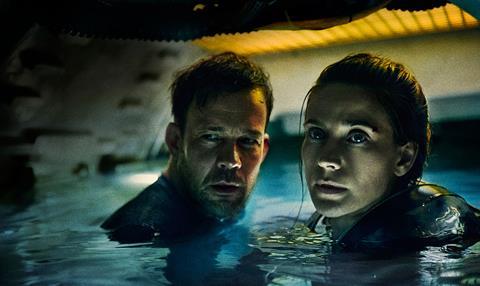 Having produced Metrodome's debut in-house production The Borderlands, Jen Handorf was "distressed" by news of the company being placed in administration.
"They had great taste but, unfortunately, great taste doesn't always represent a lot of great revenue," Handorf tells Screen.
"It's scary to me when distributors who are taking chances - like Metrodome - aren't rewarded by the marketplace."
The UK-based American producer has spent 13 years in the industry, seven in the UK, and feels one of the biggest changes has been how much easier it is to make a film - a double-edged sword as it's made it "a heck of a lot harder to sell a film".
"Even as a producer, it's terrifying to go to something like Cannes and see all these posters for movies you know are never going to get theatrical distribution," says Handorf .
"The market gets flooded with them and it's harder to find that needle in a haystack when the haystack gets bigger."
The Blumhouse effect
Not only is the haystack getting bigger, but there are also major players like Blumhouse (Paranormal Activity, The Purge) that are changing the formula of what sells when it comes to genre films, making successful low-budget films with bankable, known stars.
"It's almost a cliché that you can make a horror film without a star in it and it can still be successful at the box office. For better or for worse, the Blumhouse model has really changed that," she says.
"In a way, the Blumhouse model is not a final nail in the coffin of that cliché, but it's certainly a significant one. While there will still be genre cream that rises to the top, it's certainly more difficult to make a successful genre film now than it's ever been before."
One way to stand out from an increasingly crowded marketplace, especially when it comes to genre films, is still to get the backing of a film festival.
The Chamber, picked up by Studiocanal in the UK, is the latest of her features to screen at FrightFest (Aug 25-29).
"There are a lot of fantastic genre films being made, but you have to be really purposeful in your search for them," says Handorf.
"Film festivals curate films for the audience, so they're creating the trends for genre films as they're watching everything that gets submitted, and picking out what they feel is the best."
The producer compares it to the days of trading VHS tapes to find out what was good, not because films aren't available but there is so much choice, people rely on recommendations like that of a festival.
Piracy issues
This does not guarantee that people are paying to see those films and piracy remains a key issue, especially when it comes to lower-budget films.
"What people need to think is that when they're paying for a film, they're voting for that film," says Handorf.
"They're telling the distributor, 'I want to pay money to see this' and the distributor takes that and makes more of these.
"Piracy negatively affects the genre marketplace because the only movies people want to pay to see are the bigger budget features.
"As much as they may enjoy the smaller independent films, they're perfectly happy to download them and those numbers never go back to the distributor for them to know that film was a good choice. It's why we see places like Metrodome having to shut their doors."
But it is not all doom-and-gloom as the rise of non-traditional distribution models and streaming services such as Netflix can "create opportunities just as much as any other platform", such as getting people to watch something that does not have a bankable star.
Indie film bubble
Handorf does feel an "independent film bubble" could burst at some point, not in terms of money but in terms of the amount of films getting made.
"It's a hard thing to do, making an independent film," she says. "About a decade ago, you could just throw it together and get something out there, but films like that just can't succeed in this marketplace anymore.
"These really low budget film-makers who aren't really sure what they're doing will end up falling by the wayside, so we might see a return to more serious film-making with less dilettantes involved, because it has gotten more taxing to make these kind of films."
What is pleasing for Handorf, however, is that unique genre films are finding "wide audiences much more willing to take a risk on a crazy journey", citing the work of Ben Wheatley and The Greasy Strangler's Jim Hosking.
She recently worked on such a film, Alice Lowe's feature directorial debut Prevenge, which she hopes could be a game-changer.
"I'm thrilled not only to have her as a lead, but to also have her as the writer, director and be pregnant at the time," says Handorf.
"I think it will be a film that pushes things forward and creates more opportunities for women.
"Even just to say, 'Can a woman direct when she's pregnant?'. Hell yes, she can. She's making a baby in there, she can do all sorts of things.
"The lack of women in the industry is still an issue that needs addressing and Prevenge, at the very least, will help with the visibility of the problem, but also hopefully move things forward in a way that's productive."