Four-time Oscar-nominated screenwriter Steven Zaillian returns with another bold reality-based adaptation: crime epic The Irishman. He tells Screen about the triumphant reunion with Martin Scorsese.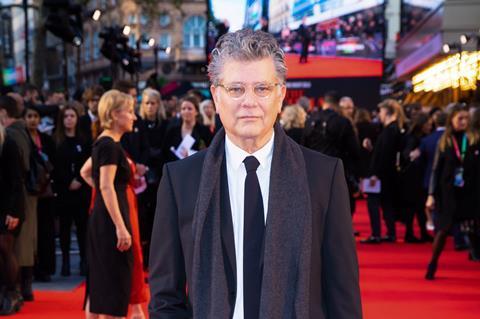 To channel the broad sweep of history and the momentous clutter of real events into a dramatically focused, awards-baiting screenplay is no easy task. But it is something at which Steven Zaillian excels. The 66-year-old writer (and director in his own right) first caught the industry's attention in 1990 with his second produced screenplay, earning an Oscar nomination for the Penny Marshall-directed Awakenings, which he had gleaned from the case studies of neurologist Oliver Sacks.
He won the Academy Award three years later for Steven Spielberg's Schindler's List, his devastating adaptation of Thomas Keneally's historical novel. Oscar nominations followed for Martin Scorsese's Gangs Of New York and Bennett Miller's Moneyball, both based on non-fiction narratives. So it was obvious who to call when Scorsese and Robert De Niro needed someone to handle the 384-page, life-of-crime-spanning Mafia confession I Heard You Paint Houses.
Despite the sprawling scope and potential knottiness of the material — which covers 50 years in the life of Frank Sheeran, Mob hitman and bodyguard to infamous labour union leader Jimmy Hoffa — Zaillian did not hesitate to take it on.
"If Martin Scorsese calls you up, you jump at it," he says. "Besides, I thought, 'Wouldn't it be great to work with him again?'" More importantly, Zaillian swiftly connected with the book, written by Charles Brandt. "I thought it was really interesting, in the same way that Wise Guys, which is the book that GoodFellas was based on, was interesting. It was told in the voice of the main character, with Frank telling his story very near the end of his life and then Charles Brandt putting it in historical context in alternating chapters. It had great characters, great themes and a historical perspective on various events that we know about, but from a different angle."
The hook, he says, was Sheeran himself, aka the Irishman of the adaptation's title. "He's an outsider who becomes an insider to this gangster world. He's this kind of guide, someone who's learning how it all works in these two worlds — organised crime and organised labour in the '50s and '60s. Two things I didn't know that much about, and Frank was involved in both of them — probably one of the very few people who was to that level of intimacy. So it seemed like a unique point of view."
Committing to that angle — with producer Robert De Niro, now 76 years old, determined that he play Sheeran himself — rendered the production uniquely challenging. Zaillian delivered his first draft in 2008, not expecting it to prove so difficult for the project to secure financing, with backers either not coming forward or dropping out, until in 2017 Netflix finally stepped in.
The reunion of Scorsese and De Niro for the first time since 1995's Casino probably appeared to be a no-brainer; it proved anything but. "I was surprised it was so hard," he says. "This director and this subject matter…" He shakes his head. "But I wasn't really in on all those conversations. I don't know how those decisions are made."
It is tempting to draw a parallel with Gangs Of New York, another ambitious historical epic that suffered major setbacks during development and production, but Zaillian shrugs it off. "It was different," he says. "In this case, Marty and I were starting at the beginning together. In the case of Gangs Of New York I was brought on as the second writer after Jay Cocks had spent years working on the script. What I did on that film wasn't as extensive as this."
Age-old problems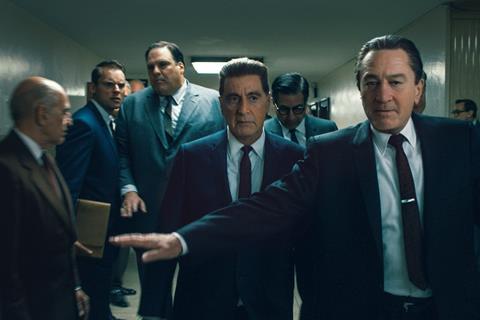 One of the main areas of financial concern was The Irishman's requirement for costly visual effects to "youthify" (Scorsese's word) De Niro and co-stars Joe Pesci (as Mafia don Russell Bufalino) and Al Pacino (as Hoffa), so they could all portray their characters throughout the decades-spanning story, rather than having younger actors in the roles during the chronologically earlier scenes.
To Zaillian, this was not so much a matter of going extra miles to make the most of an iconic cast as simply a result of the nature of the narrative. "I'm not sure where you would make a break in the story if you were casting younger versions and older versions," he says. "Because it's gradual. It's not like you have one section that takes place in 1955 and another in '75 or '80. You see scenes in '55, '58, '61, '65, so it would be hard to cast two different actors for each role."
Zaillian insists that production logistics and budget concerns never factor into his approach. The film's 210-minute running time was simply the result of the script being "as long as it wanted and needed to be", and he was neither pressured to shorten it, nor encouraged to run as long as he liked. The only major change, he says, was the removal of a long section that showed Sheeran as a young man during the Second World War. "In the first draft, there was quite a lengthy episode dealing with his life on the beaches of Anzio. We didn't take it out because it was expensive, the decision was taken from a story standpoint."
The talented Mr Zaillian
Zaillian's upcoming projects suggest his preference for ambitious adaptations has barely subsided. First, he is showrunning what he hopes will be a five-season take on Patricia Highsmith's Ripley novels for Showtime, with Andrew Scott lined up for the title role in the first eight-episode season (all directed by Zaillian). Then there is his rework of an epic 205-page script by one-time blacklisted writer Dalton Trumbo, which concerns the conquistador Hernan Cortes's campaign against Aztec ruler Montezuma II. The updated script looked like it might be a Steven Spielberg film in 2014 but has now taken the form of an Amazon Prime miniseries titled Cortes starring Javier Bardem, with Zaillian and Spielberg executive producing alongside Gael Garcia Bernal and Diego Luna.
Zaillian sees this less as an adaptation than "co-writing" with Trumbo (who died in 1976). "He's such a brilliant writer. You just don't see scripts like that any more. It had a David Lean sort of scope, but in terms of its portrayal of Cortes and Monte­zuma it was very interesting. It's about those two characters, as opposed to trying to glorify or romanticise their actions."
This comment gets to the heart of what Zaillian does best: boiling down the sweep and clutter to the details that matter. Or, quite often, that simply surprise. The Irishman is full of them, especially when it comes to Jimmy Hoffa. "It goes back to the way Frank told his story," says Zaillian. "He talked about aspects of Hoffa that I had never seen before. The way he wanted his bodyguard to sleep in the same room, or, 'Two things about him — don't be late and he hates watermelon.' Nobody else ever said that about Hoffa!"
That's what struck Zaillian about I Heard You Paint Houses and that's what is striking about Zaillian's scripts. "In terms of the big events, yes we know the big events," he says. "But the details are just fantastic."