Zarrar Kahn's journey to premiering his debut feature In Flames in Directors' Fortnight has traversed Pakistan, Canada and a series of international labs and markets.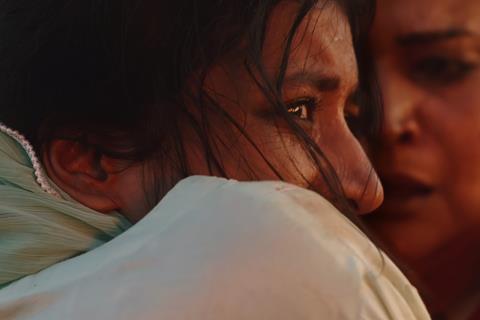 In May last year Canadian-Pakistani filmmaker Zarrar Kahn was busy at the Marché du Film's genre-focused Frontières Buyers Showcase programme. Having wrapped the shoot of his debut feature In Flames a month earlier in Karachi, Pakistan, Kahn and his producer Anam Abbas went to the market with a 10-minute clip. They were on the lookout for finishing funds, co-production partners and brainstorming sessions with experts to hone his vision about the edit and post-production.
"I wanted them to help elevate the language of the film," says Kahn.
A year later, In Flames has its world premiere in Directors' Fortnight today (May 19), the culmination of a journey that along the way saw the project win a work-in-progress award at Busan International Film Festival in 2019, selection for the Berlinale Talent Project Market in 2020, support from Locarno's Open Doors programme and a CFC/Netflix Calling Card accelerator grant.
In Flames is a horror story about a mother and daughter confronting death, grief, toxic patriarchy and gendered violence in Karachi. XYZ Films handles international sales.
Heading home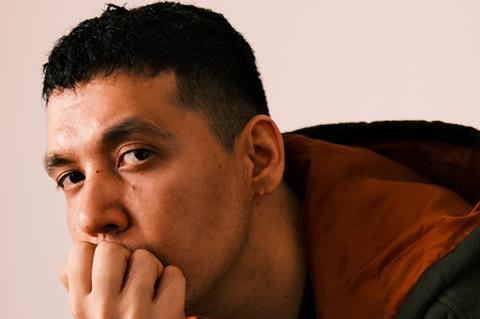 Born in Karachi in 1991, Kahn moved with his parents to Mississauga, Canada aged 10. He earned an undergraduate degree in theatre from Queen's University, Ontario and returned to Karachi at 23 years old to set up his own theatre company.
"When you leave a country as a child, it is not your choice," he reflects. "But 10 years is old enough to still have friendships, family and a sense of the place. I had to go back to build my career in Karachi."
After staging a production that was critically acclaimed but a financial disaster, Kahn turned his attentions from theatre to making short films, learning the craft on the job. He had an international breakout with Dia, about a girl who pursues an online relationship while rebuffing her conservative mother's suggestion of an arranged marriage, which won Locarno's Shorts Weeks audience award in 2020. Further shorts followed, including Stray Dogs Come Out At Night (2020), about an uncle and nephew duo of sex workers, which showed at Clermont-Ferrand and BFI London Film Festival, and Bhai (2021), which played at Toronto.
In Flames is an expansion of the central situation and themes Kahn explored in Dia, with the same mother-daughter duo at its core. To build layers and nuances in the script, he drew on first-hand experiences and collaborated with female friends and acquaintances who candidly shared stories about their experiences of womanhood in Pakistan.
Citing admiration for filmmakers such as Julia Ducournau, Mati Diop and Jordan Peele for how they challenge genre cinema's longstanding conventions, Kahn hopes In Flames will contribute to that trend. "It portrays female protagonists having agency despite being in overwhelmingly patriarchal set-ups," he says.
The microbudget film was produced with the support of Canada Council of the Arts and funded with help from Telefilm Canada's talent fund. The 25-day shoot started in February last year, with Pakistani stage actress Ramesha Nawal making her screen debut as Mariam and Bakhtawar Mazhar as Fariha, reprising her role in Dia. Hamza Bangash joins Abbas in producing.
An early challenge arose when Kahn's Kazakh DoP Aigul Nurbulatova — like him, an alumni of the Asian Film Academy — was delayed owing to widespread unrest in her country, leading to a stealth trip to Istanbul via train and bus to catch a flight to Pakistan. "She brings a unique lens and insight," says Kahn. "She was experiencing the landscape of Karachi for the first time, was seeing it in an unusual way, as an outsider."
Kahn, on the other hand, knows Karachi intimately and has based all his films there. "In Flames speaks to Karachi's dusty, hazy, harsh beauty," he says. Some of the film's locations, such as the grubby middle-class apartment complexes, have never featured before in Pakistani films, which usually depict the lives of the extremely rich or the extremely poor.
In Flames marks the second consecutive outing for a Pakistani film in Cannes, following Saim Sadiq's Un Certain Regard title Joyland. Kahn would like to see more support for filmmakers in Pakistan to keep the momentum going, similar to Qalambaaz, a professional screenwriting lab set up by Pakistani-US filmmaker Iram Parveen Bilal.
Kahn has set up his own film development fellowship to support more shorts. But given the lack of financial funds, grants or models in Pakistan for independent filmmakers, the journey he took through international labs and markets to arrive at Cannes is the path he knows will work best for future talents.
"We've had brief moments in Pakistani history when a few films have got international attention," he says. "They are often first features and then the filmmaker is not able to make another film for 10 or 20 years."