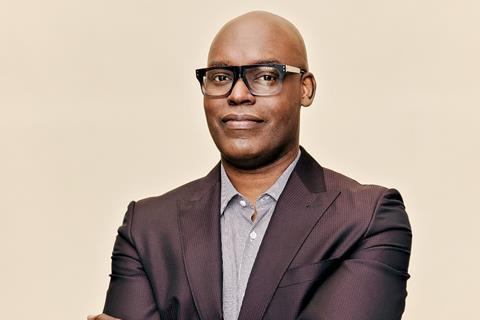 Speaking to Screen International ahead of Thursday's launch of Toronto International Film Festival (TIFF) CEO Cameron Bailey says he was counting down the days to the 48th edition, which opened on September 7 with the international premiere of Hayao Miyazaki's The Boy And The Heron and closes 10 days later after the screening of Stallone doc Sly.
This year's festival will present dozens of world premieres, including Ellen Kuras's Lee starring Kate Winslet, Ladj Ly's Les Indésirables, Craig Gillespie's Dumb Money, and the directing debuts of Anna Kendrick, Kristin Scott Thomas and Chris Pine, while on-stage conversations will be held with Sylvester Stallone, Pedro Almodovar, Andy Lau, and Lee Byung-hun and Park Seo-jun.
Yet the reality of Hollywood is never far away and the red carpets will miss the familiar procession of household names, as most stars are expected to stay away in line with SAG-AFTRA guidance during their ongoing strikes — although after the Covid-19 pandemic, Bailey knows how to mount a major festival in adversity.
After this interview was conducted, it was also revealed that TIFF and lead sponsor Bell will end their 28-year partnership at the close of 2023. Both companies exchanged pleasantries in statements and said a mutual decision was made at the start of the year.
What's the mood like at TIFF? We're still coming out of a pandemic and now there's a dual Holly­wood strike.
For us, like for much of the film industry, we're still in recovery mode. People are still celebrating when Tom Cruise movies or Barbie or Oppenheimer do well because we all still need to recover and we're coming back now. We had two very Covid-affected years where everything we did was called into question. We had one good year last year coming back, but we're still not out of the woods. So we want to make sure this is a great festival as well. The industry is coming out in full force this year and we've got an incredible line-up of sales titles, more I think than we've had in the past many years. And we have the Toronto audience. They came out in full force last year and we know they'll come out again this year.
What does TIFF mean at this moment in broken Hollywood?
I hope we will remind the industry why movies matter and why independent film matters, especially. We're always responding to the power of the audience in Toronto and how they identify award winners, but also how they identify films that will be great acquisitions prospects, just through their reaction. That will happen again this year. We're excited that we have, in addition to the Industry Selects line-up, which started during the pandemic and we've continued, a great line-up of sales titles in official selection. This year in particular, with the strike going on and so much uncertainty in the industry, it's great to know there is a strong pipeline of sale titles.
What are some of the world premiere "big gets" at TIFF this year?
So much of this is about what you know or expect going into a screening, and what you come out with. I knew very little, if anything, about the film that Michael Keaton had directed, Knox Goes Away, and I walked out of that screening so impressed by the filmmaking, so moved by the film. It was remarkable and it's going to do well with audiences. Viggo Mortensen's The Dead Don't Hurt — I love that he's making films at that level. Now he's got Vicky Krieps with him in a western. Wicked Little Letters with Olivia Colman and Jessie Buckley is a big one for us. That's one I think our audiences will respond to really well.
What are the advantages of doing business at TIFF?
Unlike a lot of major markets around the world, buyers get to see films play with a North American English-speaking audience in Toronto. That's unique. We have the opportunity to get a lot of films with major talent that often work for streamers or major studios and also have their passion projects. There's a number of those this year — Anna Kendrick's new film [Woman Of The Hour], Kristin Scott Thomas's new film [North Star], among others.
There's clearly an opportunity that [talent is] looking for, to make something that's closer to home for them. They need to have a place to introduce it to the world and to the industry, and we're one of the best places to do that. Other festivals specialise in being marketplaces for brand new talent — we do some of that as well — or they might be regionally focused. We're a truly international festival with a strong North American audience and that gives us a unique element within the landscape of festivals and markets.
Is it true none of the announced films have pulled out due to the strike, like MGM did with their initial Venice opener Challengers?
We haven't had films that we've had to pull after they were announced for that reason, but there are lots of things we're working through in terms of how to present the festival and how the filmmakers can present [the films] during labour activities, which we think will continue during September.
SAG-AFTRA has been granting interim agreements to new independent film and TV projects allowing talent to promote the work. Will talent show up?
Yes. We're following up with the sales companies and the producers, in some cases with directors and actors themselves, and there is a healthy list of filmmakers and actors who will be attending the festival. We've gotten to know interim agreements very well and have been speaking directly with representatives of SAG-AFTRA. We want to make sure we do everything in complete and total respect for what the strike conditions require.
Did you have to drop a lot of films from struck companies where the release has been pushed back into 2024?
Very few. We start talking about and looking at films before the previous year is even over. There's one or two we saw in November and December, so it's very early and things do change from time to time. There was a tiny shift or just some new conversations once we knew it was going to be a different landscape, but very little.
What's the story behind Punjab 95, about Indian human-rights activist Jaswant Singh Khalra, which is no longer in the line-up?
There's some misunderstanding out there. It was a film that was invited and we were very excited to present it, as it's a powerful film. After we announced it, the producers let us know they were no longer able to bring it to the festival. They were dealing with some issues within India in terms of censor certificates that were not going to [resolve themselves] in time for our festival. It's a film that does touch on political subjects and so these things can sometimes take more time.
You have said roughly 70% of your line-up is international. Will there be big talent coming from parts of the world whose films have not been impacted by the strikes?
Absolutely. We haven't announced the names yet [this interview was conducted several weeks prior to TIFF] but you'll have seen films announced from South Korea, for instance, two of which are Concrete Utopia and Smugglers. We've got big films from India and Europe and other parts of the world as well, and where those films and some talent aren't affected by the strike then they'll absolutely be here. There's lots of people coming from overseas and then lots of people associated with [US] independent films who will be here as well.
How will you honour actors at your TIFF Tribute Awards gala fundraiser on September 10?
This has been affected by some of the uncertainty around what actors are able and willing to do but in our conversations with SAG-AFTRA we have learned they have no issue with events like the TIFF Tribute Awards, where there are career awards being handed out as opposed to an award for work in a struck company's film. But we're coming off last year's great event when both Brendan Fraser and Michelle Yeoh got awards on their path to months and months of more awards. And we've already announced filmmakers like Spike Lee and Pedro Almodovar. [TIFF announced tribute awards for actors Colman Domingo, Vicky Krieps and Patricia Arquette after this interview took place.]
How are you feeling about Canadian films and voices in the festival this year?
I feel great about it. I always love when there are icons within Canadian cinema like Atom Egoyan with Seven Veils and you've got up-and-coming filmmakers like Sophie Dupuis, who's got a gala this year with Solo, which is one of the best films I've seen all year with a standout performance by Theodore Pellerin, one of our recent TIFF Rising Stars. I think the health of Canadian cinema is strong. We will always do everything possible to promote Canadian cinema because the world often ends up looking for the next Denis Villeneuve and they'll find it here.