The Movie Emperor reunites director Ning Hao with actor/producer Andy Lau in the tale of a movie star chasing film festival success.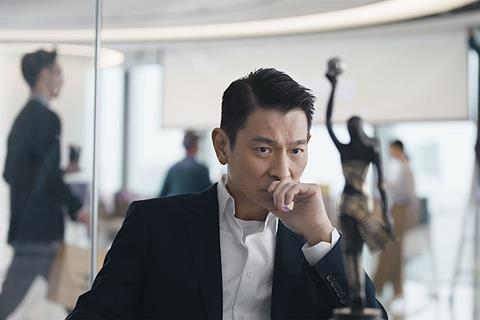 Chinese director Ning Hao reunites with his mentor, Hong Kong actor-turned-producer Andy Lau, in his latest film The Movie Emperor, which premieres in Toronto's Gala Presentations strand. This satirical take on the pretensions of the film industry marks their first collaboration since Ning's 2006 sleeper hit Crazy Stone, which was produced through the pan-Asian project Focus First Cuts that Lau initiated to champion new talent.
Ning was keen to work with Lau again, but finding the right role proved to be difficult – just like the dilemma facing Lau's character in The Movie Emperor. "Andy is a big-city person, and my stories tend to be more rural," Ning explains. "But as China has become more metropolitan, the right opportunity has come."
Lau is also an executive producer of The Movie Emperor through Infinitus Entertainment along with Dong Ping of Huanxi Media; CMC Pictures handles international sales.
Early in the pandemic, Ning – with Lau in mind – found himself thinking up a tongue-in-cheek story about a movie star who takes on an against-type role in order to bait film festivals. "I picked an angle that Andy is most familiar with. He is, after all, a superstar," Ning says.
The iconic Hong Kong performer's acting and singing career spans four decades, with his notable works including Wong Kar Wai's As Tears Go By and Infernal Affairs, which was remade by Martin Scorsese into the Oscar-winning The Departed. He will be presented with a TIFF special tribute award on September 15 before the world premiere of The Movie Emperor and will also take part in the In Conversation With… series the following day.
Shooting for The Movie Emperor only started in March 2022 because of the pandemic and Lau's hectic schedule. But when Covid surged in Shenzhen, their key location, the production had no choice but move to other Chinese cities and locations less affected, such as Guangzhou, Sanwei and Hainan Island.
"We just filmed and improvised as we moved from place to place, without specific location," Ning recalls. This guerilla style was not unlike his early days as an independent director when his films, made on a shoestring, brought him festival fame – with 2003's Incense winning the grand prize at Tokyo Filmex and 2005's Mongolian Ping Pong premiering in the Berlinale's Forum.
Chinese expansion
"Since the private sector was allowed to make films in the early 2000s, the film infrastructure began to develop, which paved the way for the subsequent box-office expansion," says Ning. "Before that, China had few cinemas and international festivals were the only recognition that Chinese filmmakers could seek," he continues. "The Chinese market has grown multiple folds in two decades."
The territory had around 3,000 cinema screens when Crazy Stone was released in 2006, compared to more than 70,000 today.
Ning, whose works often have an absurd quality with eccentric characters, is now a star director, garnering both critical and commercial success. No Man's Land played the 2014 Berlinale's Competition section; Breakup Buddies premiered at Toronto and became China's highest-grossing local film in 2014, taking $161m (RMB1.17bn); and Crazy Alien, his most commercially successful film to date, took $304.4m (RMB2.21bn) following a Chinese New Year release in 2019.
"Box office is not the only benchmark, but commercial success will make it easier for filmmakers to make their next passion project," Ning says. "As the market gets more mature and the audiences more discerning, it has come to a time when we can create more diverse films that are aesthetic or thought-provoking."
Through his own production label Dirty Monkeys, Ning and CEO Wang Yibing launched the 72 Transformations film programme in 2016 to support new directors. "We had no idea whether it would make money, but just wanted to work with talented young filmmakers and give them a hand," Ning says.
Two films from the programme turned out to be big hits: Shen Ao's cyber-fraud drama No More Bets, which is currently on release as the 12th highest-grossing film of all time in China, grossing more than $500m (RMB3.6bn), and Wen Muye's 2018 social drama Dying To Survive, which earned $426.8m (RMB3.1bn).
Ning's last overseas trip before the pandemic was to the US to explore collaborations and while at TIFF he hopes to restart the conversations. "Film can foster cultural exchange," he says.