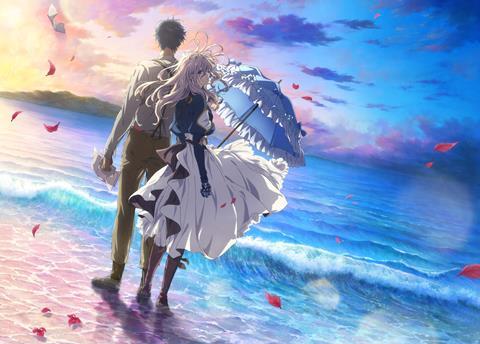 For many filmgoers around the world, their first encounter with Japanese cinema isn't festival regulars such as Kiyoshi Kurosawa, Takeshi Kitano or Hirokazu Kore-eda — it's Japanese animation.
The anime industry brings in billions of dollars a year — around $20bn in 2018, according to a report by the Association of Japanese Animations — and almost half that revenue now comes from the international market. Japanese anime films also make frequent appearances in the best animated feature category of the Academy Awards.
No wonder, then, that Tokyo International Film Festival (TIFF) has expanded its anime offerings with a fully fledged Japanese Animation section. Now in its second year, the line-up features titles from past and present: classics from some of anime's most storied franchises and recent releases that "paint a portrait of the state of modern Japanese animation", says Ryota Fujitsu, the Japanese Animation section's programming adviser for 2020.
Monster franchise
One major feature this year, The World Of Pokémon The Movie, is devoted to the mega-franchise that's been practically synonymous with Japan's worldwide 'soft power' push for two decades running. Pokémon began life as a video game, in which players catch monsters with various powers, and now exists in every form imaginable, from trading cards to comic books to toys. But there's something special about the anime version, says Fujitsu. "Unlike the games, the anime depicts the friendship between Pokémon and people. That's something the anime added to the franchise."
The three films at TIFF span the breadth of the series, which began in 1998 and currently runs to 22 titles. These include Pokémon: The First Movie (1998), the global box-office success that introduced the franchise; Pokémon: The Rise Of Darkrai (2007), which upped the ante in terms of large-scale spectacle; and Pokémon The Movie: The Power Of Us (2018), which "exemplifies the theme of relationships between humans and Pokémon", says Fujitsu.
Another major feature in TIFF's animation section is 'The Landscape of Animation in 2020' — a landscape that is both figurative and literal: the films were chosen for what they say about the state of anime in 2020 and for their unique settings. An ongoing trend has seen anime films use photo references and location scouting to produce hyper-realistic backgrounds. In parallel, Fujitsu explains, they have turned from pure fantasy to more realistic tales with a dusting of magical realism that would have traditionally been filmed in live action.
A prime example is Words Bubble Up Like Soda Pop (2020), the theatrical debut from director Kyohei Ishiguro. The film, scheduled to be released this spring but delayed by the pandemic, is about young people navigating contemporary Japanese society in a midsized town where life centres around a shopping mall — an accurate portrait of the modern Japanese landscape for those outside the mega-cities.
Seven Days War (2019), an adaptation of a 1985 novel about children who stage a revolution against their stifling parents, also portrays a modern Japanese landscape — this time, the action takes place in an abandoned factory on Hokkaido, Japan's northernmost island, a location sometimes billed as Japan's wild west.
Finally, there is Violet Evergarden: The Movie, the recent release from Kyoto Animation. The film takes place in a European-style fantasy world, not modern Japan — but, says Fujitsu, the studio's animated landscapes were impossible to overlook. And in another sense, it is an example of the continued power of anime: the film's first and second weekends on release saw it beaten at the local box office only by Tenet.
Like last year, the Japanese Animation section will pay tribute to an animation-related facet of Japanese filmmaking: tokusatsu, or pre-CG special effects (think Godzilla). This year, the focus is on Gorenger, the series about colour-coordinated superheroes that celebrates its 45th anniversary.
The section also includes two films aimed at younger age groups: Sumikkogurashi: Good To Be In The Corner (2019) and Sushi Sumo (2020), the latter in its world premiere. Also on offer are three masterclasses led by Fujitsu with guests including directors of the selected films and the creators of the Super Sentai series.
"It's a line-up that gives a great understanding of what Japanese animation is depicting right now," says Fujitsu.