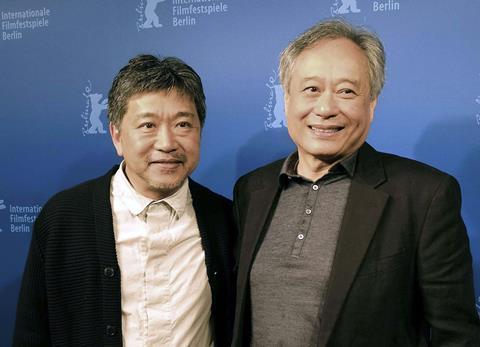 During his many travels on the international film festival circuit, which have featured a Palme d'Or at Cannes for Shoplifters, Japanese director Hirokazu Kore-eda has had ample opportunity to reflect on the nature and function of film festivals.
His experiences, and subsequent conversations with Tokyo International Film Festival (TIFF) chairman Hiroyasu Ando, have resulted in the launch of the "Asia Lounge" Conversation Series, a collection of discussions between directors from around Asia and leading Japanese filmmakers. The talks aim to encourage more understanding between Asian filmmakers and explore future direction in a world where the Covid-19 pandemic has had a huge impact on production, exhibition and international collaboration.
Scroll down for full "Asia Lounge" line-up
Kore-eda says that whenever opportunities arose to meet other directors and share their experiences, it has usually been at film festivals.
"This year, I was invited to Berlin Film Festival, which had an event where previous award winners got to choose a director they wanted to talk to and screened one of their films. I had a talk event with Ang Lee – it was a great experience," says Kore-eda. "I had also met Ang Lee at the Golden Horse Film Festival in Taipei where we ate together with [Taiwanese filmmaker] Hou Hsiao-hsien."
Film festivals have also provided opportunities for Kore-eda to meet international actors who became collaborators. He encountered Catherine Deneuve, star of his first French-language film The Truth (2019), when she approached him after a screening at Cannes. And he met Korean actor Song Kang-ho – the Parasite star who will feature in Kore-eda's upcoming foray into Korean-language cinema Baby, Box, Broker – at Busan International Film Festival.
"It's rare for those kind of encounters to lead to making a film together but film festivals definitely do give a good chance for meeting," he says.
Conversation starter
Following these experiences, Kore-eda was keen to implement something similar at TIFF, the festival on his own doorstep, which he felt needed a space for this kind of exchange.
"It was a long time ago, but when I first participated in TIFF there was no place for guests to gather," he says. "Back then it was at Bunkamura in Shibuya. There was a space to have coffee but it closed at 6pm. Hou Hsiao-Hsien was there, and I grabbed him to talk but at 6pm they told us to leave. We just wandered around with coffee cups in hand."
The "Asia Lounge" Conversation Series, which Kore-eda has jointly organised with TIFF and the Japan Foundation, aims to provide a whole lot more than just somewhere for directors to sit while sharing coffee. The programme features some of Asia's most prominent filmmakers in a series of daily talks over the space of eight days, kicking off on November 1 with the pairing of Korean director Kim Bora (House Of Hummingbird) and Japanese actor Ai Hashimoto (Little Forest) and ending on November 8 with Cambodia's Rithy Panh (Irradiated) and Japanese filmmaker Yoshishige Yoshida (Women In The Mirror).
In between, TIFF audiences will have the opportunity to hear from another Palme d'Or winner, Thailand's Apichatpong Weerasethakul (Uncle Boonmee Who Can Recall His Past Lives), as well as Japan's Kiyoshi Kurosawa, who recently won the best director prize at Venice for Wife Of A Spy, China's Jia Zhangke, who has won awards at both Cannes and Venice, Indonesia's Mouly Surya and Taiwan's Tsai Ming-Liang, among other talents (see below for details).
The programme was initially conceived as a physical lounge, where filmmakers would enjoy free conversation and exchange, but moved online as part of the festival's safety measures in response to the pandemic. The talks will be streamed live with interpretation, making it possible for participants from around the world to ask questions. The hope is to make it happen in real life next year.
Kore-eda explains there is no set theme for each talk session. The moderators, including Kore-eda himself, TIFF senior programmer Kenji Ishizaka and producer Shozo Ichiyama, will guide the guests to find common themes, while accepting questions from the audience through an online chat system. The guests have been paired with other filmmakers with whom they have something in common.
"With Jia Zhangke and Kiyoshi Kurosawa, I'm not sure what they'll talk about, but what I want to hear about is how to express and portray violence," Kore-eda explains. "As for the pairing with Jia, it's right after Venice so I thought Kurosawa would be a good fit."
In the past, Kore-eda has been quite outspoken in his criticisms of TIFF, which he says has been distracted by a national or political agenda, rather than focusing solely on the films or international cinema. He now feels the festival is starting to get on track.
"Good film festivals need to go above things like 'national interest' and 'box-office income' and think about what they can do with films' diversity and richness," he says. "That's the standard. TIFF and its sponsors need to properly embrace that kind of value system. And I think they are, now."
As for what he's expecting will come out of the "Asia Lounge" discussions, Kore-eda says the whole point is to keep the programme flexible and see where it leads, but one thing he's hoping for is to help the new generation of Japanese filmmakers to be more international in their outlook.
"Japanese film history is so rich but I sometimes fear that it may go extinct. So having opportunities like this, for filmmakers and film-goers, I hope it'll be a chance for their worldview to expand. I'm hoping this lounge can be a space for that. If it does become a place for that, I'll count that as a successful outcome."
The Line-up: "Asia Lounge" Conversation Series
Live-streamed conversations between leading filmmakers from Asian countries and regions and their Japanese peers will take place daily, all under the watchful eye of curator Hirokazu Kore-eda
Session times:
November 1-8
6:30pm-8:00pm (Japan standard time)
November 7
1:00pm-2:30pm (Japan standard time)
Sunday, November 1
Kim Bora director
Ai Hashimoto actor
Moderator Hirokazu Kore-eda
Monday, November 2
Huang Xi director
Hirokazu Kore-eda director
Tuesday, November 3
Apichatpong Weerasethakul director
Katsuya Tomita director
Toranosuke Aizawa director
Moderator Kenji Ishizaka
Wednesday, November 4
The Future of Cinema and Streaming*
Mitsunobu Kawamura chief executive officer, Star Sands
Hirokazu Kore-eda filmmaker
Lim Kar-wai filmmaker
Hiroyasu Matsuoka managing director, Toho
Kaata Sakamoto content acquisition director, Netflix
Isao Yukisada filmmaker
Moderator Yasuko Onda
*This programme will be available in Japanese only
Thursday, November 5
Mouly Surya director
Yang Yonghi director
Moderator Kenji Ishizaka
Friday, November 6
Tsai Ming-Liang director
Hairi Katagiri actor
Moderator Shozo Ichiyama
Saturday, November 7
Jia Zhangke director
Kiyoshi Kurosawa director
Moderator Shozo Ichiyama
Sunday, November 8
Rithy Panh director
Yoshishige 'Kiju' Yoshida director
Moderator Tamaki Tsuchi