John Hazelton examines how US exhibitors are changing along with audiences, including offering an enhanced cinema experience with more varied options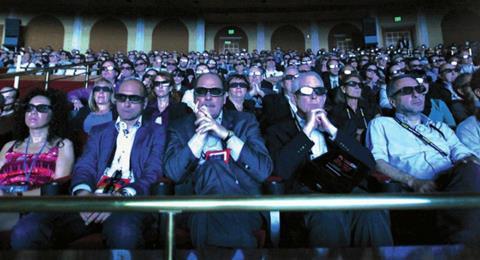 As they gathered for the recent CinemaCon convention, US exhibitors and distributors had reason to celebrate, with official figures confirming that 2013 produced another record gross at the North American box office.
But that doesn't mean the US exhibition sector has cause for complacency.
For one thing, North American cinema admissions were slightly down for 2013, indicating that increased ticket prices helped produce the record take. And for another, competition for audiences from the home entertainment sector appears to be a still-growing threat.
What exhibitors must do to keep their business growing, says John Fithian, president and CEO of trade body the National Association of Theatre Owners (NATO), is "offer consumers better choices. Both in terms of the movies we're scheduling and in terms of the cinema experience we're offering." Better scheduling by distributors, Fithian suggests, might have produced higher admission numbers for a 2013 that offered, for example, too few family films at the start of the year and too many in the summer.
More variety in the cinema-going experience could mean luxury as well as standard seating, a wider range of food and drink options, better sound and projection and the chance to see films on giant screens and in formats such as high frame rate.
The enhanced cinema experience "may just be more choices," says David Passman, CEO of the fourth largest North American circuit, Carmike Cinemas, "and it may or may not come with additional pricing. But definitely the experience has to be continually improved. We have to realise that if we're not continually improving it then the consumer will tire of it and do other things." The quest to improve the cinema experience once the lights go down might inspire other measures as well.
Earlier this year, NATO issued voluntary guidelines on in-theatre marketing that called, among other things, for trailers to be no more than two minutes long and to appear no more than 150 days before the previewed film's release date.
Though the guidelines were written after consultation with distributors "there is probably a brewing spat over how long trailers should be," says Passman, "and how many of them should be seen by the average movie-goer."
Stricter in-theatre talking and texting policies could also boost attendance, believes Tim League, CEO of the growing Alamo Drafthouse circuit. "We take it very seriously and I would like for all exhibitors to take it seriously," says League. By enforcing such policies, "We've found that we're able to bring a wide variety of demographics back to the theatre."
Alternative options
One promising, and potentially contentious, audience-boosting strategy - alternative content - was the subject of a CinemaCon panel.
Many exhibitors see alternative content -opera, ballet, theatre, sporting events or on-demand repertory cinema enabled by social media-based services such as Tugg - as a way to bring lapsed cinema-goers back to theatres and make more use of high-tech auditoriums, especially as satellite delivery makes accessing content easier.
Alamo Drafthouse, which has roots in the repertory exhibition business, has had success with music and concert events on screen, according to League. "These theatres that we've built have incredible audiovisual [offerings]," he says, "so anything that can be done within the space is really fun. And if it helps you out on a slow Tuesday night, that's great." Some distributors appear comfortable with the carefully managed use of alternative content. Some, however, may see it as taking ticket sale opportunities away from their films, particularly in the early weeks of a new release's run.
Of course there are also technical issues being faced by the exhibition sector.
With the conversion to digital projection completed, the industry is now examining digital delivery possibilities that would create more efficiencies and further cut costs, such as the satellite and terrestrial platform launched late last year by the exhibitor- and distributor-backed Digital Cinema Distribution Coalition.
"Migration towards more efficient and economical forms of delivery in a digital world is very important for the entire industry, distributors and exhibitors," says NATO's Fithian. Satellite delivery is one of several options, Fithian adds, "and we're looking at them all because we don't want to keep shipping hard drives for ever." Other hot topics in exhibition include 3D attendance and theatrical windows.
Though visual spectacles such as Gravity and family films like The Lego Movie are still attracting large 3D audiences in North America, the average 3D take-rate - the proportion of a film's audience choosing to pay a premium to see it in 3D - is in decline. A recent report from financial services firm Morgan Stanley predicted that the average 3D take-rate, which was 54% in 2011, will this year drop to 39%.
Boosting 3D take
Carmike Cinemas' Passman believes one fix might be putting more 3D prints in circulation during the first weeks of a film's release. "We've experimented with that," he says, "and we think that is one way we might be able to improve the 3D take-rate, for the studios as well as ourselves." But Passman also suggests that studios should do more 3D promotion.
"Paramount went out of its way to promote Transformers [Dark Of The Moon] as a 3D spectacular," he reports, "and it had one of the highest 3D take-rates since Avatar." Distributors, of course, have their own views. 20th Century Fox president of domestic distribution Chris Aronson believes that early in the current 3D boom exhibitors pushed up ticket prices even for poor quality 3D conversions and now "the price-value proposition is way out of whack.
Price sensitivity for the family market is clearly there. Most families don't want to shell out the massive additional money that it costs to go to a 3D movie." Discussion between exhibitors and distributors on theatrical windows is considerably less heated now than it was a few years ago.
Even the recent simultaneous US theatrical and online release of the Veronica Mars movie by Warner Bros - which opened the film on a 'four-wall' basis, renting 260 screens from AMC Entertainment - was received relatively calmly by exhibitors (AMC itself says a four-wall arrangement is the only exception it would make to its policy of not playing films made available on other platforms within 90 days of theatrical launch).
But the discussion certainly isn't over. And it could still become lively again thanks to the studios' desire to get more home-entertainment marketing bang for their theatrical marketing bucks.
Chris Aronson says that in Fox's discussions with exhibitors, "We've told them that we're going to try to keep poking into what we call the 'dark zone', the time [after] a film leaves the theatre, before it's exploited in the home. But not at the expense of the theatrical window, because we believe in the theatrical window and we want the theatrical window to thrive.
"We've been very up-front with them," Aronson adds, "and said, 'If we do something - which you'll know about ahead of time -and you can prove to us that it impacted your box office, then we'll be the first ones to say we screwed up.'"