When Sky Original Production A Discovery Of Witches moved into Wolf Studios in Wales, it discovered the country offered a wealth of spellbinding location opportunities.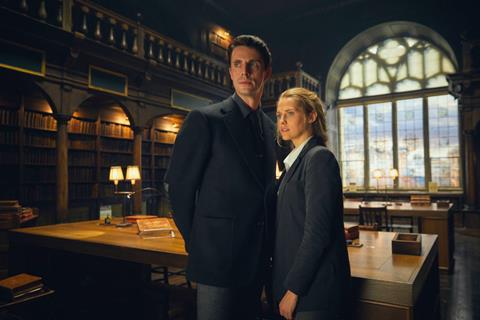 Fitting a surprisingly large false stag's head in the passenger seat of a helicopter, creating flying books and dodging army manoeuvres were among the many challenges faced by the production of A Discovery Of Witches.
The big-budget adaptation of Deborah Harkness's novel of the same name — a Sky Original Production produced by Bad Wolf — was primarily based in Wales' Wolf Studios at Trident Park in Cardiff Bay. The 250,000 sq ft studio and production space site was established by Bad Wolf's Jane Tranter and Julie Gardner in 2017, with support from the Welsh government.
The show's location manager, Gareth Skelding, a fluent Welsh speaker whose resumé boastsDa Vinci's Demons, Sherlock and the upcoming His Dark Materials, describes Wales as "a real playground". And that's just as well: A Discovery Of Witches is a contemporary love story set against the backdrop of Oxford academic life, but in a world where a handful of witches, vampires and demons live and work unseen among humans. It stars Teresa Palmer (Hacksaw Ridge) and Matthew Goode (Downton Abbey).
"We knew we had to travel with these books. We knew we had to go to America, Venice and Oxford, but Wales did it all," says Skelding of the country's chameleonic ability to stand in for a variety of locations. "Within an hour of Cardiff there's such a range of locations, which our cousins in the CGI department can help augment."
The script also called for scenes in Oxford University's world famous main Bodleian Library. "We were allowed to shoot in the Bodleian, but it was very restrictive in terms of [working] hours," says Skelding. So series production designer James North [Da Vinci's Demons] conjured up a replica of the Bodleian's ornate Duke Humfrey's Library, while the university library itself was largely used for exterior shots.
"With the replica, we could use effects — lots of books flying off shelves, wind machines, small explosions and all sorts — so it was better we had control of that world in the studio," says Skelding. The production shot the autumnal colours of upstate New York and the book's US mansion on a private estate on the outskirts of Cardiff.
Peak production
The shoot made the most of Wales' considerable rugged, mountainous terrain. Skelding and the production team worked closely with Brecon Beacons National Park rangers to ensure they were not clashing with British Army manoeuvres in the area, and filmed at locations such as the Llyn y Fan Fach mountain lake. The production used drones for aerial footage up the mountain, and local rescue teams and paramedics were also on hand at all times.
"It was a challenge getting the 100-plus crew on top of the ridge above the lake as well as the talent," says Skelding. "We had to get a helicopter to help us with moving the kit around and that sort of thing, but the weather was kind. I really enjoy the challenges of putting people into weird and wonderful locations."
A Discovery Of Witches aired in the UK on Sky One in September 2018.


The UK. First for world-class film and television production. The British Film Commission provides free, tailored support, from development through to delivery.