Warner Bros tentpole scored a record debut for a female director. Can Patty Jenkins change Hollywood culture?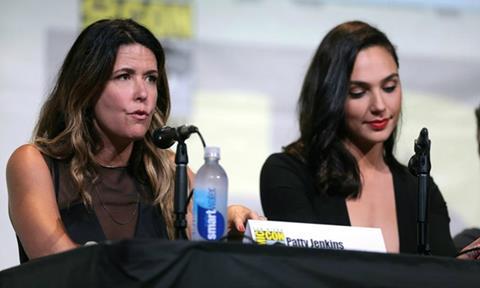 The weekend's global number one debut by Wonder Woman has delivered a stunning victory for the gender parity camp, although experts warn there is still plenty of work to be done.
Patty Jenkins directed the Warner Bros and DC Entertainment superhero adaptation starring Gal Gadot and shattered the North American opening weekend record for a film directed by a woman.
The film's $103.3m three-day haul vaulted past the previous mark of $85.5m set by Sam Taylor-Johnson with Fifty Shades Of Grey in February 2015.
The latter still holds the international opening weekend crown on a magnificent $156m, yet Wonder Woman's $125m international debut is a powerhouse result that enhances the significance of Jenkins' critically acclaimed accomplishment.
Films directed by women have opened top of the North American box office charts before. What excites gender parity advocates about this case is that Jenkins has taken the helm of a major summer action tentpole and shown a woman can deliver the results as well as – and in many cases better than – any man.
Jenkins (pictured at left next to Gadot) and Warner Bros out-grossed dozens of summer releases directed by men over the years. In scoring the sixth highest June debut of all time, Wonder Woman opened above such releases as Michael Bay's Transformers: Age Of Extinction, Marc Forster's World War Z, Matthew Vaughn's X-Men: First Class, and Bryan Singer's Superman Returns – even when adjusted for inflation.
SHATTERING THE GLASS CEILING
But now that the record has been shattered, the question remains, how deep are the cracks in the glass ceiling? Successes like this are cause for cheer although they seldom occur. In Cannes recently, Sofia Coppola won the directing prize for The Beguiled, becoming only the second woman in the festival's 70-year history to do so.
"Something like [Wonder Woman], which is long overdue, is an incredible North Star kind of event for both the industry and gender movement in Hollywood," Cathy Schulman, the Oscar-winning producer of Crash and president of Women In Film Los Angeles (WIF) says.
"It's an easy way to illustrate what most people in the gender movement in Hollywood have thought, which is that gender has nothing to do with whether a film is good or can be successful from a financial standpoint. Why are only 4% of directors women?"

That statistic, highlighted in a September 2016 report by Dr. Stacy Smith, founder and director of the Media, Diversity, & Social Change Initiative at the Annenberg School for Communication & Journalism at USC, gives pause for thought.
Smith found that of 800 top-grossing films released between 2007 and 2015, only 29 or 4.1% of the 886 directors were female.
Schulman acknowledges there is work to be done. "We have a long way to go to strengthen the pipeline and change the culture that keeps women down. We have to ensure the market for non-gender content is a strong one."
STRENGTHENING THE PIPELINE
She says the industry needs to strengthen the pipeline of female talent by training and nurturing females in the industry; effect culture change by enlisting the active support of decision-makers to achieve gender parity; and show there's a demand for female-facing content in the marketplace.
Schulman cites the ReFrame initiative supported by WIF and the Sundance Institute as one way of effecting culture change. The gender parity proposal launched this year with a set of goals and captured the attention of studio and network executives. The next step, she says, is to get the power players to sign up and become active champions.
"Change will not happen in Hollywood until leveraged leaders demand it," she says. "ReFrame is a delivery system for leveraged players to speak to each other and do something about [the lack of gender parity]."
The sense of optimism inspired by Wonder Woman's emphatic number one debut is palpable in Hollywood this week. Everybody is talking about Jenkins, and her agent at CAA, Rowena Arguelles, believes the weekend box office result presents a timely force for change.
"This is a sea change, and a sea change that should have happened a long time ago," Arguelles says. "Patty's accomplishment feeds into that wonderful progression of Kathryn Bigelow winning the Oscar [for The Hurt Locker], and Ava DuVernay directing [2018 Disney family fantasy tentpole] A Wrinkle In Time.

"The superhero tentpole was one of the harder glass ceilings to shatter. That's why this one is incredibly important."
Hollywood's notoriously risk-averse culture has traditionally resisted change and a Catch-22 situation endures in which executives are loath to try anything new unless there is a precedent. "If you see it can be done, people will believe it can be done," Arguelles argues.
It is understood Jenkins is in talks with Warner Bros to direct a Wonder Woman sequel, although Arguelles declined to comment and Warner Bros was unable to speak to Screen for this article.
'HAVING FEMALE-DRIVEN STORIES IS A GREAT BUSINESS'
Producers Guild Of America president Lori McCreary described the opening weekend result and the hiring of a female director on Wonder Woman as "another great step along the way" that makes sound commercial sense.
"It only proves that hiring female directors and having female-driven stories is great business," McCreary says. "The good thing for us as producers is there's a huge, untapped number of female directors and actors that can helm big-budget movies and we just need to find them."

As executive producer on the CBS political drama Madam Secretary, McCreary has been able to nurture female directing talent such as Anna Foerster, who went on to direct Underworld: Blood Wars in 2016.
"When I got into this business in the 90s if you had a female director on your list people would look at you," McCreary, who founded Revelations Entertainment with Morgan Freeman and whose credits include Invictus and Under Suspicion, said.

"Now if you don't have more than one female director on your list, people are saying, 'What's going on?' The expectation is that people are more diverse when they're thinking about a director. For me as a film producer that's quite heartening."
"The last frontier," Schulman notes, "is to have female directors direct big, global entertainment product that star men and women. No-one would be crazy enough to think Patty couldn't direct a similar movie with a male and female star."
Schulman, about to unveil the inaugural slate at her female-facing Welle Entertainment, remains encouraged by what she is seeing.

"When I became president [of Women In Film LA] seven years ago I could not get a single story in the [trade press] about gender equality," she says. "Now there's not a day that goes by when we don't have news about this in the global press. But at the end of the day this is only as good as the conversion rate. [The question is] how do we create change that doesn't go away."
For McCreary, the key is to get women into prominent roles and have them deliver top-notch content. "It's less about male and female right now and more about their track record… The more people we give a chance to, the easier it's going to be. Our business is really about, 'What did you do last and how successful was it?'
"The more females we have at the helm, the more the writers and crew get used to having a woman at the helm," McCreary adds. "That will start to change the industry from the inside-out in a really good way. Part of the Patty Jenkins success of Wonder Woman was that the producing team – which was male and female – brought her on and to keep this going we'll need men and women across the business [championing] females in the business."
Prior to Wonder Woman, Jenkins had not directed a feature since the 2003 drama Monster. That film earned Charlize Theron the best actress Oscar and established Jenkins as a talent to watch.
After a cherished project about test pilot Chuck Yaeger fell apart due to rights issues, Jenkins got married and started a family. She then directed the pilot of The Killing and stayed in TV for a while before she found herself in the mix to direct Wonder Woman.
The gig initially went to Michelle MacLaren, who left the project a little while later, reportedly due to creative differences. Jenkins took the reins in 2015 and the rest is history. Now, Arguelles says every studio and major independent is calling. It would appear those Hollywood executives who are less enlightened than others are being forced to take note.
THE FOUNDATION THAT WILL LEAD TO MORE OPPORTUNITIES
UTA managing director David Kramer agrees the opening weekend was "a huge step forward", although he too accepts there is work to be done.
"I see it as strengthening the foundation that will lead to more and more opportunities for female artists across all genres," Kramer says. "I also think agencies like UTA play a central role. When we are pushing hard for more opportunities for unique and talented voices – whether Angelina Jolie, Lena Dunham, Liz Banks, Jill Soloway or Niki Caro, or whether it's the next generation of female artists who will follow in their footsteps – we're helping level the playing field."

Kramer concedes the playing field remains uneven, adding that it is incumbent upon the agency community to "find more opportunities for the women we represent."
Noting that females buy half of all theatre tickets and women are responsible for more than 65% of at-home entertainment purchases, Schulman is in no doubt there exists an anomaly that needs to disappear.
"The majority of movie-goers in theatres and at home are female and we have a business that's catering to audiences that are male, which means we have a business that caters for the most part to the minority of the marketplace and not the majority. Isn't that odd? What all this should be heading towards is a non-gender marketplace where men and women can make whatever movie they want to make for whatever audience turns up."