Narcos showrunner Eric Newman reflects on series three of the drugs drama.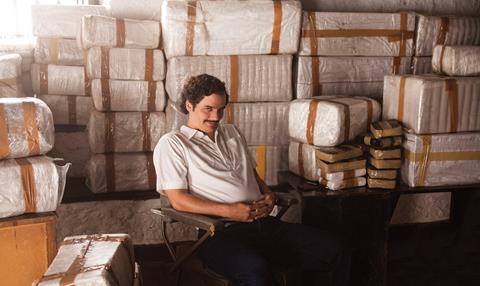 Crime drama Narcos has been a passionate endeavour for showrunner Eric Newman and so, as the launch of the third season approaches, he can be forgiven for feeling a little wistful. "This is the end of three years in Colombia and I'm sort of nostalgic," he sighs down the phone from the country, where he is speaking to Screen International during a break in filming.
The season keeps the action firmly rooted in Colombia, the South American country that gave rise to the drug lord Pablo Escobar. But Escobar himself is no more, killed off in the season two climax that paves the way for a new focus: the Cali Cartel, which played a part in his downfall. Newman says he will miss the character of Escobar, the poor boy who used his entrepreneurial gifts to become one of the most powerful and feared men on the continent, and who flooded the US with smuggled cocaine.
"Part of it is my love for Wagner [Moura, the Brazilian actor who played Escobar] and how much I will miss him," he says. "We felt we had told his story. He was an innovator, a pioneer in the game. And the world is better off without him."
Escobar was different things to different people. Reviled by law enforcement in Colombia and the US, and feared by every­one in the drug trade, he was revered locally as a Robin Hood figure who helped the common man. He has been hard to depict on the big screen, and Newman — a film producer whose extensive credits include Children Of Men, the RoboCop reboot directed by Narcos pilot director Jose Padilha and Netflix's upcoming sci-fi thriller Bright — realised episodic television was the perfect vehicle for his story.
"People often ask why [feature project] Killing Pablo didn't get made," he reflects. "There were all these Escobar movies people tried to make. I was developing one, and what we found is that if you're going to do a two-hour version of Pablo Escobar, you can really only focus on the bad. You're not going to get into the pathology of this guy and how he was created, so in that story he's just a bad guy and he needs to be stopped.
"What 20 hours allowed you to do was tell the story of a man, not an animal or a monster," Newman continues. "This was an opportunity for us — especially with an actor of Wagner's calibre — to tell a story of a man who was devoted to his kids, loved his wife despite being a big philanderer, and yet could also put a bomb on an airplane. He was probably a sociopath."
Breaking new ground
Although Narcos did not qualify for Colombia's tax reliefs, because the government wants to bring in more feature films, head honchos at Netflix and French partner Gaumont still decided it would be best to shoot in the country (the first two episodes of season one were treated as a two-hour film and so qualified for the incentive).
Initial concerns were over security and how the locals would respond to another Escobar story. Such fears, however, proved to be unfounded. When Newman began scouting in April 2014, he found the Colombians to be politely dismissive in Medellin, the former hub of the local drug trade that, like much of the country, has transformed itself into a largely safe locale with thriving business and tourism sectors.
Once the local population watched the show, however, perceptions changed. "They felt we did our homework and were respectful," Newman says. "It was important to all of us that Colombians see it that way because it's very much their story. They lived it. It's not a US victory. They did all the fighting and dying."
Narcos' showrunner conducted a study to see how local Colombian crews and the largely Mexican and US crew already employed would get along. It was a steep learning curve and "a bit of an invasion, logistically", Newman recalls. "[Colombia has] never really been a production base for big shows," he says. "There were two big movies that had been here before — one was Love In The Time Of Cholera and the other was The Mission many years ago. So we had to get a lot of people and equipment into a place that hadn't really seen that before."
Along with the practicalities of moving people and equipment, the production found other aspects of shooting in Colombia challenging. "One of the hardest things for us initially was locations," he says. "In the early days, we would come to a location and it had been demolished or sold to someone else, or the person who said yes changed their mind, or there was construction on the streets and they were torn up."
Yet this roadblock actually resulted in one of the production's biggest strengths, according to Newman: "It required a certain fluidity, but we built an amazing locations department." He reserves special praise for his "absolutely amazing" Colombian head of transportation Jenny Roa Garcia. "I remember going with her and looking at roads in Santa Marta, which is a town on the Caribbean coast, and trying to figure out if we could get 30 trucks through. And she did it," he says.
Indeed, Newman has been impressed by the way the local crewmembers honed their skills during the course of filming. "I was in our final production meeting and it was great to look around the room and see so many people who had been here since the beginning," he says. "We had a very good retention rate and I've seen a lot of our talented Colombian crew grow into skilled and talented crew."
Local partners included Colombian producer Andres Calderon and his company Dynamo, which provided production services and helped Newman's team navigate the country's filmmaking terrain. "Andres and his team were instrumental as interpreter, tour guide and concierge, all at once," he notes.
Newman also formed a strong bond with Andres Baiz, the Colombian director who has shot eight episodes of Narcos, including the season three opener. "He was the guy that said to me along the way, 'That's not what Colombians would say or think.' He has been an incredibly valuable asset."
New focus
Now Escobar is out of the picture, and season three has wrapped in locations such as Bogota, Cali, Medellin, Cartagena and New York, the focus shifts to the Cali Cartel. "The show is a chronological and thematic sequel," Newman says. "From when I first considered doing a drug war story some 18 years ago and set out to tell a version of [Narcos] as a movie, it was always about the evolution of the war on drugs and how trafficking evolves."
Beyond Escobar, Newman is looking forward to immersing himself in the workings of the "much more sophisticated" Cali Cartel. "They realised the danger of taking on the system, so they became part of the system by helping [the US] take Escobar out," he says. "Having ingratiated themselves with Colombian and US law enforcement, the plan was to negotiate a surrender deal for themselves that would have allowed them to keep their money and maybe undergo a little house arrest. They cared less about the people and more about the elite."
Beyond that, Newman is keeping his cards close to his chest, although the thinking is that Narcos will relocate to Mexico and focus on the contemporary menace posed by the country's cartels. "That seems to be the way the wind is blowing," he says. "But I can neither confirm or deny it."