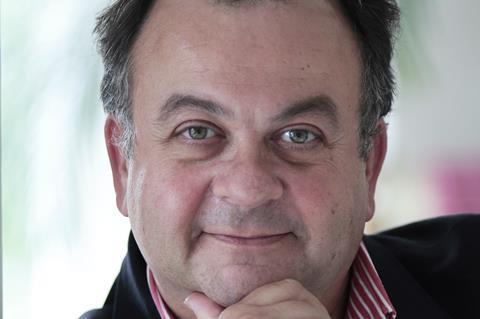 Albert Wiederspiel has become synonymous with Germany's FilmFest Hamburg during his 16 years at the helm as festival director. He recently extended his contract for a further three years until 2023. The festival opens tonight (September 26) with the German premiere of French comedy-drama La Belle Époque with director Nicolas Bedos and lead actress Doria Tillier in attendance.
It will close with the German premiere of Ken Loach's socio-political drama Sorry We Missed You on October 5.
More than 40,000 film fans are expected to attend across 10 days of screenings, concerts, film talks, and industry events.
How has Filmfest's selection process changed over the years?
You have to open many more oysters before you find some pearls. More and more films are being made as digital technology has become so simple, meaning we look at many more films than in the past. We now track around 1,200 titles over the year when putting the film programme together.
Are there any countries with a surprisingly strong showing at the Filmfest this year?
Films from the UK have become very interesting after many years when we had hardly anything to show. The same goes for Italy. I wonder if this has something to do with countries going through a crisis, which makes the artists particularly productive.
French cinema continues to have a very prominent place in the Filmfest.
France is one of leading film nations and doubtless the most important in Europe. I have always been impressed by the way French cinema has been able to use Cannes as a platform for its productions. I read that 78 French productions, including co-productions, were shown at the last festival so it's no surprise that we have 40 French titles at the Filmfest because we selected many of the films showing in Cannes.
Hamburg is a great showcase for German cinema, specifically Northern Germany.
Yes, films from Northern Germany are strongly represented in the Grosse Freiheit sidebar - five of the seven films screening there were supported by the regional film fund Filmförderung Hamburg Schleswig-Holstein – and the Hamburger Filmschau section is made up exclusively of films with a connection to Hamburg. Highlights among the local productions include Christian Schwochow's Siegfried Lenz adaptation German Lesson and the Hamburg director Katrin Gebbe's second feature, Pelican Blood.
What is your position on showing films from streaming services?
We have two Netflix films screening this year: French animation I Lost My Body, which was screened at Cannes and then sold to Netflix, and Noah Baumbach's Marriage Story as a surprise film. The decision came so late we couldn't include it in the Filmfest magazine. The same thing happened last year when we were able to show ROMA at the very last moment.
I don't have any reservations about showing these films although I can understand that cinema-owners do. But I have a different position: my role is to show the best films, irrespective of how they are financed or distributed. For me, it is a chance for these Netflix films to be seen at least once on the big screen rather than just at home on one's computer.
What's new at the FilmFest this year?
We have a new format called 'Contemporary Cinema in Focus'. This is dedicated to two filmmakers who are internationally acclaimed but perhaps not that well known in Germany. Ideally, we would like to feature a male and female filmmaker each year from different cultural backgrounds. We are making a start this year with French director Céline Sciamma and Lav Diaz from the Philippines.
They are bringing their latest films to Hamburg (Portrait Of A Lady On Fire and The Halt respectively) and we will also present a selection of their previous films. We will also have so-called 'bar talks' with them on two evenings at the Pony Bar.
This new initiative is similar to the Douglas Sirk Prize, which is going to the actress Nina Hoss this year, because we want to support filmmakers in the middle and high point of their careers rather than just stage homages for people at the end. This is also a way to create a bond between younger generations and the Filmfest, showing what is happening in cinema and coming from new and younger talents.
[The city of] Hamburg's Senate for Culture and Media increased its support [of the festival] by around 20% this year [to a total of €850,000] and most of this additional money has been invested in producing German subtitles for foreign films in the Filmfest programme. We know attendance at screenings with German subtitles is almost 20% higher than for those without German subtitles, so if you want to reach new audiences, this is an area where you have to make an investment.
Why is it important for filmmakers to attend Filmfest?
It's enriching for filmmakers to meet other colleagues. Moreover, it's always been important for us at the Filmfest that filmmakers enter into a dialogue with audiences after screenings because I believe Q&As are often as important as the films themselves.
How important is it for you to show as many films as possible by women directors?
There have been so many changes in the last 15 years to the point where women directors are no longer the exception. This year, we have 38 women directors with films in the programme, and, to be honest, we reached this figure without consciously looking for films by women. I am always surprised when colleagues from other festivals say that they can't find any films because that's not our experience.
Do you see the need to cut the festival's carbon footprint?
All of the festivals are at the point where they know that there is a problem, but we haven't yet worked out what we should do. A new association called AG Filmfestival was founded by 60 German film festivals in August and I hope this issue will soon be put on the agenda because it is something we will all have to address in the future. I have the impression that we are currently all in a state of paralysis when thinking about the question of carbon footprints.
What other international festivals do you attend?
Naturally, Cannes and Berlin are real musts, but, personally, I love the smaller, more intimate festivals where the contact to the filmmakers and other colleagues is much easier. That's something we always aim to offer in Hamburg too.