The UK independent cinema market is flourishing as the three boutique chains, Picturehouse, Everyman and Curzon, engage in a flurry of openings. Screen investigates a booming indie economy.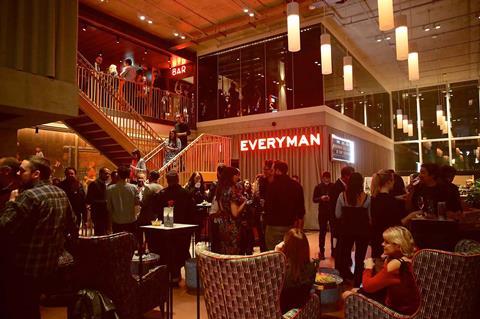 In 1985, the opening of the UK's first multiplex cinema at The Point in Milton Keynes triggered a transformation of the country's exhibition sector. Annual cinema admissions — which had been declining inexorably for four decades — staged a remarkable recovery, more than tripling as construction boomed. The pace of change then slowed dramatically not long after the start of the 21st century, and UK cinema admissions have essentially plateaued over the past 15 years.
But while the multiplex boom seems to have run its course in the UK, the same cannot be said for the independent sector, and especially for the three boutique chains — Picturehouse, Curzon and Everyman — which are now engaged in a spate of dramatic expansion.
Cineworld-owned Picturehouse has five new cinemas on the go, three in London (West Norwood, Bromley and Ealing) and two regionally (Ashford and Chester), and, says joint managing director Clare Binns, "we've got other ones we can't talk about yet".
Curzon, which opened new cinemas in Aldgate and Oxford in 2017, will expand to Colchester and Hoxton this year, and will also begin construction on a new venue in Kingston. And Everyman, which has built rapidly over the past few years to its current roster of 22 cinemas, is expanding at an even faster pace, opening 14 new venues during 2018 and 2019.
Everyman CEO Crispin Lilly says his target is to reach 50 cinemas over the next three to five years. "It's a natural continuation, given the increasing confidence that we've found in the model," he explains.
Lilly adds the company, which is quoted on the AIM stock exchange, has raised $60m (£45m) in equity since 2015, and also has a $27m (£20m) debt facility. "We are well armed for it."
Everyman's roots are in north London — in upmarket Hampstead — and the exhibitor was initially cautious about expanding to the regions. But the success of sites in communities as small as Oxted (estimated population 13,607) and Reigate (estimated 22,958), both in Surrey, has given renewed confidence.
"People say, 'How much further can you go?' I'm not looking beyond five years at the moment, but if you asked me to draw on a map and mark any towns I think can take an Everyman cinema, there's scores and scores of them," says Lilly. "It's about finding a suitable building and a suitable opportunity at the right price. That's the challenge — not identifying the towns or locations."
At Curzon — which combines cinemas with a distribution company and a VoD platform — expansion in bricks and mortar is part of a bigger strategy. "We have a vision for the Curzon business that isn't just predicated on cinemas," says CEO Philip Knatchbull. "It's predicated on the cinemas acting as the shop front to the wider strategy of creating a film brand that connects directly to customers. A lot of the data we get corroborates our view that when we open a cinema, people are more aware of the Curzon brand and the day-and-date strategy.
"The cinemas are a vital part of the oxygen of publicity for our more minority-targeted movies. That isn't the [whole] reason we're building more cinemas, but it is a factor."
Curzon Artificial Eye releases 15-20 films a year, says Knatchbull, delivering 10%-15% of the box office at its own venues. And while Curzon Home Cinema does not release streaming figures, Knatchbull is bullish. "Back in 2015, 45 Years became our biggest day-and-date film at the box office, and biggest premium VoD for us as well. It's taken another two years for it to be overtaken first by Happy End, and then A Fantastic Woman beat that, and now The Square trashed A Fantastic Woman."
Meanwhile, Curzon's cinemas are thriving. Organic growth for 2017 box office (not counting the contribution of new venues Aldgate and Oxford) was 8.5% up on 2016. While Edinburgh has long been a case where Picturehouse (The Cameo) competes with an adjacent independent venue (Filmhouse), the rapid expansion of the three chains is increasingly seeing them compete on the same turf, or with an established independent. Curzon opened in Oxford, a town where Picturehouse has the Phoenix, and also competes with the Showroom in Sheffield. Everyman now competes with Picturehouse in York and the Watershed in Bristol, and is opening in cities with existing thriving indie venues such as Glasgow, Liverpool, Newcastle and Edinburgh.
Binns acknowledges the rules of the game have changed. "These days people will just go in, if they see an opportunity," she says. "It is much more competitive, and business has come into it much more than having a gentlewoman's agreement that you wouldn't go in and [potentially] damage someone else's business."
David Sin, head of cinemas at the UK's Independent Cinema Office (ICO), is sanguine about the new competition "Our position is that we welcome any new cinema developments of any description." He points out the Bristol Watershed, one of 20 independent cinemas taking programming advice from the ICO, "has just enjoyed its best ever year for admissions in the same year it's faced up to increased competition from the Everyman".
It is arguable Everyman is not directly competitive with a typical independent arthouse, since its programming tends to skew more mainstream, and Lilly would concede that point. "We're not trying to educate," he says. "We're trying to give people a great night out." Knatchbull sees it more starkly: "Everyman is a leisure and hospitality company. Curzon is a film company."
And while the boutique sector is flourishing, so are single-venue independents. The three-screen Depot opened in Lewes, East Sussex, in May 2017, and quickly established itself as a thriving business. The Olympic, which operates a consistently busy two-screen venue in Barnes, is developing a sister site in Battersea. And the switch from 35mm to digital has allowed small community cinemas to pop up all over the country, with costs for the fit-out of seats, sound and projection equipment starting at around $107,000 (£80,000), according to the ICO.
"Many years ago, most market towns with a population of 10,000 or more would have had a local cinema," says Sin. "A lot of those closed in the 1970s and 1980s, when UK cinemagoing was at its lowest point. New technology gave people — local authorities and groups of committed people and individuals in some cases — the confidence and the understanding that you didn't need a huge amount of money to develop your own cinema."
Multiplexes fight back
The flourishing indie exhibition scene has not gone unnoticed by the multiplex operators. Cineworld bought Picturehouse in 2012, and has been investing in the chain's expansion. Vue is revamping venues. National Amusements' Showcase is expanding its Cinema de Lux brand, for example opening its first London site in the new $1.8bn (£1.4bn) expansion of the Brent Cross shopping centre. Odeon is converting more venues to its Luxe brand, offers a 'VIP experience' called The Gallery at six sites and has opened The Lounge, with food and drinks delivered to the customer's seat at Whiteleys shopping centre in west London.
"It's a compliment to the independent sector," says Sin, regarding the multiplex activity. "Some of those operators are chasing the more upmarket audience." But Knatchbull does not see Odeon as the competition. "How does Odeon reinvent itself for the future? I think it's sensible to reduce the number of seats, provide a better service. But I don't see it as being in competition with us."
Binns, who rejects the term "boutique" for Picturehouse, preferring "neighbourhood cinemas", is also unfazed by the prospect of upmarket multiplex competition. "We're not big, shiny leather seats," she says. "We're comfortable. We're part of the neighbourhood, nice food and drink. And a big plus for us is the depth and range of our programming."
Binns is proud she programmed Fifty Shades Freed at just two of her 23 venues. While Curzon operates a pure programming policy at its Soho and Bloomsbury venues — and Mayfair, Richmond and Wimbledon are also well-aligned with the brand's core values — more mainstream imperatives are often visible elsewhere.
What is not in doubt is that the growing importance over the past decade of awards season, which typically delivers a steady supply of quality, commercially robust titles from the start of September to the end of February, has been felicitous for the independent sector. That proved true in 2018 which, despite lacking a La La Land, delivered for indie venues with the likes of Darkest Hour, Three Billboards Outside Ebbing, Missouri, The Post, The Shape Of Water, Lady Bird and I, Tonya. In Q1 of this year, Curzon's cinemas posted 5.8% organic box-office growth on the same period in 2017 — which compares to a 4% year-on-year drop for all UK and Ireland cinemas in Q1.
Boutique chains' top 10 films (June 1 2017 to May 31 2018)
| | Picturehouse | Everyman | Curzon |
| --- | --- | --- | --- |
| 1 | Three Billboards | Star Wars: The Last Jedi | Star Wars: The Last Jedi |
| 2 | Star Wars: Last Jedi | Dunkirk | Three Billboards |
| 3 | Dunkirk | Avengers: Infinity War | Dunkirk |
| 4 | The Death Of Stalin | Darkest Hour | Darkest Hour |
| 5 | Murder On The Orient Express | Paddington 2 | Call Me By Your Name |
| 6 | Darkest Hour | Murder On The Orient Express | Murder On The Orient Express |
| 7 | Blade Runner | Black Panther | Lady Bird |
| 8 | Paddington 2 | Three Billboards | The Death Of Stalin |
| 9 | Avengers: Infinity War | Peter Rabbit | Isle Of Dogs |
| 10 | Black Panther | Blade Runner 2049 | The Post |
The challenge is to stay busy during the summer blockbuster period, and Knatchbull points to Curzon's more mainstream-skewing sites as helpful to achieving an overall balance of admissions throughout the calendar year.
Strong titles are always helpful to cinemas, but Lilly remains relaxed about the ebb and flow of content. "The one thing we cannot control is the films. Films are made by other people. We can control how lovely the venue is. We can control the food and drink that we sell. We can control the teams who look after our customers. And that's what we do.