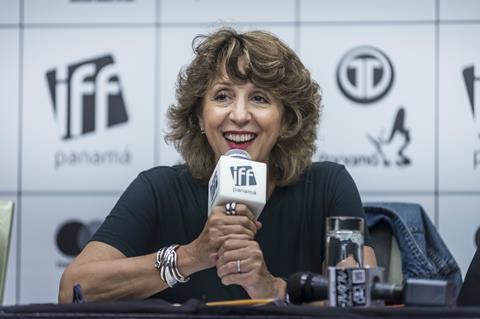 This year's eighth IFF Panama ran from April 4-10 and kicked off with the well received Ricardo Darin drama An Unexpected Love (El Amor Menos Pensado).
Programmers scheduled industry talks, masterclasses, a Work in Progress section, and the announcement of a fund for women to launch this summer. Festival director Pituka Ortega reflects on the past few days.
Tell us about the women's fund that you announced this week
Since we have become a platform for central American and Caribbean cinema and we have seen the calibre of work by women making films, we started thinking about the possibility of having a women's film fund, which will provide funds for development and works in progress. We started looking for references of other Latin American funds for women and we found none, so we spoke to the Inter American Development Bank, which supports us for Primera Mirada and they loved the idea. We want projects that will be evaluated are projects that will contain stories of social impact and speak to gender, race and human rights.
How much money are you awarding?
It's a $15,000 fund that will be divided one part $5,000 for development, and $10,000 for works in progress. Two [winners] will be chosen. We will probably launch it in June or July.
IFF Panama once again delivered a strong selection of Panamanian and Central American cinema. You have a modest yet potent team of programmers there.
It's a fantastic selection. I'm very, very proud of the programming team. Of course Diana [Sanchez, outgoing artistic director] is wonderful and there are others in the team – Fanny Huc, our programming manager, has done an incredible job. Also Cat [Caballero] who works with programming. Diana has taught the team really well. I find the programme very rich. Always we can do better and we will do better next year.
The Ricardo Darin drama An Unexpected Love (El Amor Menos Pensado) set the tone and many remarked it was the best opening night film in years. Would you agree?
Festivals have to speak to their local audiences and we wanted a film that was smart and that would engage our opening night public. We've never had an opening night like we had this year. Our distributor Cynthia Wiesner was amazing and has been so generous. She's one of the good ones for our cinema. And [Ricardo] Darin was amazing too. It just gave the eighth edition a wonderful start. [The film opens in Panama through Wiesner Distribution on April 18.]
How is the festival funded?
[The government] provides most of the cash, but we receive quite a bit from the private sector. It's 60-40 private-public. The private sector gives operational sponsorship and there are many fine partners. Mastercard is amazing. That opening party was fantastic. Copa Airlines is amazing. Communication has been key to the success of this festival – if you have all the TV stations and the press talking about this festival, people will respond. I had teenagers going to the screenings yesterday because they're hearing about it and it's being talked about in the country. You can't buy that.
The election on May 5 means there will be new personnel at the film commission ready to start work by July 1. How do you feel heading into this transition?
We're hopeful that this year's festival will be a testament and will let politicians see and understand this is something that needs to be supported. If it's not continued under the same conditions it has had, it's not only going to hurt the film industry and the cultural development and growth of the creative industries in this country, it's going to hurt the image of the country. We have to work hard to create the best festival we can so they can see we're something good to invest in. We're not a subsidy – we're an investment – and I'm hoping they're going to see that.