An increased cash rebate and co-production boom has resulted in a strong Estonian line-up for this year's Tallinn Black Nights.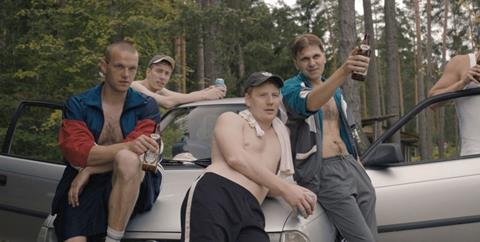 The Estonian film industry is picking up momentum, seeing an increase in domestic film admissions as well as a selection of awards around the festival circuit.

In Berlin earlier this year, the Estonian Film Institute (EFI) announced a cash rebate for foreign productions including full length features, documentaries and television series, which has in turn prompted a spike in the number of co-productions.

Tallinn Black Nights Film Festival is reaping the benefits with a strong line-up of Estonian films across several of their programme sections

Estonian Film Competition

Seven films are in contention for the Estonian Film Award, which grants a winning feature €3,200 in prize money to be shared between the director and the producer:
Triin Ruumet's The Days That Confused (above), a coming-of-age story set in late 1990s Estonia, is already garnering acclaim after having won Karlovy Vary's Jury Prize.
Meanwhile Toomas Hussar's Russian espionage thriller The Spy and The Poet is generating buzz off the back of its Karlovy Vary premiere slot.
Debuting at this year's San Sebastian Film Festival, Estonian director Vallo Toomla's Estonia-Lithuania-Latvia co-production Pretenders presents a psychological thriller about a couple who get more than they bargained for after they invite a wounded woman and her husband into their house.
Estonia's Oscar submission Mother is also in the line-up, with filmmaker Kadri Kousaar highlighting a mysterious crime in small town Estonia that revolves around a full-time caretaker and her comatose son. The film premiered in April at the Tribeca Film Festival.
Participating in the 2012 Baltic Event Co-Production Market, Ana Aun's now completed The Polar Boy tells the story of a photographer who takes love one step too far.
Other films include Mart Kivastik's When You Least Expect It based on two people who wake up in bed together, neither knowing who the other is, and Valentin Kuik and Manfred Vainokivi's Family Lies about untold secrets that rise to the surface when a man's father-in-law passes away.

Special Screenings

Ukranian native and Russian citizen Vitaly Mansky returns to the festival after winning last year's Best Director and Special Jury prizes for his eye-opening North Korean documentary Under the Sun.

Premiering in Karlovy Vary's main competition, his follow-up Close Relations gives an honest look at the Russian-Ukranian conflict, using the director's own family as an example of division within Ukrainian society. The documentary is a co-production with Germany, Latvia, Ukraine and Estonia.
Estonian documentary Shusha also makes it international bow in Tallinn, with film-makers Lauri Lippmaa and Aivar Valdre giving a heartwarming portrait of Belarus' first head of state, Stanislav Stanislavovich Shushkevich.

Children's Programming

Elsewhere in the festival, Rene Vilbre presents a charming drama titled Mat the Cat about a troublesome 10 year-old who befriends a magical cat.

There will also be a screening of Heiki Ernits and Janno Poldma's 2001 animation Ladybirds' Christmas, which tells of two ladybirds who must adjust to a new home when their tree-house is suddenly chopped down and made into a Christmas tree.