The nine participants of this year's Open Doors Producers' Lab can grasp the opportunity to further their careers on the international stage.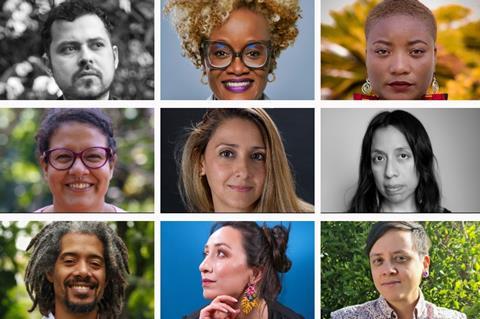 The organisers of this year's Open Doors Producers' Lab, which highlights rising creative producers with projects in development, have handpicked their participants from the Latin America and Caribbean (LAC) territories of Costa Rica, Ecuador, El Salvador, Guatemala, Haiti, Jamaica, Nicaragua, Peru and Saint Lucia. "The most important factor is that people from underrepresented countries, who are at an early stage in their career, have access to the knowledge pool and can learn," says Open Doors interim head Zsuzsi Bankuti.
Top levels of training, education, interaction and collaboration await participants for the programme, which kicks off as part of the Open Doors strand and will continue over the year via workshops and initiatives such as online resources platform Open Doors ToolBox, an advice hotline and dedicated consultancy service for the producers.
"The idea is that we bring people together who have very different energies, which we believe can work together and bring something fresh and good to the international scene," notes Bankuti.
Talent pool
This year's Lab participants include Ecuadorean producer Daniela Fuentes Moncado, who arrives searching for a European co-producer for her project ÑUSTA (through production banner Epopeya, founded in 2017 by Maria Angeles Palacios).
"We want to enter the European market, and I hope to find other projects to collaborate with after the Lab," says Fuentes. "We're a country of amazing female directors, but we still lack the support of national institutions that understand our cinematography is worthy and that the creative sector can not only contribute to our economy but also transform our society."
Similarly, Haitian producer, writer and activist Gilbert Mirambeau Jr hopes to begin building an industry in Haiti, a country experiencing political, economic and social crises with no public or private funding, no film school and a prolific gang culture. "I hope we can build a bridge between Haiti and other countries, and with industry professionals in general," says Mirambeau Jr, who founded Muska Films in 2015 in Haiti after a spell in the Canadian corporate world.
For Jamaica's Nadean Rawlins, the challenge is access to funding, particularly development cash. "In Jamaica, filmmakers have limited access to international funding," Rawlins says. Private funding is typically the means by which films are made in the territory, which also throws up challenges due to the absence of returns for private investors.
Elsewhere, Saint Lucia's Michelle Serieux has had creative development support from the Sundance Institute and Tribeca Film Institute, among others. Via the Imagine Caribbean banner, she is aiming to bring projects that tackle social justice issues specific to the socio-cultural tapestry of the Caribbean.
Other participants include Guatemalan writer, director and producer Camila Urrutia, who boasts 15 years of sharing the stories of Guatemalan women on screen through her Camaleon Films, which has a strong gender and environmental justice focus. Her productions include debut feature Gunpowder Heart, which was selected for festivals including Huelva Latin American Film Festival in 2019.
Peruvian documentary producer Illari Orccottoma arrives having produced her feature debut Diogenes, a co-production with La Selva Cine (Colombia) and Dublin Films (France). And Costa Rica's Karolina Hernandez Chaves also has international form, having attended several labs including Rotterdam and Panama and secured backing from the Sundance Institute documentary film programme in 2021. Hernandez Chaves is developing Natalia Solorzano's feature-length documentary Space Is A Monstrous Animal (El Espacio Es Un Animal Monstruoso) through her company Dos Sentidos.
Cuban film school graduate and Nicaraguan native Maria Felix Morales Lotz is also at the Lab to secure international partners for Neon, a queer film set in Paraguay that she is producing under her Asertiva banner.
For El Salvador's Ricardo B'atz', the Lab offers an opportunity to represent a country with no production funds, no film schools and no policies or institutions to develop local cinema. "Some people have studied abroad while others, like me, have learned by doing," B'atz' says. "I hope to meet filmmakers from around the world, share with them and learn from them."