Estonia is affectionately known by some in the region as Europe's 'little tech giant' and for a country with a mere 1.3 million residents, it's making a mark in innovation.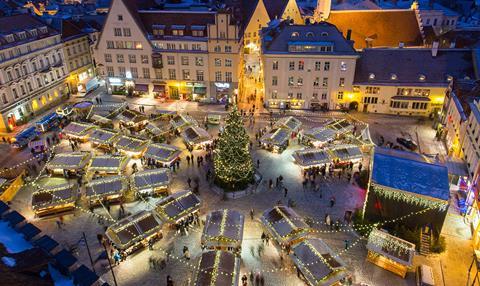 Estonia's biggest claim to fame in recent tech innovation dates back to 2003, when software developers Ahti Heinla, Priit Kasesalu and Jaan Tallinn created Skype.
While the video chat system has since been bought by eBay, followed by Microsoft in 2011 for an estimated $8.5bn, a majority of its development team are still based in Tallinn.
Skype's global success instigated a surge of start-ups in Estonia, with hundreds of tech companies now operating out of the country, according to Start-Up Estonia (itself a new company).
A number of these start-ups were discussed at the Tallinn Black Nights Film Festival's digital conference Storytek held on Saturday November 19.
e-Residency
At the conference, product manager Ott Vater shared information about Estonia's latest buzz-building entity, e-Residency.
The government-funded programme is built around an identity card that can be used for banking, taxes and business management. It was first launched in December 2014 for Estonian residents but has recently been extended to other countries, inviting citizens to join a virtual business community.
"You can't become a tax resident with the card," explained Vater, "but you can become a business entrepreneur, particularly helpful if your home country is not capable of offering such opportunities."
He estimated over 15k applications have been submitted, with a projection of 10 million users by 2020.
"People want to travel, and reports are showing more people are segueing to freelance roles. So this allows you set up meetings and handle banking needs from anywhere in the world."
Fortuma and Bridge 48
Also at Storytek, Estonian entrepreneur Rain Rannu discussed Fortuma, a company that services payments for Netflix, as well as the not-for-profit hackathon start-up Garage 48.
The latter is a traveling venture that takes place in over 15 countries across Europe, Africa and The Middle East, and sees teams of marketers, designers, business managers and developers come together to build an initial technology prototype in 48 hours.
"The idea is to show you don't have to have a complicated business plan to develop a product," said Rannu, who proudly lays claim to Belarus' inter-changing mobile face application MSQRD, which Facebook has now acquired for its Messenger platform.
FrostFX
Estonian high-end post-production house FrostFX is venturing into virtual reality (VR). Previously known for 3D animation and special effects, CEO Marko Post is boldly taking the company in a new direction.
A recent project for the company is the digital creation of Tallinn Ülemiste City, where the Tallinn City Planning Department could experience what the finished city might look like. The well-regarded tool is now considered an innovative way to develop and sell properties.
Teleport
Another burgeoning start-up, Teleport helps people find the best city to work and live in. Based on a specially built software system, users are asked what they value most in life and are then recommend cities around the world. The extensive data pipeline consists of 300 layers of data on 250 global cities, coming from 70 different sources.
The site was created last year, and now boasts 230,000 global users. Money was raised in the US, but the build was done in Estonia due to cheaper costs.
"In a way, we want to make every government compete for every citizen. We think that free people will move more and more. Wouldn't that be an amazing world!" said head of partnerships Kristjan Lepik.
POFF Bot
The friendly robot is new to the festival this year, and is helping visitors with film recommendations.