INFOGRAPHIC: Life, starring Robert Pattinson, Golden Bear winner Taxi and Werner Herzog's Queen of the Desert also secure strong scores on social media chart.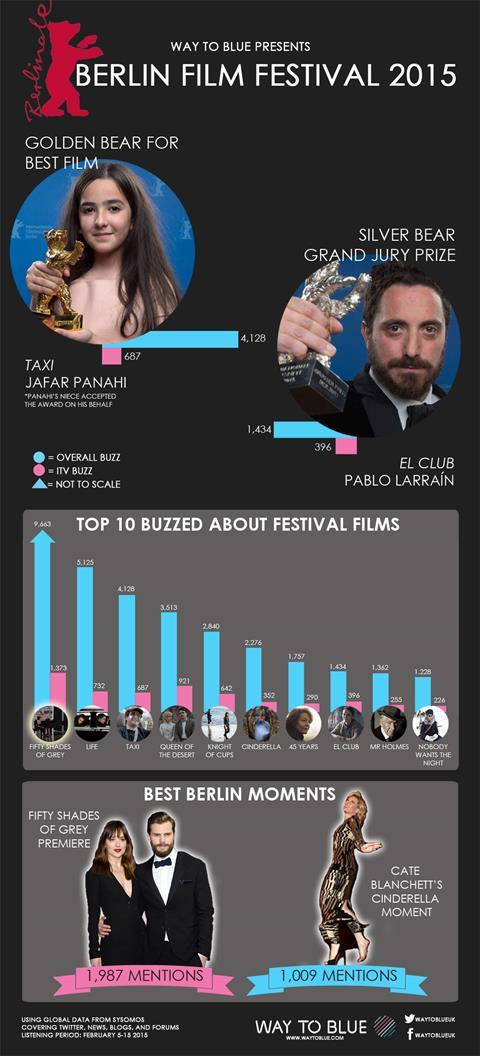 Erotic drama Fifty Shades of Grey proved the most buzzed-about film at this year's Berlin Film Festival, according to Way to Blue.
Close to 9,700 comments were made across Twitter, news sites, blogs and forums from Feb 5-15, the duration of the festival.
The film received its international premiere in Berlin, which contributed nearly 2,000 comments to its total figure.
Anton Corbijn's Life, starring Dane DeHaan as James Dean and Robert Pattinson as the LIFE magazine photographer assigned to snap the Hollywood icon, had to settle for second place with more than 5,100 comments.
Taxi, by dissident Iranian director Jafar Panahi, picked up Berlin's coveted Golden Bear on Saturday and helped the film to third place in the buzz chart, with more than 4,100 comments.
Werner Herzog's Queen of the Desert and Terrence Malick's Knight of Cups generated 3,513 comments and 2,840 comments respectively.