Screen reports from the 15th edition of the genre festival and first from its new venue, including an interview with Starry Eyes' writer-directors Kevin Kolsch and Dennis Widmyer.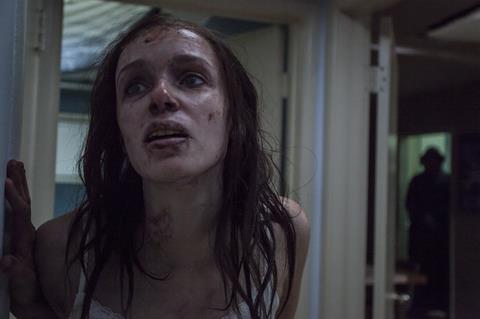 As if arranging a 64 film line-up across five days wasn't stressful enough, the Film4 FrightFest co-directors had to oversee the festival's move to the Vue Leicester Square this year, one viewed with much trepidation by many regular FrightFesters.
Yet, for most, the trepidation is no more after a terrific 15th edition which featured arguably the strongest line-up in recent years and everything you've come to expect from the UK's premier genre film festival.
Of course, some things can't be avoided. There's little anyone can do about recreating the atmosphere of 1500-odd people to a screen with a capacity around a third of that. However, there's no doubt that the spirit of FrightFest remained.
Take the applause that greeted zombies using intestines as a fuel siphon (Dead Snow 2), or the knowing cheers as everything from The Texas Chain Saw Massacre to Mean Girls was referenced (Stage Fright).
The staggered start times for the Main Screen programme meant that you couldn't always strike up a immediate film-centric conversation post-screening with everyone. However, it did mean that recommendations could be given for films not to miss in the main programme… and one particular film to be avoided at all costs that united the FrightFest crowd over the weekend.
Meanwhile, the Discovery Screen programme might have lacked the ability to build buzz for a film for repeat screenings in previous years, but the bigger screens and smoother process (barring a first day surge) meant that few were left disappointed in missing out on tickets as in previous years. Given the deluge on Monday, it's hard to imagine any FrightFesters missed the queuing up outside the cinema for tickets.
The new home certainly had benefits over the previous one too facilities-wise. Gone were the days of sitting on the floor in the Empire foyer, replaced by numerous comfy chairs and settees in the Vue's main bar area, commandeered by FrightFest as a meeting point over the five days.
And, it sounds like a small thing, but the ability to not have to queue ages in the toilets (referenced by Andy Nyman in his opening speech) was an unexpected bonus of the move.
FrightFest co-director Greg Day told Screen: "There was a lot of trepidation going into this year's fest because of the dicing up of the main screens, but the Vue staff were magnificent and quickly made the fans feel at home – a view that has been reflected by many regulars and filmmakers.
"There is still room for improvement but we couldn't have wished for a better start in our 'new home'."

Starry Eyes
One of the standouts of this year's festival was Kevin Kolsch & Dennis Widmyer's Starry Eyes, a dark and disturbing body horror about the perils of chasing fame. Having premiered at this year's SXSW, the writer-directors were in attendance for the film's UK premiere. (Metrodome handles UK rights.)
With the aim of making a "timeless movie" and influences ranging from Possession to Polanski, Starry Eyes features several retro touches like a synth-heavy score, title card and a particular structure crucial to the duo. "We looked at a lot of 70s and early 80s films where the horror stemmed from the character," notes Widmyer.
Kolsch adds: "When you re-watch The Exorcist now, it really takes a long time with the characters and their lives so that when the horror comes, it feels more real. We wanted to follow that structure as you don't get that right now; it has to be a thrill-a-second to the extent where the characters don't feel real."
The idea for the film itself, which follows a young actress (a star-making turn from Alex Essoe) determined to do whatever it takes to get a role, came from auditions the duo held for a film that they couldn't raise the money for.
"We saw actors coming in and we started to develop a real respect for they do but, at the same time, it's a very masochistic thing. You're working a day job and do an audition in your lunch break, and you'll never know if they like you or not," expands Widmyer.
"We thought it was interesting to focus on a horror metaphor about actors as I think a lot of times, as they get older, they feel that ticking clock and they start making bad choices."
Wary that the film would see Essoe tackle a character with an "emotional gamut all over the place", it took just moments on set for the duo to realise they had chosen wisely. "She had the chops and talent, but we've worked on films before where people weren't willing to get vulnerable and really show that darker side. That first day on set, we saw her acting and said 'we're good'," recalls Widmyer.
Starry Eyes is Kolsch and Widmyer's third film together, so how does it work on set? "We wrote the script together and we storyboard together. We've already had the fights so it's not going to happen on set," says Kolsch.
"The reason is that we've been working together for 20 years and we share a vision. There's never going to be a time when Kevin says something to an actor and I have to go 'oh, I thought this…'," expands Widmyer. "Filmmaking is really stressful so when you're driving home, it's like therapy as you evaluate the day. You correct yourself. It's easier to do that with a co-director."
The duo are currently writing an erotic thriller, but can see how to expand the world of Starry Eyes. "I've said that if I did a sequel to this, I want to do an over-the-top version, like when franchises start and you have the serious first one before the studio wants make a bigger sequel," explains Kolsch.
"It would be cool to actually be the directors who make the film that's meant to be a crazy, stupid sequel, but actually do a good crazy, stupid sequel."

Extra helpings
And just because FrightFest had moved home, it didn't mean the usual surprises and guests didn't follow. Big hitters at this year's festival included Robert Englund for The Last Showing and a retrospective of A Nightmare on Elm Street and Alan Moore for Show Pieces.
With Maika Monroe in town for opening film The Guest, the festival presented clips from Cannes title It Follows, while the biggest buzz was reserved for the world exclusive extended preview of See No Evil 2 from festival favourites the Soska Sisters (American Mary, Dead Hooker in a Trunk), not at the festival but on the big screen with a video intro.
Zombies were out in force too, with zombie cheerleaders greeting FrightFesters before the screening of All Cheerleaders Die on Saturday.
Q&A highlights included Nacho Vigalondo telling the crowd before Open Windows that they were going to love him no matter what, seeing as he had three vastly different projects in the festival (a segment in V/H/S Viral and Extraterrestrial).
C. Robert Cargill stopped by before Home to talk about Sinister 2 which Cargill described as going for a Final Destination 2 vibe, meaning the characters will already be in on the supernatural elements of the plot.
One of the biggest applauses, though, was held for Fabrice du Welz as when asked why he decided to shoot Alleluia in 16mm, his simple response was "because I'm a filmmaker".
These added bits around the programmed films meant that while festival goers were sat in different seats, it still felt like FrightFest and in time it's likely that the Vue section of FrightFest's history will start to take on its own character.
Moves are hard at the best of times but on the evidence of this past five days, Film4 FrightFest will endure wherever the gore is splashed.