With sales companies out in force at Filmart, how much of an appetite do Asian audiences really have for European films?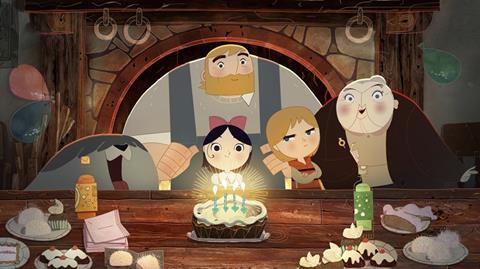 European sales companies are at Hong Kong Filmart in record numbers this year. It is not hard to work out why: Asia Pacific beat North America as the world's largest regional box office for the second year running in 2014, the theatrical marketplace is booming in China, Japan and South Korea, and over-the-top (OTT) and video-on-demand (VoD) consumption is surging across Asian territories.
"Filmart is one of the best places to meet the Chinese, from the mainland and Hong Kong, as well as Korean and Japanese buyers," says Nicolai Korsgaard, sales manager at TrustNordisk, who does point out he can meet the latter all year round at the festivals and markets. "We've been going to Filmart for the last eight years and it's really taken off over the last three to four years. Busan is also a key date for us. We tried the market in Shanghai but it didn't really work for us."
Hamburg-based European Film Promotion (EFP) is hosting an enlarged umbrella stand to support 19 sales companies and two EFP bodies. Further European stands at the market include the Unifrance and UK pavilions (see sidebars). Companies attending under the EFP banner include Germany's Films Boutique and The Match Factory, Sweden's The Yellow Affair, Denmark's TrustNordisk, UK's WestEnd Films, Spain's Film Factory Entertainment and Italy's Rai Com and Fandango.
In addition, 39 films are heading to the market with the support of EFP's Film Sales Support scheme including Berlinale winners Body, The Pearl Button and My Skinny Sister. Some 54 applications were received in total.
"There's increasingly strong demand from our members to attend Filmart. The timing works well for European sales agents. It's a good place to sew up deals that began in Berlin," says Susanne Davis, director of the EFP's Film Sales Support programme.
It is also a good platform for pitching films that have Cannes potential, which is always a big draw for Asian buyers although many like to wait until a film has actually premiered at the festival before signing on the dotted line. "Filmart is very useful, whether it is for establishing relations with new contacts or maintaining the ones we already have," says Mercy Liao, who is in charge of sales in Asia at the UK's WestEnd Films, and believes Filmart is the best place to meet Asian buyers.
At Filmart, Liao is focusing on Jeremy Saulnier's thriller Green Room, Tomm Moore's Oscar-nominated animation Song Of The Sea, David Gordon Green's Al Pacino-starrer Manglehorn, Kieran Darcy-Smith's By Way Of Helena, starring Liam Hemsworth and Woody Harrelson, and Michael Winterbottom's The Face Of An Angel. WestEnd's recent success stories include Green's Joe and Yaron Zilberman's A Late Quartet.
Different genres work best in different territories. "Japan, Korea, Taiwan and Hong Kong are always looking for good dramas with A-list cast," says Liao. "Indonesia and the Philippines are very fond of genre films." Action dramas with well-known talent work well across the region.
Korsgaard, who has had sales success at Filmart in the past with Thomas Vinterberg's The Hunt and Kristian Levring's Western The Salvation, both starring Mads Mikkelsen, is in town to showcase the Norwegian tsunami disaster movie The Wave and Danish drama The Model, which is set in Paris.
TrustNordisk launched The Wave with a promo reel at EFM and the film has already been picked up by Korea (Euro Communications Pictures), China (New View TV and Media Group) and Malaysia, Brunei and Vietnam (Rain Film).
"Disaster movies fit right into the Asian profile," says Korsgaard. "They love these kinds of stories. The one major territory where it has not sold is Japan because of the tsunami four years ago. The only other Asian territories left are Singapore and Thailand, which is pretty amazing given we only started selling it three months ago and it's not going to be completed before August."
Japan and Korea are the markets where titles are more likely to get a theatrical release, while China is "more for TV and digital", says Korsgaard. However, he notes, China's New View is mulling a theatrical release for The Wave, although Korsgaard is not holding his breath given the lack of official theatrical slots for international films in the country.
"They're very keen on pushing it into cinemas but it's been a few years since we managed to get a Nordic movie into theatres in China and it only lasted three weeks," he says, referring to Kasper Barfoed's The Candidate, which he sold to Lens Media in 2010. Korsgaard is also hoping to close deals on The Model and will be heading to Tokyo for three days ahead of Filmart with the aim of tying up a product placement deal with a potential Japanese distributor.
Theatrical boost
Mattia Oddone, head of cinema and international TV sales at Italy's Rai Com, focuses on selling TV and digital rights at Filmart.
"It's our most important date for meeting Asian clients," says Oddone. "Sometimes we sell theatrical rights at the market but in general Berlin and Cannes are better for theatrical deals. Our key Asian territories are China, the Philippines, Vietnam, Korea, Taiwan, Singapore and, above all, Japan."
Rai Com titles to have sold well in the region include Maria Sole Tognazzi's Five Star Life (Viaggio Sola), which was picked up by Japan's Alciné Térran and Taiwan's Swallow Wings Films for theatrical releases in both territories last year, and Paolo and
Vittorio Taviani's Caesar Must Die, which sold to Japan, China, Korea and Taiwan.
Swallow Wings has since acquired Cristina Comencini's Latin Lover, about four stepsisters linked by a late screen legend, and Marco Turco's biopic Oriana, capturing the life of journalist Oriana Fallaci.
Oddone is aiming to seal a slew of Asian deals on these titles alongside Ermanno Olmi's First World War drama Greenery Will Bloom Again. All three titles will make their Asian premiere at HKIFF as well as screen in the market — a festival slot is a big boost for a European film in Asia.
The region's box office may be thriving but that growth is still being driven by local Asian titles and US blockbusters. Korsgaard for one notes Asia accounts for a "surprisingly" small chunk of TrustNordisk's turnover. But the company's reasons for heading to Filmart extend beyond mere sales. "It's not about the money," he says. "It's also about getting the movie out there and getting Asian audiences to appreciate our movies."
UK: Exploring every angle
A slew of leading UK companies, including Altitude Film Sales, Carnaby International, Celsius Entertainment, Content Media Corporation, HanWay Films, Jinga Films, Metrodome International, Parkland Pictures, Protagonist Pictures and The Works are working out of the UK umbrella pavilion.
"Filmart is a very valuable market. It's not just about exploring the evolving potential of China, it's about the whole region," says Charlie Bloye, chief executive of sales company trade body Film Export UK.
The organisation co-ordinates the umbrella stand with the support of the BFI Lottery and UK Trade & Investment.
"Escapist fare works best but UK films span the genre spectrum from thoughtful to kinetic," says Bloye. "Countries with such large populations begin to develop valuable niches that will fit all sorts of UK films."
Some 13 UK productions and co-productions will be screening at Hong Kong International Film Festival this year including '71, The Duke Of Burgundy, The Last Emperor 3D, The Look Of Silence, The President and Pride.
France: strength in numbers
France has brought one of the biggest European delegations to Filmart this year. Some 21 French sales companies are attending under the auspices of the Unifrance umbrella stand. The territory's strong presence makes sense: Asia was the second most important regional export destination for French cinema, after western Europe, generating 28.3 million entries in 2014.
"It's essential and strategic for us to be at Filmart to help maintain our position as the second most important cinema exporter in the world," says Isabelle Giordano, general manager of Unifrance. "Filmart has a central position at the heart of the Asian markets."
French films also feature at Hong Kong International Film Festival, with 33 features and co-productions screening in the official line-up. They include gala presentations of Marie Amachoukeli, Claire Burger and Samuel Theis's Camera d'Or winner Party Girl, Benoit Jacquot's 3 Hearts and Francois Ozon's The New Girlfriend.
French sales companies at Filmart include Films Distribution, which is handling Party Girl, genre specialist Reel Suspects, Urban Distribution International, Pyramide International and Futurikon, the Paris-based company representing the César-winning animation Miniscule: Valley Of The Lost Ants, which drew some 800,000 admissions in China last summer.