EXCLUSIVE: First project together is Clown Of A Salesman.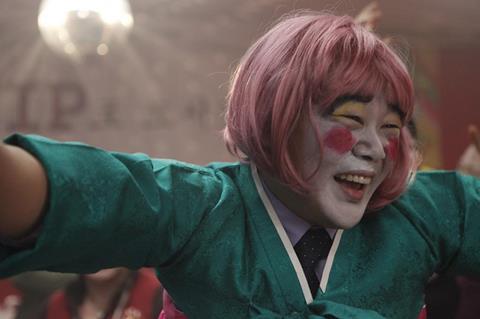 Korea's 9ers Entertainment has signed a deal with Daemyung Culture Factory to handle international sales of the investor/distributor's titles.
The first title to come under the agreement is Clown Of A Salesman, which 9ers will launch sales on at Filmart.
Directed by Jo Chi-Un, the film stars Kim In-kwon (C'est Si Bon), Park Cheol-min (No Breathing) and Lee Joo-sil (Roaring Currents).
The film is about a down-and-out father trying to pay his daughter's hospital bills by working at a company that provides free entertainment to lonely old ladies in exchange for them buying health products and supplies.
He strikes up a friendship with an old lady who lives alone in order not to burden her attorney son, but his debts keep mounting.
Daemyung Culture Factory has two more films going into production in this first half of the year.
The company previously invested in and distributed the record-breaking documentary My Love, Don't Cross That River, which clocked up 4.8 million admissions recently.
They are involved in leisure, construction, lifestyle, distribution, culture and media businesses and also sponsor the Daemyung Culture Wave Award at the Busan International Film Festival. The award gives $18,000 (KW20m) to the winning Korean film, which the company also distributes.