The second edition of the Finnish Film Affair, scheduled for Sept 24-26 in Helsinki, will again showcase hot local titles and works in progress.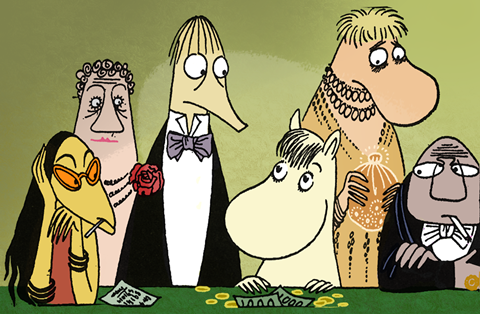 This year's event boasts an expanded guest list of sales agents, buyers and festival programmers, including representatives from ZDF/Arte, Celluloid Dreams, Wild Bunch, Hanway, Tribeca, Palm Springs, Rotterdam and Locarno. About 200 industry experts will attend.
"The first edition introduced the Finnish Film Affair to international decision makers," said Sara Norberg, executive director of the Helsinki International Film Festival – Love & Anarchy, which launched the event. "We're very proud that the success of last year's works-in-progress and the positive buzz around the event has attracted even more interest from the international industry."
The new films to be screened include Toronto-bound titles Concrete Night by Pirjo Honkasalo and Heart of Lion by Dome Karukoski, in addition to other festival selections such as Finnish Blood, Swedish Heart by Mika Ronkainen and Alcan Highway by Aleksi Salmenpera.
This year's FFA will also start a new online screening library for registered guests.
Talks and panels will include a focus on Finnish-Russian co-productions.
The work-in-progress projects to be pitched this year are:
Jill and Joy (Onneli ja Anneli), Saara Cantell, Zodiak Finland
Korso, Akseli Tuomivaara, Tuffi Films & Bufo
No Thank You (Ei kiitos), Samuli Valkama, Kinotar
Moomins on the Riviera (Muumit Rivieralla), Xavier Picard, Handle Productions [pictured]
Summertime (Kesäkaverit), Inari Niemi, Solar Films & Bronson Club
Swing Game, Mikko Peltonen & Pasi Riiali, Mediatehdas Dakar
They Have Escaped (He ovat paenneet), J-P Valkeapää, Helsinki-filmi
Windcatchers (Tuulensieppaajat), Amir Escandari, Helsinki-filmi
The films to be presented are:
21 Ways to Ruin a Marriage (21 tapaa pilata avioliitto), Johanna Vuoksenmaa, Dionysos Films, The Yellow Affair
8-Ball (8-pallo), Aku Louhimies, Blind Spot Pictures & Mjölk
Above Dark Waters (Tumman veden päällä), Peter Franzén, Solar Films
Alcan Highway (Alaska Highway), Aleksi Salmenperä, MADE, Deckert Distribution
American Vagabond, Susanna Helke, For Real Productions, Deckert Distribution
August Fools (Mieletön elokuu), Taru Mäkelä, Kinosto
Chimeras, Mika Mattila, Navy Blue Bird
Concrete Night (Betoniyö), Pirjo Honkasalo, Bufo
Conversations Between Men (Miesten välisiä keskusteluja), Jarmo Lampela, Vegetarian Films
The Disciple (Lärjungen), Ulrika Bengts, Långfilm Productions
Ella and Friends (Ella ja kaverit), Taneli Mustonen, Snapper Films
Finnish Blood, Swedish Heart (Laulu koti-ikävästä), Mika Ronkainen, Klaffi Productions
The Finnish Flash – a Teemu Selanne Story (Selänne), JP Siili, Yellow Film & TV
Heart of a Lion (Leijonasydän), Dome Karukoski, Helsinki-filmi, The Yellow Affair
Hilton!, Virpi Suutari, Filmimaa, Deckert Distribution
The Last Life of Lucifer (Luciferin viimeinen elämä), Rax Rinnekangas, Bad Taste Ltd
My Stuff (Tavarataivas), Petri Luukkainen, Unifilm, Rise and Shine World Sales
Open Up to Me (Kerron sinulle kaiken), Simo Halinen, Edith Film, The Yellow Affair
Princess of Egypt (Silmäterä), Jan Forsström, Making Movies
Remembrance (Muisteja), Peter von Bagh, Illume
Rolli and the Golden Key (Rölli ja kultainen avain), Taavi Vartia, MRP Matila Röhr Productions, The Yellow Affair
The Tale of a Forest (Metsän tarina), Ville Suhonen, MRP Matila Röhr Productions, Level K
Things We Do for Love (Kaikella rakkaudella), Matti Ijäs, Aamu Film Company, The Yellow Affair
The Two and Only (Ainoat oikeat), Saara Cantell, Yellow Film & TV
Village People (Kekkonen tulee!), Marja Pyykkö, Solar Films
Viru – Story of a Hotel (Viru - tarinoita hotellista), Taru Mäkelä & Johanna Onnismaa, Kinosto
The Year of '85 - Rock Your Memories (Vuonna 85), Timo Koivusalo, Artista Filmi

The Finnish Film Affair is an initiative of the Helsinki International Film Festival – Love & Anarchy organized with partners such as Favex – the Finnish Film & Audiovisual Export, the Finnish Film Foundation, Media Desk Finland, the Central Organisation of Finnish Film Producers SEK, Finland Film Commission and with the support of the Ministry of Education and Culture and the Ministry for Foreign Affairs of Finland.
- If you would like to meet any of the international buyer guests or the Russian panelists (see separate guest list), you can contact the people directly or let the organizers know by emailing to industry[A]hiff.fi and your request will be noted down.