Dir: Robert Zemeckis. US. 2012. 139mins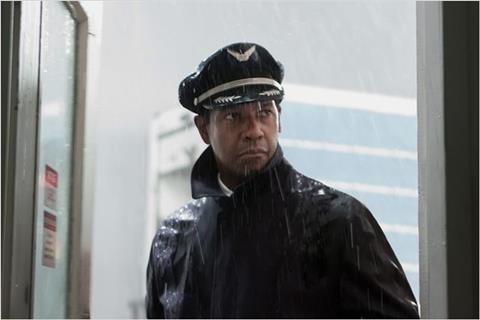 An absorbing, intelligent character study anchored by one of Denzel Washington's most layered performances, Flight mostly soars above the clichés of the addiction drama to tell the story of an airline pilot whose heroism inadvertently brings to light a crippling drinking problem. Representing the first live-action effort from Oscar-winning Forrest Gump director Robert Zemeckis in 12 years, this Paramount release is targeting both awards voters and discriminating adult audiences, and yet it's also nuanced enough to colour outside the lines of the typical Oscar fare.
Flight asks how much dumb luck and divine intervention factor into surviving a tragedy — and also how a drunk like Whitaker could have pulled off such an amazing rescue.
Arriving November 2, Flight will benefit from the presence of Washington, who is coming off his biggest hit in years with Safe House ($208m worldwide). But with the exception of a white-knuckle action sequence near the beginning of the film involving a plane crash, Flight is largely a thoughtful character drama, which suggests grosses that will need to be accumulated over time thanks to potent word-of-mouth and strong reviews. With that said, however, the question remains whether the film can maintain altitude amidst a box office season loaded with bigger event titles like Cloud Atlas, Skyfall and the finale of the Twilight series.
Captain Whip Whitaker (Washington) is the hero of Flight, although when we first meet him that hardly seems like the correct description for this man. A pilot for a commercial airline who thinks nothing of indulging in a night of sex, drugs and booze before getting in the cockpit for an early morning flight, Whitaker doesn't seem too concerned about the seriousness of his job. But when a mechanical error forces him to execute a risky midair manoeuvre, he manages to steer his plane into an abandoned field, resulting in just a handful of passenger fatalities. In the wake of the crash, Whitaker is roundly praised for his bravery in the face of certain death, but when his toxicology report later reveals that he was legally drunk at the time, he must work with an aggressive attorney (Don Cheadle) to avoid significant jail time.
Zemeckis has spent the last decade focusing on 3D motion-capture films like The Polar Express and A Christmas Carol, which were praised for their innovation but also criticized for their technological limitations, specifically the characters' "dead-eyed" soulless look. Flight in some ways represents a continuation of the live-action movies Zemeckis was making before this mo-cap digression, building on Cast Away's portrait of a spiritually isolated man and Contact's deep pondering of issues like faith and fate.
In the dozen years since he made Cast Away, Zemeckis hasn't lost his sense of live-action spectacle: The opening plane crash is a bravura sequence that slowly builds in sickening tension while at the same time revealing character. (While Whitaker is focused, determined, and confident during the terrifying ordeal, his co-pilot, played by Brian Geraghty, barely keeps his wits about him — an important detail that will colour later events between them.) But beyond the sequence's excellent craftsmanship, the emotional impact of the plane crash becomes more and more crucial as the film quickly shifts gears, evolving into a story about Whitaker's absolute belief that his rampant drinking had nothing to do with the accident and that it isn't putting his life in jeopardy.
This is a nervy tonal shift, but Flight pulls it off, in large part because Washington remains one of our most commanding onscreen presences. Not since He Got Game has he played such a richly comprised character, utilising his inexhaustible charisma to portray a man whose steely resolve to assert his innocence is in direct conflict with his debilitating addiction. (Whitaker swears off booze once he returns home, but it doesn't take long for him to renege on his promise to himself.) Washington's inherent decency sells this horribly flawed character to the audience — we root for Whitaker to avoid incarceration, while at the same recognising how deluded and pathetic this man is, no matter his heroism.
But while Flight is no doubt a showcase for Washington's sizable talent, a superb supporting cast augments his performance. Perhaps most important in the ensemble is Kelly Reilly, who plays a drug addict who unexpectedly crosses Whitaker's path and starts an ill-advised relationship with him. In truth, their tentative bond is one of the film's shakier points — ultimately, her character serves mostly as a catalyst for his change — but Reilly invests her addict with a fragility and sensuality that gives their scenes together a raw urgency.
Cheadle is strong in an underwritten role as Whitaker's bright, slightly condescending lawyer, and Bruce Greenwood has a natural charm as an old friend and flying buddy of Whitaker's who wants to make sure he beats the rap. Probably the riskiest performance in the film belongs to John Goodman, who plays Harling, Whitaker's uncouth drinking buddy and drug connection. Although Flight is largely a sobering look at the pain of addiction, Goodman's wild-man character is presented as a darkly comic counterargument, encouraging and enabling Whitaker's illness while everyone else around him is trying to get him clean before he has to speak to federal investigators. (Harling is something of a Falstaff to Whitaker's Prince Hal.)
On the surface, Flight is just one more movie about the dangers of alcoholism, and unfortunately the movie loses some of its lustre in its concluding reels as it starts to walk down a conventional path. But before then, the movie is smart and nuanced, particularly in how it explores the minutiae of an air crash investigation, which gives the film a sense of realism and gravitas. As Whitaker begins to prepare for his questioning, he must confront the other members of his flight crew, resulting in a series of scenes that illustrate the gamut of responses to such a horrifying event.
Most intriguingly, Flight asks how much dumb luck and divine intervention factor into surviving a tragedy — and also how a drunk like Whitaker could have pulled off such an amazing rescue. Zemeckis has a habit of underlining his points near the film's end, but he also wisely lets some of these questions linger unanswered. And even if the final resolution is somewhat predictable, Flight arrives at it with a grace that one can only hope visits poor Whitaker sooner rather than later.
Production companies: ImageMovers, Parkes/MacDonald Productions
Domestic distribution: Paramount Pictures, www.paramount.com
Producers: Walter F. Parkes, Laurie MacDonald, Steve Starkey, Robert Zemeckis, Jack Rapke
Executive producer: Cherylanne Martin
Screenplay: John Gatins
Cinematography: Don Burgess
Editor: Jeremiah O'Driscoll
Production designer: Nelson Coates
Music: Alan Silvestri
Website: www.paramount.com/flight
Cast: Denzel Washington, Don Cheadle, Kelly Reilly, John Goodman, Bruce Greenwood, Melissa Leo, Brian Geraghty, Tamara Tunie, Nadine Velazquez, James Badge Dale